If you're considering a career as an aged care worker, you could be on the path to a very rewarding and meaningful career.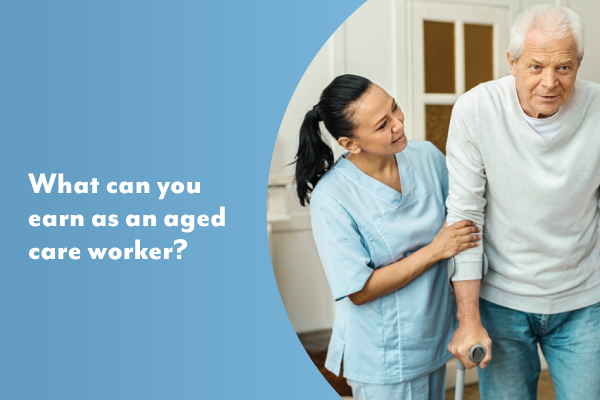 Recent data from the Australian Institute of Health and Welfare reports that by 2066, 1 in 5 Australians will be aged 85 years and older. This means the need for aged care workers is growing, and the demand for qualified aged care staff is growing with it.
The aged care sector continues to see sweeping reforms as organisations and providers address recommendations made by the Royal Commission into Aged Care Quality and Safety. These recommendations put older people at the heart of aged care, emphasising a rights-based approach for clients as well as better attraction, retention, and careers for staff working in the sector – including a focus on remuneration.
What does that mean for the current and future workforce? The overhaul of the sector continues to improve training, conditions and opportunities for workers. The ongoing demand for highly skilled carers means employers are looking for qualified staff to enhance the standards of care they offer.
What could you earn working in aged care?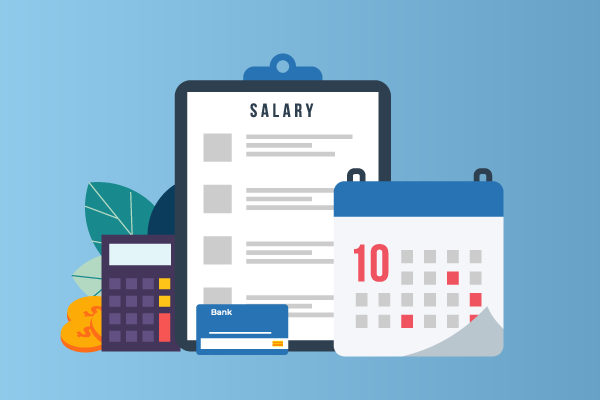 You might be considering an aged care career because of your interest in caring for others. That's a good place to start. But salary is also an important factor when choosing a career path.
Your salary as a professional in the aged care sector will vary depending on responsibilities, qualifications, hours and location.
According to the latest Fair Work Ombudsman pay guide, as a full-time aged care worker you can expect to earn between $861.40 and $1043.60 weekly. Pay rates increase for overtime ($34.01 – $41.19), public holidays ($56.68 – $68.65) and weekend overtime ($45.34 – $54.92).
| Classification | Weekly salary ($) |
| --- | --- |
| Aged care employee level 1 | $861.40 |
| Aged care employee level 2 | $895.50 |
| Aged care employee level 3 | $929.90 |
| Aged care employee level 4 | $940.90 |
| Aged care employee level 5 | $972.80 |
| Aged care employee level 6 | $1,025.20 |
| Aged care employee level 7 | $1,043.60 |
Source: Fair Work Ombudsman, November 2022
Rates can also vary slightly across states:

| State | Average hourly rate ($) |
| --- | --- |
| Australian Capital Territory | $21.28 |
| Queensland | $23.89 |
| New South Wales | $23.92 |
| South Australia | $28.22 |
| Tasmania | $23.91 |
| Victoria | $25.28 |
| Western Australia | $24.31 |
Source: PayScale
It's worthwhile remembering that the above figures are approximates only and don't necessarily reflect penalty rates, overtime and bonuses. You could be getting more depending on where and when you work.
Wages set to increase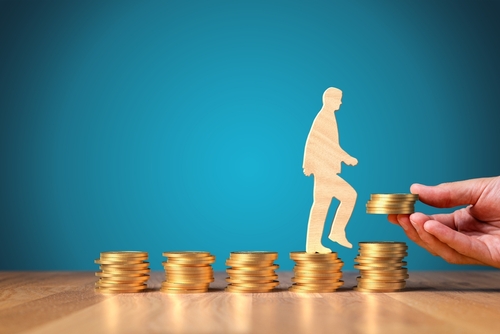 The federal government has committed to a 15% pay rise for aged care workers from 1 July 2023. This is designed to address underpayment and improve retention of staff. The caveat is that it will be delivered on a rolling basis, with workers to receive a 10% pay rise this year and the remaining 5% in 2024. But the good thing to remember is that the pay rise will be delivered in full before the end of next year.
What does a career in aged care look like?
A rewarding career allows you to expand your knowledge and skills and offers an advancement path. Working in aged care, you may start as a personal care worker in a variety of settings, from residential and community to accommodation.
As a personal care worker, you will provide care to ageing individuals or individuals living with a disability. Either in a facility or in their homes. You may help people eat, bathe and get dressed, and you may accompany them to appointments.
Or you could be working as a community care worker, supporting people living with a disability, by bathing, dressing or feeding them. Your aim will be to support people living a full life.
As you gain more experience and upskill, you may advance to a care supervisor position, or a program or community coordinator. Or you may choose to specialise in a particular area, such as leisure and health.
Study to become an aged care worker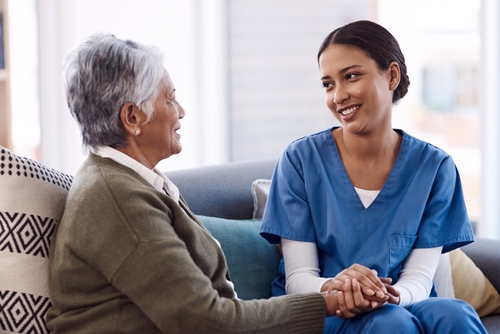 A career as an aged care worker offers many benefits beyond personal meaning and a competitive salary. The demand for highly skilled workers is always increasing in the growing aged care sector, which means job security can be higher than in other sectors. As is the flexibility to work hours that suit you and your circumstances, and can have the benefit of higher hourly rate.
If you're just starting to consider aged care work, the CHC33015 Certificate III in Individual Support will give you the qualification you need to get started in the sector. You'll learn technical, factual knowledge, as well as theoretical concepts so you can provide person-centred support. This course also includes a practical component, so when you're ready to enter the job market, you have both qualifications and experience to support your application.
If you're already working in the sector, you may consider advancing your skills and career with the CHC43015 Certificate IV in Ageing Support. This course will build on your existing skills and qualifications, and could open new career pathways to supervising or managerial roles, as well as higher salaries.
Both of these nationally accredited courses open rewarding opportunities in a sector that needs passionate individuals to transform how we care for our elderly.
Our trainers think about a career in aged care as a vocation rather than a random choice. Get in touch today to see if a career in aged care is right for you.