Learner success is about ensuring that you are at the centre of our teaching and feel supported throughout your learning journey.
We provide a host of integrated supports to ensure your learning experience is a collaborative and rewarding one, and that you leave our courses equipped with the knowledge and skills needed to have an impactful career.
Dedicated trainer support 
Educators and learners are partners with a shared goal: to impact the world around them through care and compassion.
All of our trainers have real-life experience in relevant sectors and workplaces, so they closely understand it, as well as the type of challenges you might come across. The trainer's aim is to develop a productive learning collaboration, tailored to your specific learning style, and a solid foundation for future professional relationships.
That's why you're assigned a trainer who will closely support you right the way through your learning experience with us.
Learner success team
Our Learner Success Team's role is to help you negotiate any obstacles to learning you might encounter.
They check in with you weekly or fortnightly for the chance for you to discuss your needs and challenges as they arise and troubleshoot them before they could become a problem.
Types of support you might consider as a learner are:
Language support if English is an additional language or dialect
Digital literacy support
Study tips
Assistance with work placement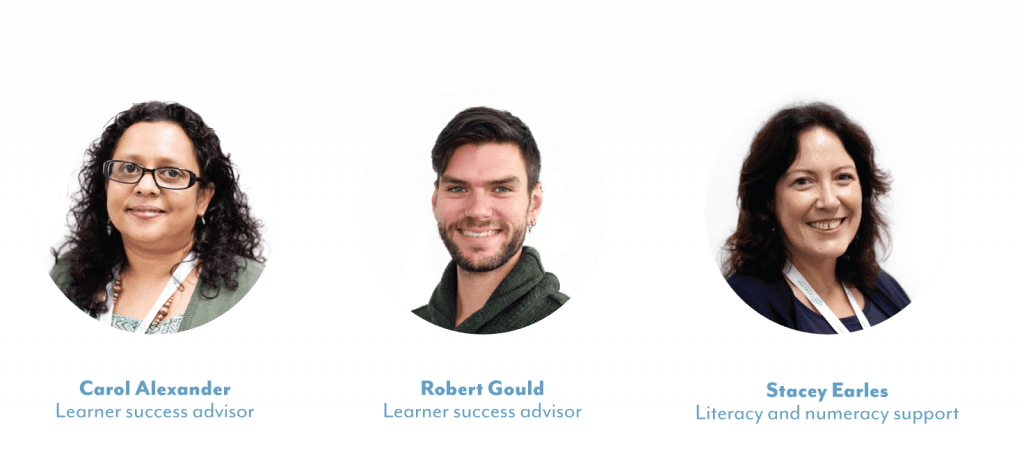 Learner inductions
This is a one-hour session which will cover everything you need to know to get started in your studies, from teaching methods to requirements for practical placement hours. It's also an opportunity for you to ask anything that you're unsure about – there is no wrong question.
At this session we will familiarise you with the following.
Our learning methods
The online portal if you're an online learner
What is expected for the first assessments
The requirements for practical placement hours, and
Our learning community hubs
Online learning community
Beyond individual support, we want to ensure that you join a community of caring and compassionate professionals via our Online Learning Hubs.
Our trainer-led learner community hubs are small online group webinar sessions with learners studying the same course as you, where you can actively engage with trainers and peers, asking questions, and finding solutions together.
They are a great way to gain deeper understandings and to help you progress in your studies.
This community-oriented approach is key to developing the soft skills central to a rewarding and successful career in care: problem-solving, managing emotions, and verbalising and discussing ideas.
Learn about our human-centred education approach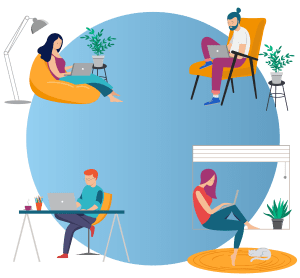 Practical placement
Our practical placements are organised in blocks throughout the course, so you can apply the knowledge as you're learning it. Some learners also find employment through their time in placement, so it's also a great practical interview opportunity.
All of your regular supports are available through this important learning stage, and you'll continue to connect with your trainer regularly. A practical placement coordinator is also there to support your success during the placement.
We also have a pre-placement live information session, where you can get an overview of what to expect during your placement, and ask questions. That way you can head into your placement confident and open to the experience.
What our learners say about us
Selmar was a great choice for my studies. The portal was easy to understand and the support network was amazing. Compared to other experiences I've seen, it was definitely the right institute for me.
Victoria Jarrett
Learner review
It's changed my future as it is very bright now, so thank you so much to Selmar for helping make my journey happen so easy and full of fun. I received wonderful support and advice from my trainer. I found this online diploma in early learning course very convenient for me and I'm loving it so much and always thankful to each and every member from the Selmar. Highly recommend for online learning.
Kinnari Hirapara
Learner review
I am really happy I chose to study the Diploma of Early Childhood Education and Care with Selmar. I find the online learning portal easy to navigate, the information is so clear and presented really well.  The trainers are fantastic and are super easy to communicate with!  I am really happy and finding my way through the course with ease!
Rebecca Why
Learner review
I just finished my Diploma in Early Education and Care at Selmar. It was a great experience , they are really supportive and flexible with my situation. The trainers are kind and supportive especially Rizka Giovedi who always there to give me feedbacks and encouragement. Definitely, I would recommend Selmar Institute of Education to my friends and to those who wants to start a career in Early Childhood Education and Care .
Eyah Bhub
Facebook review
Thanks to Selmar's wonderful trainers. My trainer Lauren Noble has been an amazing educator. Always approachable , always there to help and encourage. I really do recommend Selmar for future studies, especially if you're lucky to get a wonderful trainer like I did. Thank you both very much from the bottom of my heart.
Alissa Warburton
Google review
Selmar on a whole have been 10 out of 10 for the overall treatment I have received. My trainer I have is so educated, knowledgeable and organised. She keeps me on track and is available to talk to me. I couldn't ask for a better experience.
Jessica Dalton
Learner review
I really enjoyed working with Selmar, the work was not to difficult and easy to understand, my trainer (Lauren) really helped me gain a lot of knowledge and confidence in this field and be able to confidently work in a safe environment. 10/10 recommend and will definitely be coming back when I decide to do my diploma. 🙂
Ella Waterson
Google review
I completed my diploma of early childhood education and care through Selmar institute – online. My course was thorough and gave me all the right tools to move forward with my career in this sector. It has been a positive and engaging course with the help of my incredible trainer/assessor Kristy A. I would highly recommend doing your studies through Selmar.
Yasemin Mawson
Google review
We support your success
The learner supports we have available ensures you, the learner, are at the centre of our teaching, and feel supported at every learning stage. From the moment you enrol to the time you graduate and join the workforce, and sometimes beyond, we aim to co-create a transformational learning experience.
To find out more about the training and pathways available with Selmar contact us on 1300 223 040 or via the form below.