If you're considering a career in the aged care sector, you're in for a rewarding journey filled with heartwarming moments and opportunities to make a real difference in people's lives.
To help inspire you on this path, we sat down with Samuel, an aged care professional who is currently our Aged Care Commencement Coordinator here at Selmar. Samuel's dedication to the field shine through in everything he does, and in this chat he shares his personal insights, advice, and a glimpse into his aged care career journey.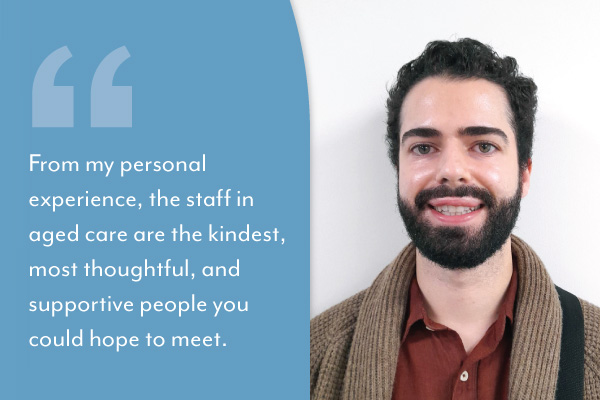 Meet Samuel: A passionate aged care professional
Samuel, tell us a little bit about yourself and your aged care career so far?
Hi, my name is Samuel (he/him pronouns). Last year I studied my Certificate IV in Training & Assessment and was very lucky to join the Selmar team earlier this year as the Aged Care Commencement Coordinator. I started working in aged care in 2017 after completing my Certificate III in Individual Support.
I have a huge passion for aged care, having worked in residential and home care. I'm still currently working part-time in aged care in a Memory Support Unit, which feels like a second home to me.
In my personal life, I am the father of two fur babies, Faberge and Valentin.
Why did you decide on a career in aged care?
After taking a gap year, I wanted to start a career in a job that would be rewarding and hands on. I didn't want to be selling a product, I wanted to be working with people and making a difference. I'm very happy with the decision that I made.
How do you guide learners who are studying aged care with Selmar?
Having just recently studied, I was reminded with how confronting returning to study or studying for the first time can be. We are human beings, and it's my approach to support learners via open communication, utilising active listening skills and trying my very best to meet their unique needs.
I place great importance on utilising active listening skills. I enjoy hearing about each learners' journey to date and reason for studying, and I reassure them they've made the right decision to follow their career pathway.
What would you recommend to someone entering the sector?
This is a job that can be extremely rewarding, being able to develop quality relationships with a wide variety of residents.
From my personal experience, the staff in aged care are the kindest, most thoughtful, and supportive people you could hope to meet.
I'm very fortunate to have them as my colleagues and friends.
What is your favourite aged care memory so far?
Oh gosh, so hard to pick one memory. An ongoing standout for me is when a grandchild of one of our lovely residents has a newborn baby and introduces them for the very first time. It's an incredible experience to witness all eyes light up in the room at this moment. Aged care facilities have a beautiful atmosphere, where everyone feels like family.
Aged care: a genuinely rewarding career
Samuel's journey in the aged care sector is a great example of how a career in this field can be deeply fulfilling. His passion, dedication, and commitment to making a difference in the sector and for its workforce of carers are truly inspiring.
If you feel like you might be suited to exploring an aged care career, start with a chat with the experienced team at Selmar to learn more.