A good leader brings people together in the workplace and supports them to create a shared vision. As we continue to adapt and grow in response to changes brought on by the pandemic, effective leadership in the community sector is more important than ever.
If you've ever thought about expanding your skillset to take on a leadership role in either aged care or early childhood education and care, we've got good news. Eligibility criteria for the CHC62015 Advanced Diploma of Community Sector Management has been revised to enable more future leaders to become qualified.
Previously, only those who already held a management position in a community sector service could enrol into this course – but now it's open to more people working in community services looking to take on leadership roles.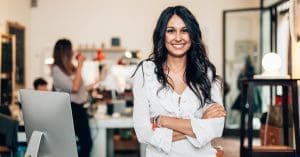 Take the next step in your career
Moving into a leadership role could be the next thing you do to progress your career. You might be curious about how to expand your leadership skills in ways that enable you to take on more responsibilities, or you might already see yourself as a future leader in the sector. If this sounds like you, now is a good time to explore pathways into leadership in aged care and early childhood education and care.
By enrolling into the CHC62015 Advanced Diploma of Community Sector Management at Selmar you will be on your way to becoming a leader in your field. This course enables learners to develop a range of applied skills which contribute to good leadership , such as:
Building and managing teams, maximising performance
Recruiting and coaching staff
Managing diversity among staff and clients
Workplace ethics
Financial management and business modelling
Government standards and regulations
The course also has a strong focus on adaptive skills which make for better leaders, like:
Empathy
Respect
Problem solving
Interpersonal communications skills
Adaptability
Relational thinking
What makes a good leader?
Leadership is one of those terms we're all familiar with, but what exactly makes a good leader?
There are many leadership roles available within the community sector. You might be want to bring your vision for education to life as a Centre Director at an early learning service. You might be thinking of coordinating staff and volunteers as a Community Services Manager, or working for a not-for-profit organisation. You might work in aged care and see yourself taking on a management role in the future. Whatever it is, you will need understand what makes an effective leader.
Effective leadership is not just about being the 'boss' or about holding a particular title or position in the workplace, and it's not just about having good organizational skills. A good leader is able to talk to people, bring their team together, and help both staff and clients to share understandings and work toward common goals.
There are many attributes, skills and qualities which make for great leaders. A leadership course is a wonderful opportunity to learn and hone your capabilities in many areas of leadership, including:
The ability to empower others
Being able to create and share a clear vision
Supporting staff and clients when they need it
Creating an engaging, positive workplace culture
Encouraging improvement and continual learning among staff
Being a good leader also means having strong principles and ethics. At Selmar we approach leadership from an ethical standpoint.
Ethical or relational leadership is a way of leading which seeks to influence people and systems through core values, principles and beliefs. The idea is that ethical leadership works to shape an effective, positive and resilient workforce by instilling strong values in each member of staff. Ethical leaders respect their employees, and also empower employees to make the right decisions.
The importance of leadership
The community sector needs more outstanding leaders to guide both aged care and early education and care into the future. Effective leadership in these areas means working to create meaningful change and bring about positive outcomes for organisations, employees, individuals in care, their families and the wider community.
The pandemic has put incredible strain on the early learning and aged care communities, and this strain is ongoing. It's identified the need to address issues like staff shortages, burnout, and poor standards of care. Promoting good leadership is a way to raise standards industry-wide and benefit everyone involved.
Who is eligible?
Formerly the Advanced Diploma of Community Sector Management was only available to those already working in a management position within the community service sector. But with the call for better leaders increasing, we've expanded the criteria so that more people are eligible to enrol.
With the updated entry requirements, you may be eligible to enrol if you meet the following criteria:
Your Language Literacy and Numeracy (LLN) skills meet required standards for ACSF LEVEL 3.
You have a sound understanding of legislation, practices and standards applicable to the overall operation of an ACECQA approved education and care service OR within the aged care and disability sectors and of the Aged Care Funding Instrument (ACFI).
You are currently working in the community services sector; and

You are currently employed in an education and care service; and are in a management, second in charge, or room leader role, OR hold a diploma or above relevant to the sector and aspire to undertake any of these roles.
OR
You are currently employed in the aged care services sector; and are in a management, second in charge, service supervisor role, OR hold a Certificate IV qualification or above relevant to the community services sector and aspire to undertake any of these roles.
Note: If you are not in a management role, you will need to have employer support to be able to complete a range of tasks within the workplace.
For full eligibility requirements, please refer to the relevant course page for aged care here and early childhood education here.
Course outcomes
The program is about big picture thinking, opening up pathways for graduates to take on leadership roles across other sections of the community services sector. This might include management of specific programs or projects, coordinating community services, or managing early learning and aged care services, not-for-profit organisations and community centres.
Once you've completed the course you might be eligible to work as:
Area Manager
Centre Director
Coordinator of an organisation
Community Care Manager
Community Development Manager
Program Area Manager
Community Education Manager
Project Manager
Volunteer Coordinator
To find out more about where a leadership course can take you, contact the team at Selmar today.