Having a meaningful career and doing fulfilling work is a goal for many of us. Maybe you've set your sights on a role where you'll have a direct impact on the lives of others – like a role in aged care, early childhood education or teaching.
Sometimes it feels like going to university is the only pathway to success, but that's just not true. You might already know that going to uni doesn't feel right for you, or maybe you want to get into uni but don't have a high enough ATAR score. Whatever it is, don't worry – there are many pathways to a rewarding career through vocational training.
If university is still the goal at the end of your learning journey, you'll be pleased to know that gaining a tertiary qualification isn't off limits. There are even ways to fast-track your progress to a Bachelor degree.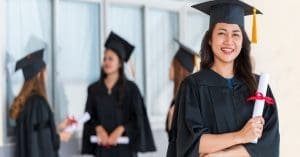 Think of alternatives
Going to uni isn't for everyone and may not be achievable straight after high school. If you fit into this category for whatever reason, it's a good idea to think of the alternatives.
Vocational education and training (VET) is designed to get you job-ready sooner and provide pathways to success. This will look different for everyone depending on your goals and interests. Gaining a qualification in aged care or early childhood education and care can open up a number of desirable outcomes and pathways, including:
Becoming qualified
Getting your dream job
Obtaining secure work
The first step toward leadership roles
Remember, there's no right or wrong way to progress your career. Vocational education and training might just be the right starting point for you.
Now let's have a look at specific pathways – from Certificate III to Diploma and beyond.
Gaining your Certificate III
A Certificate III is the starting point for meaningful work in aged care and early childhood education.
Kicking off your career in one of these dynamic sectors means beginning with a CHC30121 Certificate III in Early childhood Education and Care or a CHC33021 Certificate III in Individual Support.
These qualifications will take around 12 months to complete and at the end of it, you'll be qualified to work in an entry-level role anywhere in Australia.
The best thing about starting with a Certificate III is gaining a broad understanding of your chosen sector. This qualification is designed to provide core skills and set you up for future learning, employment and opportunities to enhance your skillset.
Distinct advantages of gaining a Certificate III include:
Foundational knowledge
Understanding your sector and job responsibilities
Real workplace experience through practical placement
Gaining the adaptive skills to take you far
Ticking off the pre-requisite qualification to commence work in the sector (ECEC)
Setting Goals
Once you've started, the next step is to set some goals. Think about where you want your training to take you and what outcomes you're looking to achieve.
Where do you see yourself working or studying in the future? Are there any specific roles – like a management or leadership role – you'd like to work your way toward?
Take the next step
Once you've completed your Certificate III and maybe worked a little in the sector, it's time to take the next step. A Diploma or Certificate IV will enable you to move up with a higher-level qualification.
Early Childhood Education and Care
The CHC50121 Diploma of Early Childhood Education and Care is a well-regarded qualification which provides you with the knowledge and skills needed to become a leader in this dynamic sector. If university is your goal, this Diploma is the link between vocational training and tertiary education, and upon completion you'll be offered a pathway to studying a Bachelor degree with Swinburne Online.
With a Diploma behind you there will be opportunities to work as an educator, assistant or centre director in various early childhood settings.
Aged Care
Aged care is a diverse and fulfilling sector which is only set to expand. There are many roles and possibilities for fulfilling work on offer, and the CHC43015 Certificate IV in Ageing Support is designed for people already working in the sector who wish to take advantage of these opportunities.
Once qualified, you might like to consider working as a personal carer, care supervisor, community support worker or as a program or community service coordinator.
Skills for success
Whether it's aged care or early childhood education and care, moving up with a Diploma or Certificate IV is a great way to make the most of all the rewarding opportunities these sectors have to offer. Advantages to undertaking a higher-level qualification include:
Gain leadership skills
Enhance your knowledge and practical skill level
Improve your understanding of the sector
Hone the adaptive/transferrable skills needed for success in your field
Different ways to get into university
If university is still your ultimate goal you'll be pleased to know it's absolutely achievable. Education is a journey, and you just have to think a little outside the box. Possible pathways to a Bachelor degree include:
Early Childhood Education and Care
Certificate III to a Diploma to a Degree (fast track into second year)
A clear advantage of graduating from the Diploma of Early Childhood Education is that you'll be eligible to fast-track your learning to a Bachelor of Education at Swinburne University, in either Early Childhood Education or Early Childhood and Primary Teaching.
The best thing is, your credit will allow you to enter the second year of the degree, meaning you'll be saving money as well as speeding up the process of becoming a qualified teacher. Once you've completed your degree you'll be able to teach in a range of settings, from kindergartens to primary schools across the country.
Aged Care:
Certificate III à Certificate IV à Degree
Aged care qualifications can be an excellent way to explore a career in providing care before embarking on a university degree. For many who aspire to a career in nursing, aged care can be a highly relevant starting point with easy entry to commence work.
In addition, from an aged care Certificate III there are options to consider such as specialising in leisure and lifestyle with a CHC43415 Certificate IV in Leisure and Health as well as roles within the community sector.
If university continues to be the ultimate goal, leverage your experience in aged care in undertaking a nursing qualification down the track as a mature age student.
The power of pathways
Education is a journey for everyone, no matter what course you take. If you're having trouble finding your way into aged care or early childhood education, don't underestimate the power of pathways.
The team at Selmar can set you on the road to success.