As a sector dedicated to enhancing the health, development and wellbeing of children, early childhood education has long prioritised a high standard of hygiene in child care centres. Health and hygiene regulations are embedded in the National Quality Framework and, in light of the COVID-19 pandemic, infection control has never been more important.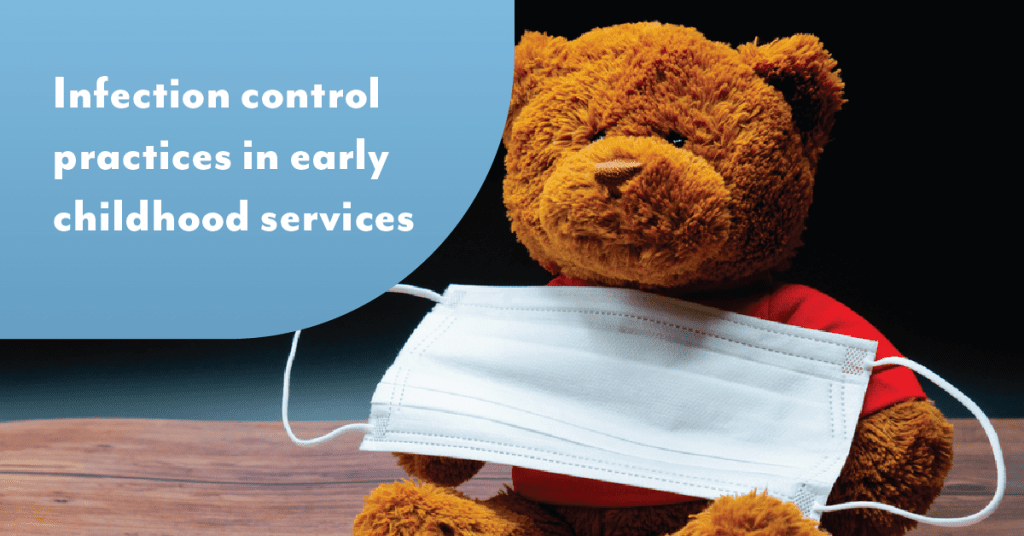 Infection control in early childhood services comprises of a range of risk mitigation measures, with the goal of preventing infection and reducing the spread of all types of infection, virus or illness.
The measures include enhanced personal hygiene, monitored hygiene practices, ensuring those who are unwell do not attend or visit services, reducing mixing between cohorts where possible and upholding policy around immunisations. During the current Stage 4 restrictions you can refer to the COVID safe guidelines outlined on the Business Victoria website.
Guidelines for face covering to adhere to with the intention of further reducing infection risk are also on the agenda when early learning services resume, to prevent further outbreaks. For specific COVID-19 infection control, training is available online for educators focusing on the fundamentals of minimising the spread during the pandemic and beyond.
Infection prevention and control for child care services
While avoiding infection within early childhood settings has always been a priority, COVID-19 has resulted in an increased focus on avoiding the spread of illness in child care services and kindergartens. COVID-19 is highly infectious virus and can easily spread through communities when precautions are not taken. Other illnesses that are common in child care of which we can strive to reduce the spread include:
Whooping cough
Hand foot and mouth disease
Influenza
Gastro
Common cold
Many infection control measures are already undertaken by Australian child care services, with the National Quality Framework incorporating a range of standards for services to uphold, including a number of National Law and National Regulation requirements. Further to this, in the National Quality Standard, Quality Area 2 is dedicated to Children's Health and Safety. These practices covering health, hygiene, illness, food safety and risk assessment have gone a long way to help centres reduce outbreaks of COVID-19 during the current pandemic.
The way centres manages infection should be documented for clarity and included in Quality Improvement Plans. Increased attention to infection prevention practices along with additional policies around illness and hygiene can help early childhood services when it comes to the National Quality Standard, while continuing to provide a safe space for children to be cared for and learn.
Practical infection control strategies
These practical strategies will help your service and its community to avoid infection and illness, keeping everyone safe and well when early learning centres are back in operation.
Regular cleaning
Cleaning toys, surfaces and bedding is essential at least once per day to reduce the risk of transmission of infection. Ideally cleaning would take place multiple times each day. Deep cleaning may be needed in the case of outbreaks.
Stay home policy
It is important to make it clear to families and staff that if they are showing any symptoms of illness they should stay home. In the case of the coronavirus, this can include fever, tiredness, cough, loss of taste or smell, headaches and sore throat. For other illnesses it may be vomiting, rashes or runny nose. The Australian Health Protection Principal Committee (AHPPC) also advises that visitors and staff of a child care service should not be allowed to enter if they have been in contact with a confirmed case of COVID-19 within the last 14 days.
Temperature screening
A fever has been reported as a common symptom of COVID-19. As a result, to reduce risk of spreading infection it is strongly recommended that each child's temperature should be screened using an infrared thermometer upon arrival at their centre or kindergarten including those in areas under Stage 3 restrictions. A temperature of 38 degrees Celcius or higher is considered a fever and the child should stay home until the symptom resolves.
If services do not have an infrared thermometer, and are having difficulties after making efforts to source their own supply, please email Early.Childhood.Implementation@edumail.vic.gov.au
See here for detailed guidance for administering children's temperature screening. Posters have also been developed by the Department to display at your service, and to communicate to staff and families.
Effective hand-washing
Aim for twenty seconds of hand-washing, applying soap and rubbing hands together thoroughly. This includes scrubbing the palms, tops of hands, between fingers and around the nails before rinsing. Using a hand-washing song with a twenty second duration has made this a fun activity for many children!
Sanitiser at entrance and exit
Provide hand sanitiser in a place at the entrance to your centre. Request that is it used upon entry to reduce the likelihood of germs coming into the child care service.
Face coverings
In early childhood education settings however, staff can choose whether or not they wish to wear a mask while working with children. When staff are working in other areas of the centre, during this current environment they are expected to wear masks, for example while working on reception, staff rooms and foyers, when providing first aid or taking temperatures. Parents and carers are also expected to wear face coverings when picking up and dropping off children.
Face coverings should never be placed on children aged two and under, due to choking and strangulation risks. A person who has a medical condition – including problems with their breathing, a serious skin condition on their face, a disability or a mental health condition – is not required to wear a face covering.
Food safety
Food safety and handling protocol should be upheld when preparing and serving meals and snacks. Children should not share food and each child should have their own drink bottle rather than using shared water fountains.
Coughing and sneezing
Coughing and sneezing can sneak up on people and don't necessarily mean the person is unwell, however good hygiene is to encourage coughing and sneezing into the crook of the arm (elbow area) rather than into the hand.
Maintain physical distancing
Where possible there should be 1.5 metres of distance between each person. This is unlikely to be achievable in groups of children, but should be the aim for adults in the centre during all interactions. Face coverings are recommended for adults when physical distancing is not possible.
Limit interactions
To reduce contact between children and adults you can increase space between work stagger arrival and departure times where possible. More activities with smaller groups of children and utilising indoor and outdoor spaces where possible while maintaining staff ratios.
The steps taken to mitigate ri]'sk of infection in early childhood settings are not only for children's health and safety, but for that of adults too. In fact, adults including educators and parents are at highest risk of transmission of COVID-19. With this in mind, avoiding situations where adults are in close proximity is essential.
Managing an infection outbreak in your service
In the event that an infection does occur within your early childhood service, it is vital that the situation is managed quickly and carefully. For most common child care illnesses, this means notifying families and undertaking a deep clean of the centre including toys, surfaces and bedding.
In the case of a confirmed COVID-19 case relating to someone who has visited a centre, there are a number of steps that will be followed:
The Department of Health and Human Services (DHHS) will notify the service of a confirmed case. The centre will also be advised whether they need to close or continue to operate.
The centre must inform families and staff. The Department will provide resources to help centres with this communication.
Services should then lodge a notification through the National Quality Agenda IT System (NQA ITS).
A deep clean that is COVID-19 compliant needs to be arranged for your service. A centres cleaning contractor should have knowledge on cleaning and disinfecting requirements pertaining to COVID-19.
Stay in contact with families. Services should continue to keep families informed throughout the process, while the Department will keep services informed of what is to come.
New WorkSafe advice
Please be aware of a new requirement to report confirmed cases of coronavirus (COVID-19) to WorkSafe. Employers must notify WorkSafe immediately after becoming aware that:
an employee, independent contractor, employee of the independent contractor or self-employed person has received a confirmed diagnosis of coronavirus (COVID-19), and
they have attended the workplace within the relevant infection period.
There is a requirement to report to WorkSafe using the online confirmed coronavirus (COVID-19) diagnosis form, or calling 13 23 60. Once you report a confirmed case, it's likely that WorkSafe will make inquiries about your safety systems including your infection control measures, recording of injuries and near misses, consultation practices and risk assessment processes
More information about this process is available via the State Government's Education and Training website.
Essential resources for health and safety in child care
In addition to putting practical infection control strategies in place, time should be made for staff members to undertake the COVID-19 infection control training online to ensure best practice is adhered to with early childhood service. Developed by the Australian Government Department of Health, the training covers the fundamentals of infection prevention and control for COVID-19.
It's important not to forget that this year has been immensely challenging for many. As such, mental health resources can be valuable to you, your staff and your families helping to support wellbeing and mental health.
With protocols heightened as a result of the COVID-19 pandemic, we are all adjusting to new approaches and policies in early childhood. Working together, communicating effectively and doing the right thing will ultimately improve the health and wellbeing of our entire communities and hopefully enable restrictions to ease over the coming months.
How services are currently implementing infection control and prevention
Selmar Regional Manager Anastasia Natoli shares her experience with infection control and risk mitigation at services during the current pandemic.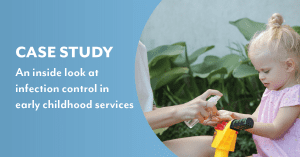 For more information, please refer to the Coronavirus (COVID-19) advice for early childhood services provided by the Victorian State Government. Please note, any infection control and prevention strategies conducted should be line with the advice provided by the Australian Government Department of Health and the Department of Education, Skills and Employment.