Early childhood education and care is a growing sector with an important job to do.
As the sector expands so too does the demand for educators with the skills and training needed to support children through these important early years.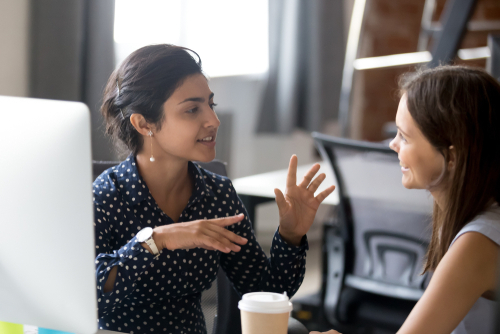 Addressing the demands of a growing sector
Giving children quality education and care in their early years means laying the foundation for them to lead healthy, happy and fulfilling lives. If the sector is to continue having a positive impact on the next generation, we need to ensure it is staffed by talented individuals who want to make a meaningful contribution to children's formative years.
Finding the right educators for your service can be challenging; you want well-trained and highly motivated individuals to join your team who also have a demonstrated passion for working with children. The sector is currently facing a 'talent shortage', and as it continues to grow there will be an increasing demand for more and more skilled and passionate individuals.
Working with a Registered Training Organisation (RTO) is one way to reduce the strain on your business. Developing a relationship with an RTO means entering a mutually beneficial partnership which focuses on quality training and workforce solutions. We'll supply a stream of highly trained workers which will enable your service to shape a desirable workforce of talented educators.
How your service will benefit from a relationship with a training provider
There are many benefits to working with an RTO – whether it's tackling staff shortages, ensuring best practice, or upskilling current staff. Working with an RTO is a great way to ensure you're employing individuals with great training behind them, which in turn ensures you're providing a quality service and running a successful business too.
Workforce solutions
We can support you to find new talent and shape a desirable workforce by assisting you to take on our learners through practical placement or as trainees. Bringing learners and trainees into your workplace from a training provider means:
Investing in future educators
Having a say in their learning and development
Shaping individuals who will be a good fit for your service
Guaranteed high quality training
Training providers ensure that the quality of training is consistent and to a high standard, so you know what you're getting when you take on employees. We develop our courses in consultation with sector experts by focusing on the needs of the sector. This means that all our graduates are well-equipped, confident and ready for the responsibilities of early learning.
Adaptive skills
Our training focuses on adaptive skills to ensure our learners are flexible, capable and able to adapt to a range of daily challenges in the workplace. This is important in a dynamic sector like early childhood education, where things can change from minute to minute!
Upskill opportunities
We can assist you to refresh or enhance qualifications and skills among your current staff by providing opportunities to upskill. Professional development and regular participation in short courses is a great way to ensure the quality of your service remains high, and that staff are motivated to perform to the best of their abilities.
Building strong relationships
Our client relationship managers are dedicated professionals who aim to form strong relationships with early learning centres. Relationships managers support the needs of the centre by enrolling staff into upskilling qualifications or short courses, supporting the traineeship process through regular contact and discussion, and liaising where necessary between centre management and other organisations like the Australian Apprenticeship Support Network (AASN).
 Our commitment to early childhood education services
Choosing Selmar means choosing an RTO which commits to supporting your service on an ongoing basis. Our aim is to ensure the training process is as smooth and rewarding as possible and that the outcome is strong: more skilled workers to fund and enhance the quality of your service.
Selmar provides assistance to early learning services across Victoria and New South Wales who are interested in taking on trainees. We offer distance training so that learners undertaking a traineeship have the flexibility to work and learn with minimal disruptions to the way you run your service.
But what does all this really mean? As well as providing a flexible and supportive training experience for flourishing future educators, here are a few ways we aim to support you through the traineeship process:
We assign a Key Account Manager who will work with you and the designated AASN provider to complete paperwork and provide supplementary reports
We assist with funding and wage subsidies by determining eligibility and organising applications
We coordinate traineeship registration activity with the AASN
We follow up on registrations and assist with claim forms and completions
Practical and administrative support makes coordinating traineeships that much easier, and we're here to ensure the process is as organised and smooth as possible.
Supporting the sector
Our new early childhood education and care training package is designed to reflect the updated pedagogies and current demands of the sector. It's important to us that our learners are given information which aligns with best practice, and we have designed our courses carefully, reflecting our commitment to the sector now and into the future.
Reach out to our team for more information on our courses and how you can start supporting your business by working with our RTO.