After a tough and tumultuous year throughout most of 2020, it has been exciting and a great relief for early childhood services to reopen. Owners, directors, educators, families and children have shared in the experience and are thrilled to be back to their ideal routines.
To open safely and protect the health of our communities (and continue to stay open), each early childhood education provider is required to have a COVIDSafe plan in place. Government health experts have continually found that transmission risk in childcare settings is low and are confident that staff and children are safe as long as heath advice is followed.
With the right framework in place around infection control and risk mitigation, services are able to do what they do best — providing children with a happy, engaging and fulfilling early childhood education.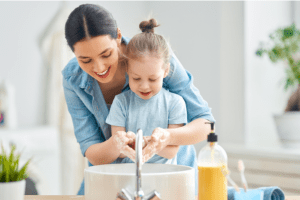 A COVIDSafe approach in childcare settings
In early childhood education and care, children's safety is always the priority. This means that providers are already in a good position to put the COVID-19 health advice in place and keep staff, children and families safe and well.
Infection control and prevention measures, along with creating a supportive environment to take care of the wellbeing of your staff, families and children enable early childhood centres to return to care safely and confidently.
Four step framework for a COVIDSafe service
Each service is different and the government information highlights that a one-size-fits-all approach is not appropriate, but following the guidelines outlined in the framework will help you to minimise transmission risk and maintain the highest standard of care possible.
The framework focuses on these four areas, which we have unpacked for you below:
Reinforce COVIDSafe behaviours
COVID-19 is well-known to spread predominantly through face-to-face interactions, as well as transmission being possible via contaminated surfaces. With this in mind, these six key elements must be implemented and reinforced in centres.
Stay home when unwell: If a member of staff or a child is unwell, they should be advised to stay home until they are well. This can stop any potential spread through communities to keep everyone safe. Anyone who has symptoms of coronavirus should get tested and of course there are other steps to follow in the case of a positive result, which we cover later in the framework.
Temperature testing: Temperature testing is not currently required but may be required in the future should community transmission in Victoria increase again.
Actively support and practice good hygiene: Hand sanitiser stations upon entry are a useful to keep germs out of the centre. Make times for regular hand-washing during the day. Cover nose and mouth when coughing or sneezing, and wash hands afterwards. Drinking fountains are not advised — bring individual drink bottles that are named and can be refilled as needed, and food sharing should be avoided.
Encourage physical distancing between adults: Physical distancing is challenging in certain spaces but aim for 1.5metres between adults where possible. Markers for safe distancing in reception and shared workspaces can be a useful visual reminder. Adults should avoid hand-shakes and hugs with one another. Use multiple entry and exit points or stagger start and finish times to reduce the number of people on.
Wear a face mask: In early childhood education settings staff can choose whether or not they wish to wear a mask while working with children. When staff are working in other areas of the centre, they are expected to wear masks, for example while working on reception, staff rooms and foyers. Parents and carers are also expected to wear face coverings when picking up and dropping off children.
Avoid adults interacting within enclosed spaces: Limiting staff in rooms is necessary but can be tricky with the expectation to maintain staff ratios. Getting outside and even adapting indoor activities to become outdoor activities.
More on reinforcing COVIDSafe behaviours here.
Create COVIDSafe spaces
COVIDSafe spaces make taking the necessary precautions to avoid infection easier. There are many things early childhood education services can put in place to achieve this: Easy access to hand sanitiser, regular cleaning schedule for surfaces, door handles and toys, increased ventilation (open windows) and a tendency to move outdoors whenever it is possible.
Workforce bubbles where the same staff are rostered together as often as possible can reduce transmission spread too and contribute to COVIDSafe spaces.
Further support to create COVIDSafe spaces here.
Promote COVIDSafe activities
To minimise risk in services, some activities may need to be altered or avoided. As a general rule, reducing the intermingling of children across different groups/rooms will help to lessen interactions between large numbers of staff and children. Activities that involve singing and wind instruments should be avoided at this time, and only essential visitors should attend services.
More information on COVIDSafe activities here.
Respond to COVID-19 risk
When it comes to a COVID-19 outbreak in your centre, a fast response is key. Knowing the symptoms and ensuring the families and staff at your service know them is vital. Symptoms include:
fever
chills or sweats
cough
sore throat
shortness of breath
runny nose
loss or change in sense of smell or taste
Contact tracing is essential in the case of an outbreak — keep records of anyone who spends time in your centre. If a positive result occurs, follow the protocol as outlined in this fact sheet.
More detail to support your centre in responding to a COVID-19 risk here.
A safe space for children to learn and grow
With the right strategies in place, we hope that early childhood education services can continue to support communities and that educators can continue to do their incredible work nurturing children's development in a safe environment.
Research, data and advice can change as more comes to light about the coronavirus, its transmission and its current movement or behaviour within each community. You can find current health advice for early childhood education centres in Victoria here. Further guidelines for operation can be found here.
By staying up to date on the latest important guidance on what is appropriate, we can all ensure that early childhood education services and their staff and families can remain COVIDSafe.