Our new initiative is designed to support compassionate individuals to join the aged care sector. Introducing, the Aged Care Employment Program. Through this program, we're providing quality training to people who want to be a part of the aged care sector.
With the aged population in Australia increasing, the aged care sector must continually grow to meet demand. This makes aged care a reliable sector for those seeking a meaningful career with excellent job prospects now and into the future. Taking the first step into a new career can often be the most challenging, and at Selmar we aim to support people in doing just that.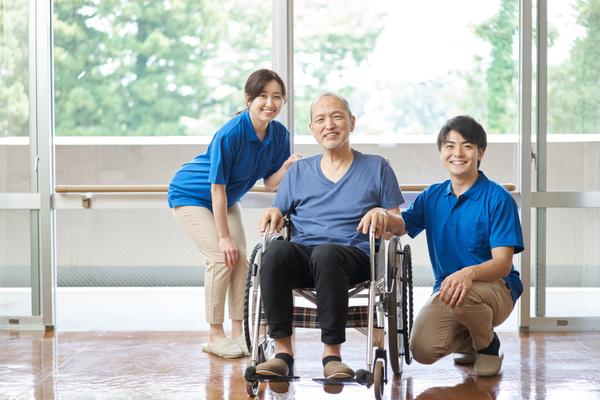 The Royal Commission into Aged Care Quality and Safety highlighted the need for a renewed focus on high quality care as the vital foundation for a strong sector. This requires skilled, highly trained aged care professionals who are committed to providing the very best care possible.
What is the Aged Care Employment Program?
The Aged Care Employment Program combines a comprehensive 5-week online course with a Certificate III in Individual Support paid traineeship to provide learners with the technical, behavioural, and employment skills for the aged care sector. This ensures a confident start to a thriving new career!
This employment training program is an Australian first and is centred around accelerating skills and employment outcomes in the aged care workforce. The Aged Care Employment Program was designed in partnership with Generation Australia. This organisation aims to connect people with qualifications and jobs, motivating them with programs that are structured to help them achieve their goals. They simultaneously strive to solve employer challenges by shaping talented, job-ready employees.
Selmar is also working with aged care provider Uniting NSW.ACT as part of the Aged Care Employment Program, with Uniting NSW.ACT providing valuable traineeship opportunities to those eligible in the program.
How the program works and who it's for
The Aged Care Employment Program is for those who want to move into the aged care sector and make a meaningful difference to the lives of elderly Australians. Compassionate, caring individuals who understand that everyone deserves dignity and kindness through every stage of life. Currently the program is only available in Greater Sydney, NSW. The eligibility requirements include:
Not currently in education or full-time employment
Over the age of 18 when commencing the traineeship
Available and willing to commit to full program duration:
Work Readiness Program: Full-time for 5-weeks (online)
Traineeship: Full-time/part-time for 12-months; able to commit to regular classes (online) or practical sessions, available to work a variety of shifts across the week.
Willing to undertake a Police Check, and NDIS Check
Be an Australian or NZ citizen, permanent resident, or on a humanitarian visa
Have basic tech, numeracy, and literacy skills (ACSF level 2)
Willing to undertake a Functional Assessment before commencing traineeship
Evidence of flu and/or COVID-19 vaccination before commencing traineeship. For more information, check the NSW health department website.
Selmar CEO Jo Asquith explains that the best care in aged care is delivered by people who have well-developed skills in areas like emotional intelligence and empathy.
"This program is about finding those people, training them, and connecting them with clear career pathways to ensure they are making a positive difference from day one", says Jo.
When an eligible applicant is accepted into the Aged Care Employment Program, here's how it works:
Work Readiness Program:
The Work Readiness Program is a 5-week, full-time online program that will provide the foundational technical skills, behavioural skills and mindsets needed to be set up for success in a career as an aged care worker. The program will be led by qualified and experienced Selmar trainers and include holistic support from experienced mentors.
CHC33015 Certificate III in Individual Support Traineeship:
Participants who successfully complete the Work Readiness Program will gain entry into a 12-month CHC33015 Certificate III in Individual Support traineeship with Uniting. This will provide them with a nationally recognised qualification to work in aged care while experiencing on-the-job learning as a trainee.
The result:
For a person entering aged care, the outcome is exciting — qualifications and a career in aged care, with support and experience to commence a career with confidence. For employers, highly-trained aged care workers enter their workplace, and for the aged care sector the standard of care provided is raised through comprehensive training.
The Aged Care Employment Program benefits learners and the workforce
The Aged Care Employment Program is set to provide much-needed support and many improvements. For aged care learners, aged care providers and the sector more broadly, expect benefits such as:
Highly-trained aged care workers:
The sector and its providers need talented, committed carers to provide support to the elderly. Through the intensive initial 5-week Work Readiness program, learners are prepared to head into the workforce as trainees. From here, trainees can further develop their skills under the guidance of their employer on the job, meaning they can become a perfect fit within their workplace.
Direct education-to-employment pathway:
Learning is more enjoyable and appealing when a genuine career is in sight as part of the study journey. The Aged Care Employment Program empowers learners and values their dedication to the aged care sector, providing them with support and a pathway directly from their education to employment.
Improved course engagement:
Studying while working means learners can hone in on their role in aged care. Rather than the distraction of training in aged care while working elsewhere until completion, learners can start applying their knowledge and skills in real time with ample support from their course provider and working environment.
Continuing to nurture high quality aged care workers over time means creating a workforce that can fulfil its potential and thrive. Ongoing upskilling, support, empowerment and positive working environment means a better aged care sector for everyone involved.
Take a fresh, practical approach to aged care training and employment
Applications for the first intake of the Aged Care Employment Program have already filled — a second intake is commencing in March 2022.
Aged care services who are interested in learning more about becoming a traineeship partner, get in touch.