The early childhood education sector offers a promising career for those seeking work that is fulfilling and makes a genuine difference each day. When entering this sector it's worth assessing your short and long term goals. From here, you can get to exploring your career progression opportunities — after all, where you start out may not be where you end up.
In early childhood education there is plenty of room to grow as a valued employee in the sector. There are a variety of roles you can thrive in with your early childhood qualifications.
After working as an educator when you first start out, the next step for you might be a leadership role such as Room Leader. Let's get to know what this role involves and how you can plan your career progression to shine as a Room Leader.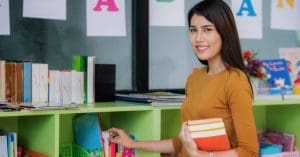 What is a Room Leader?
A Room Leader is an early childhood education role that offers the opportunity to take on leadership in an early learning service such as a long daycare centre. For those considering a career in early childhood education or looking to progress on their career journey as an educator, a Room Leader position could be an exciting goal for you.
If you're new to the sector it's important to know that early learning service providers often feature multiple rooms, with each room catering to children of a different age group. For example, there might be a room for babies under the age of 1 year old, a room for toddlers and a room for pre-school aged children. Each group in the service will have a Room Leader who, as the name suggests, is in charge of that room.
The Room Leader is an educator with the skills and experience to organise and manage what happens in their room. The responsibilities of a Room Leader will likely include:
Focusing on planning
Early learning services require strong programs that are aligned with the Early Years Learning Framework (EYLF) and National Quality Framework (NQF). Room Leaders are responsible for planning and implementing an early childhood program that is inclusive, caring and engaging play-based learning environment.
Delegating tasks within your team
Assigning the right tasks to the right people is an important part of being a Room Leader. This ensures that everyone knows what they are responsible for. Effective delegating also means your team will be empowered to reach their full potential in the sector.
Communicating effectively
The role of Room Leader involves establishing and maintaining open lines of communication between staff members and between staff and families. Building strong relationships means fostering effective collaboration, support for children's education and raising the standard for your room and the centre to thrive.
How to become a Room Leader
Room Leaders in early childhood education will need to have experience within the sector. Working as an educator you will gain that necessary grounding and know-how to be able to advance your qualifications and career as a Room Leader.
The Diploma of Early Childhood Education and Care will equip you to become a lead educator and take on a position as Room Leader. This qualification focuses on your ability to deliver valuable early childhood education programs for children, as well as mentoring others in the sector. You will learn about effective management skills, such as developing your team, staying organised and prioritising and facilitating compliance in early childhood settings.
At Selmar, our trainers support learners through their study journey, imparting their own personal experience in the sector along the way. With a flexible, online approach to learning combined with consistent guidance from your own dedicated trainer, advancing your career is achievable and fulfilling.
Thriving as a Room Leader
Becoming an effective and successful Room Leader also requires the development of adaptive skills. These are qualities that are sometimes known as soft skills and they are highly valuable for those looking to thrive as a Room Leader. Skills like patience, honesty, organisation, emotional intelligence, cultural competence all contribute to the role of Room Leader.
Selmar incorporates the development of adaptive skills throughout our courses. This means when you complete your studies with Selmar, you graduate feeling qualified and confident in your ability to progress your career and shine in early childhood education.
If you're ready to embark on a rewarding early childhood education, we can help. Our trainers would love to support you as you continue on your career journey in this fulfilling and important sector.
Reach out to our team to discuss your career goals and the best pathway for you to achieve them.