During this tough year, early childhood education services and educators have worked hard to keep children learning through play even when many centres were not accessible. Being ready to commence primary school is a key focus for kindergarten programs, and newly announced funding is set to provide additional help to ensure that children are school-ready.
To support educators and early childhood education and care (ECEC) services in enhancing school readiness, the Victorian Government has announced a kinder funding boost for not-for-profit sessional kindergarten programs across the state. This also supports families by giving them access to free kindergarten in response to the ongoing impact of the COVID-19 pandemic.
Sessional kindergarten will remain free for eligible services following the announcement of additional funding to support children as they transition to school.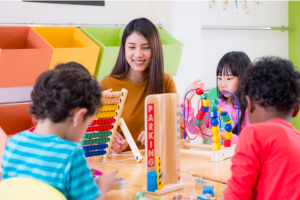 Support for ECEC services with kinder funding boost
Early childhood education's vital role in communities is recognised and bolstered by the Government's announcement of $26.7 million in extra funding for Term 4. Around 1,700 kindergartens will share in over $3.7 million committed to early childhood education and care service for Term 4 this year. This is intended to ensure kindergartens have the resources needed to maximise school readiness for children and will be available to services that are not yet receiving funding through the School Readiness Funding initiative.
Services have worked hard to support families and staff throughout the year and have put immense effort into COVIDSafe plans to ensure safe access to early childhood services for all families and educators. The Minister for Early Childhood, Ingrid Stitt agrees:
"We're making sure Victorian children get the most out of their last term at kinder and have a great start to school."
School readiness focus for Term 4
Similarly to this free kindergarten initiative, other eligible early childhood education services will have access to School Readiness Funding. Transitioning from kindergarten to school is a momentous time in a child's life. School Readiness Funding is designed to support educators in equipping children for this transition to formal schooling.
This school readiness initiative enables services in Victoria offering a funded kindergarten program to access funding for a range of approved programs from the School Readiness Funding menu that have been proven to enhance children's school readiness.
Whether your service is a funded kindergarten program only or a long day care centre with a funded kindergarten program, you will be eligible to receive the school readiness funding. The Department should contact your service to let you know what your funding allocation will be and when you can access it. Program offerings under the School Readiness Funding include:
programs and services that target speech, language and literacy
allied health (speech therapists, psychologists, occupational therapists)
programs and services that support trauma informed practice, secure attachment and mental health
resources and programs to support the social and emotional wellbeing of children
support for cultural and linguistically diverse children and families
support for parents to support their child's development.
When choosing how to spend your funding allocation, take care to consider the needs and gaps in your kindergarten program.
Kinder funding for enhanced outcomes
The funding for Victorian kindergarten programs will allow services to create more kindergarten program hours, additional educator hours for extra transition activities, facilitate more one-on-one time with children and other case-by-case needs that will improve children's readiness to start primary school. Services don't need to apply for these kinder funding initiatives and will receive communication of their entitlements.
For more information about the funding boost for not-for-profit sessional kindergarten programs, head here.
To find out when your region can expect School Readiness Funding, click here.
See the full media release in regard to Term 4 kindergarten funding in Victoria here.
The challenges of this year have the potential to bring about setbacks for children's learning and development, including repercussions well into the future for children's education. Thankfully, these funding initiatives for kindergartens across Victoria recognise these challenges and seek to help children make up for lost time in 2020 and continue to thrive at kindergarten and well into their formal years of schooling and beyond.
The team at Selmar is proud to support the early childhood sector and looks forward to continuing to support services as they prepare children for their transition to primary school.