Under the Jobs Victoria Fund, wage subsidies of up to $20,000 per employee are available to support businesses to support their staff. The scheme has been updated to enable more businesses to be eligible, so if you are a Victorian aged care employer who hasn't yet taken advantage of this government funding, now is a great time to get informed.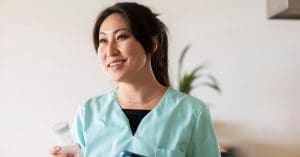 Since the beginning of the year, many aged care providers have been thinking about how they want their business to run and what aged care should look like in 2022. If there's one thing the pandemic showed us it's that the sector is nothing without its workers, and recruiting the right team is a huge part of rising to meet each new challenge we face.
What is the Jobs Victoria Fund?
The Jobs Victoria Fund will apply to some aged care providers in Victoria. This funding initiative is designed to help Victorian employers to employ people who have been most affected by the economic impacts of the pandemic. This might look like either hiring new staff, or increasing hours for existing employees.
Wage subsidies of up to $20,000 are available to support the cost of employing someone for 12 months. The number of subsidies you can apply for will depend on the size of your business.
The subsidy is intended specifically to support priority groups who have been disadvantaged by the pandemic. This includes women, migrants, older workers, Aboriginal and Torres Strait Islander people, single parents and asylum seekers/refugees.
At least 60% of jobs supported by the fund will go to women, reflecting the ongoing adverse impact the pandemic has had on women's employment opportunities.
Who is eligible for funding under Jobs Victoria?
There are a few criteria you'll need to meet to be eligible for the scheme.
Firstly, any employee to receive a wage subsidy must be employed for at least 12 months on a permanent or fixed-term basis.
To qualify for funding, jobs must be for at least 19 hours per week – although workers with a disability or carer responsibilities will be eligible for decreased hours.
The important thing to consider is that this fund is designed to support priority groups, which means that eligible employees must come from one of these categories:
Aboriginal and/or Torres Strait Islander people
jobseekers registered with a Jobs Victoria Mentor service
people unemployed for six months or more
newly arrived migrants from non-English speaking backgrounds
women aged 45 years and over
people seeking asylum/refugees
people with disability
single parents
veterans
men and people who do not identify as a woman aged 45 years and over
young people aged under 25
people previously or currently employed under the Working for Victoria initiative
If you're still unsure whether your business qualifies for funding, the Jobs Victoria Fund website has a handy questionnaire you can complete in under 5 minutes in order to check your business's eligibility.
Benefits for everyone
The pandemic revealed how deeply we rely on quality aged care services in Australia. Over the past two years, the sector has faced innumerable challenges. It's now more important than ever that we continue to populate the aged care sector with skilled and compassionate carers.
Taking advantage of the Jobs Victoria Fund wage subsidy means supporting your own business by supporting your workers, who in turn support both clients and their families, raising the standard of aged care industry-wide.
Supporting your workers with economic initiatives like this also increases their productivity, happiness and wellbeing – ensuring your business creates a positive work environment that will contribute to better workplace culture across the entire sector.
Working together to build a stronger aged care sector
At Selmar we work closely with the aged care sector. We understand the challenges and demands it faces, and know that sector-led training is the most effective way to supply aged care providers with skilled workers.
Our approach to learning is driven by empathy, dedicated trainer support, industry knowledge, and high standards of care. We generate successful graduates who go on to become the kind of capable and empathetic workers you want on your team.
At Selmar we can help you identify solutions to any demands your business might be facing, like needing a steady stream of qualified workers. The Aged Care Employment Program is an initiative we have created to help increase the pipeline of skilled workers to the aged care sector. This program combines an intensive Work Readiness Program with a Certificate III in Individual Support paid traineeship in order to speed up learners' transition into the workforce.
It is our goal to cultivate and encourage a workforce of positive, skilled and empathetic carers who will continue to enhance workplace culture and the standard of aged care over time. It's about creating a better aged care sector for everyone.
If you'd like to find out more about the training services we can provide for your aged care business, get in touch today.