Life can sometimes throw the unexpected our way. No matter how perfect our plans or how good our intentions are, circumstances can change suddenly. Having an element of flexibility is important to the success of any plan, that's why flexible study options are so essential.
Despite the upheaval of the COVID-19, flexible study options have enabled Selmar learners to continue their training journey. Online study is one way to deliver flexible study, and it can empower learners to continue toward their qualifications from just about anywhere at any time. Accessing all your theory components from one online space means if you have a laptop or tablet and an internet connection, you have the flexibility of studying your way.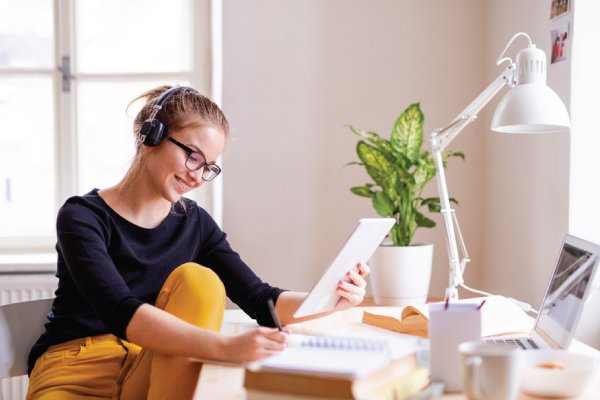 We should never stop learning, and with flexible online study we don't need to — working around existing commitments and life's disruptions can be done. Personal circumstances should not be limitations for achieving your study goals.
Learning with an easy-to-access online portal and thoughtfully designed material ensures more people have the opportunity to gain the qualifications they want regardless of their lifestyle. There are many reasons why people may prefer to study from home or elsewhere at their own time. As well as during this time of social distancing, online study can suit those who live rurally, have limited access to transport and have other responsibilities including work and children.
Online study with a difference
While online options are useful, not all online study options are created equal. To get the most of out of your course, you need the ability to access high quality educational content and a dedicated trainer with support tailored to your unique journey.
The online delivery mode of your course should combine the many benefits of on campus studying with the convenience of completing your training at a time and place that works for you.
Flexible study, full-on support
At Selmar, when we designed our online learning portal, we were careful to ensure that learners would be allocated a trainer who would guide them throughout their course – from start to finish.
Just like on-campus learning, our dedicated trainers deliver support that is tailored to each individual's needs. Regular catch ups and help as you need it is available via phone, email or video conference such as Zoom. There is no need to take on your online study alone.
Interactive and easy to access
It's vital that your flexible study option enables you to access everything you need in one spot too. Selmar courses all have theory components online, so you can get on with your learning from the comfort of wherever you are without undue stress.
Online learning presents the opportunity for learners to access an interactive learning experience through videos and quizzes, along with the convenience of being able to submit assessments online and receive individualised feedback. Not to mention, your material is all online to revisit as needed. Getting qualified from your couch doesn't get much better than this!
Online study for a flexible lifestyle
Life can be busy and constantly changing. Whether you're a parent, currently working or have other life commitments, training online is perfect. No need to worry about missing class – as class can be from where and when you choose.