The new year is coming and now is the time to start considering how you will succeed and grow professionally in the coming year. Familiarising yourself with aged care traineeships could be a good place to start.
An aged care service requires high quality aged care workers to thrive. Finding skilled, knowledgeable carers to join your team can go a long way to creating a strong aged care business.
While recruitment can be challenging as you try to find people who are the right fit for your workplace, having a team of aged care workers who are committed to the work you are doing in aged care is vital.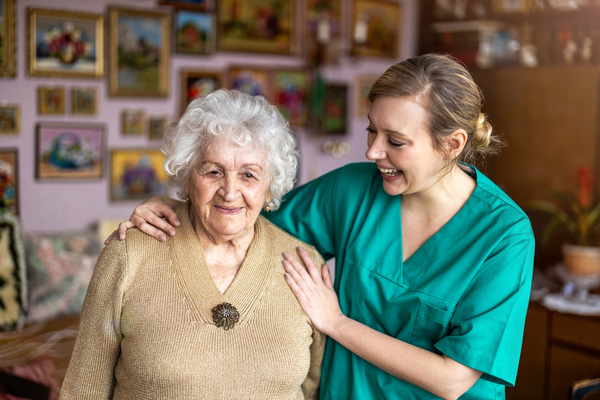 What is a traineeship?
A traineeship combines the theory-based learning of aged care with the practical experience of working in the sector. While quality courses in aged care will incorporate practical placement, a traineeship gives learners the opportunity to work and earn while they learn on the job. Aged care trainees will be undertaking a qualification for the sector via the workplace training delivery mode at the same time as being an employee.
Traineeships share similarities with apprenticeships — they both involve learning while working, but while apprenticeships enable a person to gain qualifications and be trained in skilled trade, traineeships support those seeking training in vocational areas. Another key difference to note is that apprenticeships generally take around four years to complete, whereas a traineeship is more likely to be from 12 months to three years in duration.
What a traineeship can bring to your aged care team
Welcoming trainees into your team of aged care workers offers a range of benefits to your workforce as well as to your aged care service from a business perspective. Traineeships can allow you to find the right carers for your aged care offering, while also saving you time in the recruitment process. Here are some of the key benefits that aged care providers can encounter through taking on trainees:
Employees with well-developed practical skills to match your workplace:
Every workplace has their own way of doing things and their own approach to maintaining dignity and quality of life for ageing individuals requiring aged care. A trainee can develop their knowledge and skills in the sector under your guidance, meaning they will be the perfect fit for your workplace.
Save time in the recruitment and onboarding process:
When staff are learning on the job, you have the opportunity to help shape your employees' approach to aged care. In turn, you are able to gain valuable team members without time and energy going into job advertisements, interviews and retraining.
Financial incentives for services:
There are various incentives available to support eligible aged care services who take on trainees. Lump sum payments to your business are on offer to support businesses who are willing to give trainees a chance to thrive in the sector.
 Improved employee confidence:
Employees who are being trained on the job are learning first-hand how they can shine and provide exceptional aged care for the elderly. This improves their confidence as carers right from the beginning of their career journey in the sector, maximising what they can offer your team and those requiring care.
Qualified staff receiving high-quality training:
Rather than try to gauge a potential employee's suitability and skill level, a trainee becomes a staff member who is actively receiving high-quality training. Selmar provides outstanding training for those undertaking aged care traineeships, while you are enhancing their training on the job.
Traineeships should be a supported experience
Taking on a trainee can be a successful move forward for aged care providers, with subsidies and support from Selmar's trainers to develop your skilled workforce. Our workplace training mode is specifically designed to give both learners and your workforce a smooth and satisfying traineeship experience.
We know that you want to shape a skilful team of compassionate aged care workers without disrupting the day to day running of your workplace. With this in mind, our dedicated trainers are on hand to deliver support to your trainees throughout their studies. As well as being on hand to speak with learners when they need guidance, Selmar trainers also head into your workplace to provide the trainee with coaching and support in real time on the job.
We do everything we can to ensure your trainees succeed. Life can often involve multiple commitments, so we keep our approach to training flexible. Your trainees' working hours are counted as their practical placement hours to keep them learning consistently in your working environment. Plus, our distance learning format and easy contact with their trainer means they can study and progress with their studies from wherever is most comfortable and convenient.
Selmar is dedicated to valuable aged care traineeships
Fostering a high-skilled workforce of aged care workers is something we are committed too. The Royal Commission highlighted just how crucial it is for aged care employees to receive quality training opportunities throughout their career journey. We believe that traineeships play an important role in shaping a strong aged care sector.
Selmar's Aged Care Employment Program further contributes to enhancing the sector and its people. Initially rolling out in the Greater Sydney region of NSW, this newly created program provides the foundational technical skills, behavioural skills and mindsets to set learners up for success in a career as an aged care worker
For aged care service providers who want to take on trainees in the workplace, incentives are available. This supports you to build a skilled, capable workforce for your business to succeed.
Shine in aged care in 2022
The new year is around the corner, and workplace training can ensure you get off to a flying start with highly-trained, committed aged care workers on your team.
If a traineeship sounds like it could be a good option for your aged care service, chat to us to learn more about how we can help.
Our goal is to support your traineeship program so your workforce becomes the best it can be. Contact us today.