In this article we'll take you through all the ways we can work with your business to find strategic workforce solutions.
Our aim, as always, is to bring skilled and passionate workers to the sector, so you can continue providing the highest quality care.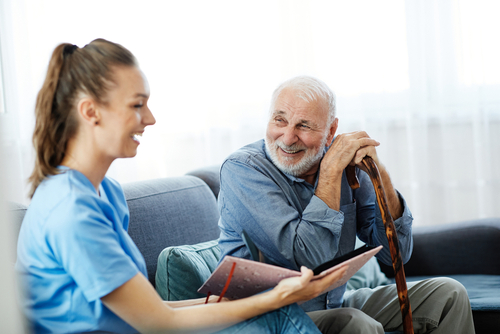 Let's work together – how we can support you
We understand the impact staffing issues can have across the board – on aged care providers, carers, clients and their families. As part of Selmar's commitment to supporting the aged care sector we've developed strategies for working with your organisation to alleviate unique workforce challenges.
Take advantage of our strategic knowledge by attending a one-on-one workforce strategy session with an aged care employment expert at Selmar. You can register to attend one of our sessions below, but first, let's get straight into the ways we can support you to find the best employees for your service.
Opportunities to upskill:
We'll work with you to give your aged care staff opportunities to upskill. This might look like supporting untrained staff to gain qualifications, like our Certificate III in Individual Support
We offer a range of short courses which enable you to create a multiskilled team of capable and caring employees. Our short courses run in areas as diverse as medication skills sets, first aid and compassion led care. Upskilling with a short course is a convenient way to refresh or develop your workforce's capability, and the best part is that for group training, we can come to you!
If you're looking to grow your leadership team, look no further. We're here to support aspiring leaders in the sector hone their leadership skills. Have a chat to our team to find out which program would best suit your business goals.
Traineeship support:
Trainees can be an enormous asset to your business. Bringing on trainees is an opportunity to tailor their professional development and skills to suit the unique needs of your aged care service.
Below are three specific areas in which we offer traineeship support:
We've teamed up with employment service partners to create a workforce strategy which includes funding and training solutions. Selmar can assist you with funding and wage subsidies through government schemes like JobTrainer and the Jobs Victoria Program.
Something we're really proud of is our new education to employment initiative, the Aged Care Employment Program. This program combines a 4-week Work Readiness intensive with a traineeship, expediting the process of becoming qualified. It is our aim with this program to create a thriving pipeline of skilled workers to the aged care sector.
We've also appointed key Account Managers who can work with you to drive growth initiatives. Let's work together to come up with solutions – ss the saying goes, two heads are better than one!
Access to our cohort of skilled learners and programs:
Education is the thing we do best, and by teaming up with Selmar you'll be connected to our successful learners, skilled graduates and beneficial programs.
Some of these have already been covered, but here's a quick list of things to look into:
The Aged Care Employment Program
Education to employment pathways
The benefits of bringing in learners on practical placements and traineeships
Short courses and group training to maximise workforce capability
Selmar's connections to Employment Service Providers
Our commitment is clear
It takes commitment to become one of Australia's leading Registered Training Organisations (RTOs) in the aged care sector. We know that the elderly are some of our most vulnerable people, and we also know they've got a lot to give. We want to make sure elderly Australians get the most out of life, and this means making sure they get the care and compassion they need.
You can see our commitment in the way we structure our aged care courses to focus on an effective mix of hard and soft skills. You can see it in the way we help learners fast-track their progress from study to the sector. You can see it in the dedication of our trainers and the success of our graduates.
We put care at the heart of everything we do. That's why we're committed to working with you to build a better aged care sector.
For more information about our workforce solutions and aged care training, contact us today.