If you've been exploring the idea of pursuing a career in aged care, you have probably heard how rewarding being an aged care worker is. But what you might not know is that there are also times it is downright hilarious!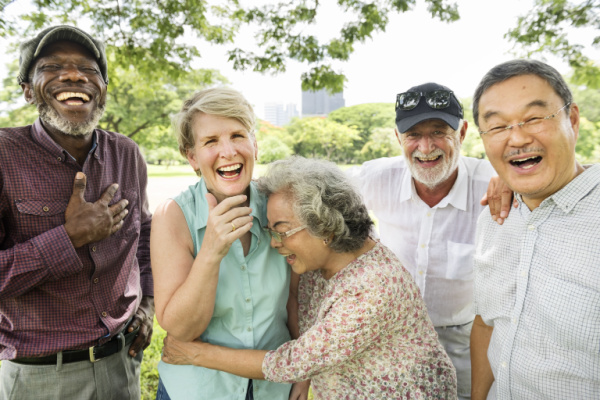 A career in aged care sees you spend your days alongside ageing individuals, providing care and companionship to enhance their quality of life. In return, you will often be treated to a brilliant story or two. After all, you don't live to experience old age without having a few experiences and stories to share, or developing a good sense of humour when it comes to life's situations.
To show you the fun side of aged care, we spoke to aged care professionals who were happy to share some of the funniest stories their aged care clients had offered up over the years. Here are the top four in no particular order.
It all comes out in the wash
Working in home care you will head to the home of elderly individuals to provide the support they need. This can include personal care as well shopping, washing or helping them keep the house in order.
On one visit to an older woman's home, a personal care assistant was asked to hang out a load of wet washing on the line. As the carer approached the laundry she heard a loud clunking from the washing machine while it was finishing its spin. As it finished, she opened up the machine to find an empty wine bottle!
When she asked the elderly woman what the wine bottle was doing there she winked and said she didn't know before eventually coming clean that she had hidden it in the washing machine when her daughter came to visit so she wouldn't tell her off for having a drink!
Who is it?
Technology has moved forward at a phenomenal rate over the past decade, so it's not surprising that some older Australians have trouble keeping up.
One resident's phone messages kept going answered due to a bit of ringtone confusion.
An 86-year old woman found it very amusing to retell how she kept getting up to answer the doorbell one particular day. She thought it must have been some kids playing a prank or she was losing her marbles. In the end it was neither – just a text message ringtone that sounded a lot like a doorbell!
The many uses of a walking stick
It seems when you've had a walking stick for a few years you can really find some unique uses for it!
One gentleman took it upon himself to fix a door handle on his sliding glass door. In the process, he ended up super-gluing his finger to the handle! Thankfully, he had his walking stick on hand!
He managed to manoeuvre the walking stick to knock the screwdriver toward himself so he could unscrew the handle and eventually unglue himself. Since then he has promised to leave his handyman days behind him, but time will tell!
Trapped in a chair
Power cuts are always frustrating, but one particular recipient of home care shared her personal experience thanks to a recent outage.
While reading a book at home on an evening of strong wind and rain, the lights all went out. Not too worried, this 84-year old woman decided to get off her favourite recliner chair to light a candle.
Unfortunately, this particular chair is an electronic recliner, so thanks to the power out she was stuck lying back on her beloved chair for over an hour! Thankfully she found it hilarious as she retold the event to her home care worker.
Every day is different in aged care
If a career where you get to create bonds with incredible individuals, provide care to those who need it most and have a laugh along the way sounds good to you, consider aged care.
No two days are the same and there's no doubt that you will find the work to be immensely rewarding.
Speak to Selmar about starting an aged care career today.