The growing aged care sector offers the opportunity to be a part of a workforce with the vital role of supporting individuals as they grow older. Every elderly Australian should have access to the care they need to maintain quality of life in old age.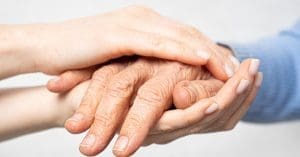 To provide this care, we need more skilled aged care workers to enter the sector. Because of the rise in our ageing population, aged care is one of Australia's fastest growing sectors. Entering aged care now can be the start of a thriving career supporting others.
Why work in the aged care sector?
Compassionate and caring individuals with aged care training are in high demand. If you're looking for a career with genuine job prospects, aged care could be right for you.
What many aged care workers like best about their work is the sense of fulfilment that comes with what they do. In this sector you are providing care and support to members of the community who really need it. They rely on aged care workers to ensure they can get the most from life even as they grow older. Delivering a high standard of care to ageing individuals and seeing the impact you are having on their lives is immensely rewarding.
For those seeking a meaningful career in growing sector, aged care can provide a role that makes you feel good about what you do.
Understanding the differences between residential care and home care
Aged care isn't one size fits all — we are all different after all, no matter how old we are. To meet the unique needs of all older Australians, there are a variety of care types available.
The two distinct areas of aged care are residential care and home care. As the name suggests, residential care is care provided to older individuals in a live-in aged care residence. These residential aged care facilities are sometimes known as aged care homes or nursing homes. Residential aged care is for people who can no longer safely live at home.
Home care on the other hand is provided at the care recipient's home. Home care providers visit an elderly person's home to deliver the support they need to continue to live independently.
While there is some cross-over in what you might do for a care client as an aged care worker in both residential and home care settings, there are some key differences:
Location of care:
Home care
This one is obvious, but in home care a person can continue to live at their home.
Residential care
Those in residential care move from their home into long-term accommodation where care is provided.
Level of support:
Home care
Home care varies greatly in what may be involved as it is tailored to each individual. For some home care clients you may help them clean their home and prepare meals, or transport them to go shopping or attend appointments. For other home care clients you might need to support them with showering and getting dressed.
Residential care
In residential care settings clients may require high levels of support. Those who are residing in these facilities have often moved into this care because of their need to have additional support. Residential care often involves personal care, assistance with meal times and support to take medication.
Hours care is provided:
Home care
Typically home care is provided at certain times during the day and evening. Home care is not usually offered around the clock, although there are instances where overnight care is an option. However, most of the time a home care worker will provide care during working hours.
Residential care

Residential care involves care being provided 24/7. For aged care workers, this means the option to do a variety of shifts including nights.
Which area of the aged care sector is right for you?
Every role has its differences and the two key branches of aged care are no exception.
Let's consider the benefits of working in residential care, and also take a look at what you can expect from working in home care.
Benefits of working in residential aged care
Working collaboratively within a team of aged care and health care professionals
A fast-paced environment that keeps you busy
Days have routine and structure so you know what to do and when
More options for a variety of shifts and hours
A set location to attend
Benefits of working in home care
An independent role where you get to know your client one-on-one
A diverse approach to care where each day and each client offers a lot of variety
A relaxed and quieter work environment
Multiple homes in various locations to visit each day
Flexibility in what hours you choose to work
As you can see, there are many reasons to choose aged care, and both residential care and home care provide the opportunity to take on a fulfilling role providing support to those who need it most.
How Selmar can support you
 When it comes to getting qualified, the courses you would enrol in to gain the necessary knowledge and skills to enter the sector are the same. This means you don't necessarily need to decide which area of aged care you want to work in right away.
For those starting out in the aged care sector, the entry-level qualification is the Certificate III in Individual Support. This course covers everything you need to know to about the role of an aged care worker including technical, procedural and practical elements.
You might like to explore our new aged care employment program. This initiative combines a comprehensive 5-week online course with a Certificate III in Individual Support paid traineeship to provide learners with the technical, behavioural, and employment skills for the aged care sector. This ensures a confident start to a thriving new career!
When training with Selmar you are paired with a dedicated aged care trainer who will be with you every step of the journey. Selmar trainers have their own career backgrounds in aged care and offer a wealth of knowledge and support for your studies. For those needing additional help with areas such as literacy or language support, our Learner Success team is on hand too.
Let's get you started in a meaningful aged care career. Reach out to our team to chat about your goals.