The aged care sector needs dedicated individuals to help shape the future of care. We need to ensure our elderly citizens are looked after with the compassion and respect that they deserve. If you're considering a career in aged care, you're in the right place!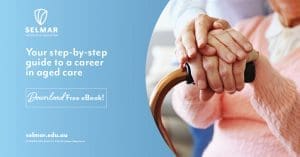 Stay with us as we guide you through a rewarding career in the growing and diverse aged care sector.
Gain the professional skills and knowledge to make a difference
If you've always dreamed of a meaningful working life, one that allows you to empower people every day, to be of service…look no further than aged care.
Working in aged care you'll go home each day confident that you've made a difference in the lives of others. Spending your working time in the company of older people will reward you in unexpected ways.
From gaining different perspectives from people with a lifetime of experience, to forming enriching connections, to celebrating small yet meaningful achievements you've helped with, such as maintaining a hobby or recovering from a surgery.
You'll also likely find that you yourself are inspired by the life stories of the individuals in your care. The aged care sector, now more than ever, needs caring, compassionate and highly skilled professionals to support and enhance the lives of individuals in their later years. If this sounds like meaningful work you could get behind, let's take a closer look at what your career could entail.
What a career in aged care could look like
You might be considering an aged care career because of your interest in caring for others. That's a good place to start. But a rewarding salary is an equally important component in a successful career. The aged care sector has the potential to offer you just that.
Your salary as a professional in the aged care sector will vary depending on responsibilities, qualifications, hours, and location. Working in aged care also offers flexibility, so you can enjoy your personal life too.
Depending on the position and the setting you choose to work in, you may have the option to work shifts and hours that suit your family and needs. Just as important for a satisfying career is the cultural change that this profession is about to experience (in light of the Royal Commission recommendations).
This will likely see aged care workers attract more recognition, better and clearer career progression paths, improvements to education, training, wages and working conditions.
Choose a career option that works for you
These days there are a range of care types on offer for the elderly. That also means that there are many different types of aged care roles.
You may start your career in aged care working as a:
Home care assistant
Residential care worker
Community support worker
As you advance your career and you upskill, you may apply for roles such as:
Care supervisor
Program coordinator
Some of the care settings you might work in are:
Help at home
Short-term aged care
Residential care
How do you know this is the career for you?
Working in aged care comes with recognition, market demand and opportunities for career growth. Not only that, but it's deeply rewarding and meaningful work.
If this is sounds like the right career for you and you have the skills to thrive in aged care, contact the team at Selmar to discuss our course options. At Selmar we use our years of knowledge and experience in aged care to support carers, facilities and students each and every day.
Download your free eBook below to learn more about a career in aged care.