Studying courses online is becoming the norm, particularly with the current situation as a result of the coronavirus pandemic. If you're considering enrolling to gain qualifications online but you have not studied online before, you might be curious about how it works and what you can expect.
While most of us have experienced classroom learning at various points in our lives, completing classes and learning via a computer or laptop can be a bit daunting. It is helpful to understand the ins and outs of online learning and how you can best utilise the internet to achieve your desired training and career outcomes. With a high-quality online course, there's no need to be worried about studying online. Get to know what you can expect.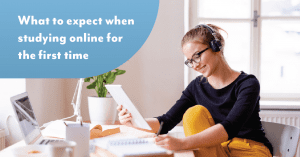 Why choose to study online?
The choice to study a course online can come down to a variety of reasons. The current pandemic aside, some people choose to pursue their chosen qualifications online to better suit their lifestyle and commitments. The flexible nature of learning online makes this the preferred delivery mode for a range of learners.
Choosing to complete your course via an online delivery mode gives you options for when, where and how you approach your training. With a high quality qualification attainable from the comfort of your own home, studying is more accessible than ever before.
What benefits are there when studying online?
From juggling family responsibilities to fitting their studying in around work, online courses have a range of benefits and many people simply find studying from home more enjoyable.
Whatever your reason for choosing to learn online, the perks are undeniable. Let's take a look at a few of specific benefits of studying online:
Studying at your best times
Are you most productive first thing in the morning? Or maybe you prefer to get stuck into studying in the evening? With online learning, you can study at the time that best suits you, your life and your schedule.
Creating your ideal learning environment
While the classroom setting has long been the prevalent set up for studying, it may not be the environment in which you learn best. Studying online means you can create the learning environment that you want. Your pets can come to class with you too!
Taking on studies at your own pace
Life can be unpredictable, but the flexible nature of online courses enables learners to tackle their studies at their own unique pace giving you one less thing to worry about.
How do online courses work?
A quality online course is delivered in a dynamic and interactive way, giving you a well-rounded learning experience without the need for leaving the house or using paper resources (so you're doing your bit for the environment too).
The Selmar online portal is what our learners use to complete their courses. This dedicated learning hub is a platform that makes studying online an engaging and supported experience and gives our learners a straightforward and enjoyable learning journey.
Online coursework through the Selmar learning portal includes:
Watching videos online
Completing quizzes
Submitting assessments
Discussion forums with students and trainers
The portal provides opportunities and space for our learners to collaborate with other students online, enhancing online classroom participation. You'll also have regular communication with your dedicated trainer via email, video or phone, and receive individualised feedback to get the most from your studies.
Don't worry if technology is not your strong suit — we provide technical assistance whenever you need it, plus you will have ample support as needed to navigate the online portal.
Is there practical placement included in an online course?
While the power of the internet and our online portal means you can gain knowledge and even practical skills via your online course, we still believe in the importance of hands-on training components. This means that even when you opt to study early childhood education online, you will still get the vital experience that is gained through practical placement.
Practical placement gives learners an insight that cannot be adequately achieved online or in the classroom. Our team will help you to find a placement that is best suited to you and your circumstances and career goals. The real-life skills you will learn through your placement hours contribute to your confidence, capability and critical reflection. The time you spend in this practical learning setting enhances your training and gives you the chance to get valuable workplace experience so you can graduate job-ready.
What is needed to start courses online?
Being organised before you start anything is a good idea. When it comes to studying online, a little preparation can go a long way. The requirements for studying from home aren't too different from what you would need to study on campus, so getting yourself ready to begin should be simple.
The top priorities to make sure you're all sorted to commence your online course are:
Set a schedule
While your online course is flexible, it's good to plan how you're going to fit everything in and when. A schedule or routine can help you allocate the best times for the things that need to be done.
Find a reliable internet connection
There's nothing worse than waiting for things to load or, worse yet, not being able to get online at all. A quality, reliable internet connection is essential for studying online.
Get to know your trainer
Your trainer wants you to succeed and is there for you through every step of the way during your learning journey. Get to know them, establish trust and let them support you by asking for help as you need it.
What kind of support is there for learners studying online?
Qualifications delivered online should still involve people. Support from experienced trainers is just as important for online learning. When you enrol in an online course with Selmar, you will be allocated a trainer who will remain your go-to support person throughout your training journey.
Our trainers have vast experience in early childhood education and care across a variety of settings and share valuable insight to enrich your learning. The support provided by trainers helps learners to reach their full potential and bring their career dreams to life. Communication between learners and trainers can be arranged via phone, email, text or video call — you decide the means of contact that best meets your needs.
In addition to a dedicated trainer, students can access our Language, Literacy and Numeracy support (LLN). Don't let these areas act as a barrier to your study success — we can help you overcome these challenges and thrive in early childhood education. Our Learner Success advisors and technical support team are also available to give learners every opportunity to shine as they work towards their qualifications.
If the classroom setting is something you are concerned about missing out on when studying online, there's no need to worry. Our learner community hubs via the online portal are perfect for engaging with your peers and working together through your studies. This human-centred approach to learning is key to developing soft skills central to career success such as problem-solving, managing emotions and verbalising and discussing ideas.
Will an online qualification be recognised?
Just because you don't attend a campus for your learning, it doesn't make your qualification any less valid. The courses we provide online are nationally recognised qualifications that are taught by industry experts.
Not only can you be confident that you are gaining a quality early childhood education qualification, our university pathway can lead you into a Bachelor of Education degree in Early Childhood or Primary at Swinburne Online. This enables you to fast-track your teaching career using credits from your CHC50113 Diploma of Early Childhood Education and Care to fast-track your teaching career.
Success tips for online courses
When you're studying courses online for the first time, it can be tricky to know the best way to do it successfully and with minimal stress. These six quick tips will help you when the time comes to start studying online:
Find what motivates you
Be patient with yourself
Create a work station you love
Fit study into your daily schedule
Take regular study breaks
Accept the support to succeed
Get more online study tips here!
Study online for a career in early childhood
Keep in mind that much like classroom course delivery, the approach and quality of the training provided can vary between training organisations so it's important that you choose carefully. When researching options to enrol in online courses, look for a high quality training provider who can support you in bringing your career dreams to life.