Early childhood education doesn't just offer you a job, but a career. A career where you can change the lives of children for the better and even change the world. A career you can grow in and advance in, professionally as well as personally.
Selmar takes great pride in supporting learners to enter the early childhood education sector and helps them to progress along their career journey.
Whether you're just starting out or you are a passionate educator who wants to take it to the next level and enhance your knowledge, studying with Selmar will set you on the right path.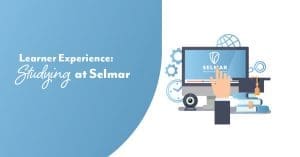 Study support from start to finish
For Selmar learner Jessica, when the time came where she wanted to pursue her Diploma of Early Childhood Education and Care, the choice to take on her study experience with Selmar just felt right.
"When I looked up my options to study my Diploma and contacted Selmar, I immediately felt like they were warm, welcoming and professional. They really intuitively felt like the best institution to pick. Everyone was really nice to communicate with and really helpful."
It's important that during your time studying you feel like you have someone backing you, which is why we ensure every learner gets individualised support. This responsiveness begins from the moment you contact our team here at Selmar through to every stage of your study experience.
This support can be especially important as you go on through your course and face moments that feel challenging at times. This is why every learner has a dedicated trainer who is knowledgeable and experienced. Your trainer will keep you on track and give you the help you need, when you need it.
Energy and enthusiasm in early childhood
Early childhood education is a fast-growing sector and highly trained educators are in demand. Knowing whether it is the right sector for you can be tricky, but Jessica notes that having energy and enthusiasm for children is a good start. From there you can relate to children and connect with the things they enjoy and learn from in life.
"This job is hard work but it's so rewarding in that you can have fun and be creative, musical and expressive with children."
For individuals who are currently wondering whether an early childhood education career is right for them, Jessica says to go for it!
"Selmar is fantastic, so go for it and keep an open mind and open heart. Do it because you want to make a positive difference and have a purpose behind what you do. Be the change you want to see in the world."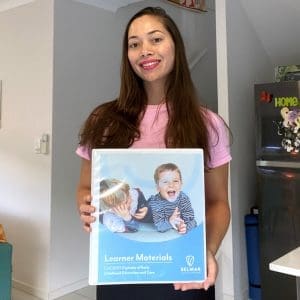 Setting the bar high for quality early childhood education
Those considering whether upskilling in early childhood education is worthwhile can rest assured that even with years of experience under your belt, there is so much to gain from taking on further studies in the sector.
"I wanted to upskill because it does lead to opportunities and growth and even though I have a lot of experience in the sector, doing the Diploma is giving me a deeper understanding and structure to retain the information. The course is so informative and the way Selmar has set it up is brilliant. The bar is only as low or high as you set it, so set it high and show yourself what you're capable of."
No matter where you are at on your early childhood education career journey, Selmar can provide you with the guidance and support as you establish and reach your study goals.
Chat to our team about how you can start your study experience with us today.