Starting a family day care service is an exciting venture that can bring you plenty of success, flexibility and fulfilment. You do need to get to know the rules and regulations to follow when starting a family day care, so let's take a look.
Providing a safe space for your family day care service
The number one priority you will have as a family day care educator is giving children a safe education and care environment.
You may think your home is perfect for all children, particularly if you have children of your own, but there are many things to you need to ensure when you start a family day care. Here are some points to consider, as outlined by Education Victoria.
Indoor spaces
An approved family day care needs a minimum of 3.25 square metres of unencumbered indoor space for each child, with adequate natural light and ventilation.
A safe temperature for the wellbeing of children needs to be maintained.
Any glazed area of a residence is accessible to children 0.5 metres or less above floor level must be glazed with safety glass or a product that prevents glass from shattering, or have a barrier so a child cannot fall on the glass or break it.
Outdoor spaces
At least 7 square metres of unencumbered outdoor space is required for each child.
The outdoor space at an approved family day care residence or venue must be enclosed by a fence or barrier that is of a height and design that children preschool age or under cannot go through, over or under.
Number of children
A family day care educator can only provide education and care for a maximum of 7 children at any one time, including the educator's own children under 13.
A maximum of 4 children aged preschool age or younger can be cared for at one time, including the educator's own children.
Qualifications
Ready to start your own family daycare? Here is how you can do it!
Please note, the information provided pertains to running a family day care service in Victoria. Rules and regulations can vary between states so please check with your state government guidelines.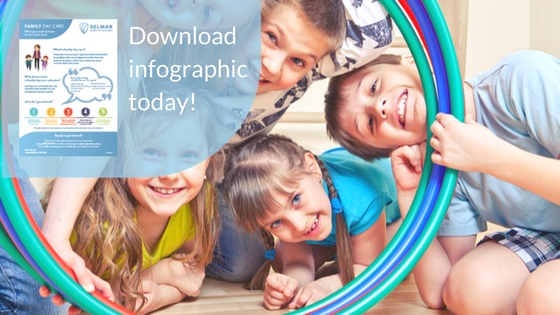 Sources:
http://www.education.vic.gov.au/childhood/providers/regulation/Pages/Family-day-care-services.aspx#link7

Get Selmar's blogs in your inbox in a second! Subscribe to get our latest blogs now.