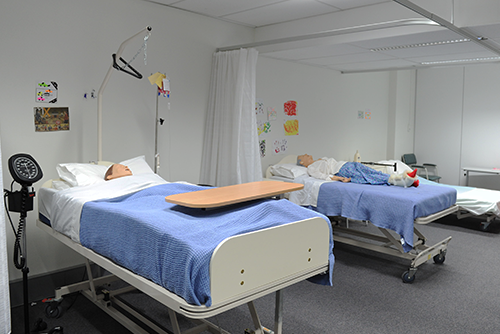 You want to work in aged care and make a difference to the lives of older Australians, but how on earth will you manage to dress an individual in your care or feel comfortable approaching someone's bedside?
This is where our simulation laboratories – or 'sim labs' as they're sometimes called – give you the real experience without the pressure when you're first learning the ropes.
What are simulation laboratories?
The aged care simulation laboratory at Selmar is a room that has been designed to look and feel as much like an aged care facility as possible. Our goal is to replicate the aged care working environment so that your training can get hands-on sooner.
Real beds, real equipment and lifelike mannequins – our students get practical training throughout the course but in a controlled environment that builds industry skills, familiarity and confidence for their future placement and employment.
How do they improve aged care training?
While placement is an integral part of training in aged care at Selmar, our simulation laboratories allow you to get your head (and hands) around the tactile elements of working in aged care. This means when you start workplace training you'll be more confident in your abilities and your role.
Have you ever dressed an adult before, or assisted an older individual to move from bed to a chair? Many students commencing training in aged care have never approached the bedside of someone they don't know. Of course, the needs of older individuals living in aged care facilities can vary greatly. Needless to say, the role of the aged carer can be varied too. By incorporating simulation laboratories into our training our students can take their learning beyond theory and begin to practice valuable workplace skills right away. The result: graduates who are confident and highly competent.
Hands on training
Simulation laboratories mean our students get an insight of what it's like to work in aged care at every stage of their training. Selmar students gain a deeper understanding of how to approach day-to-day tasks when working in aged care and an awareness of how to overcome challenges and deliver care beyond compliance. It's no wonder so many employers prefer Selmar graduates – helping you get the best qualifications and become job ready is our priority.
All the information you need about our aged care courses can be found here. Take a look and make sure you get in touch if you have any questions.