When it comes time to start placement, many learners are curious about how to go about finding an aged care facility to complete their required hours. At Selmar, our Practical Placement Coordinator Michelle Gleeson plays a key role in every learner's placement journey.
Practical placement is an essential and highly valuable part of getting qualified in aged care. If you're studying or thinking about studying a Certificate III in Individual Support, a practical placement of 120 hours is part of your course. The time you spend on placement will give you vital hands-on experience to prepare you for a rewarding career in aged care.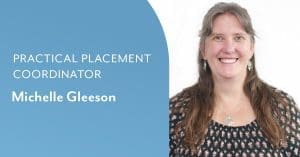 Building relationships to maximise practical placements
As Practical Placement Coordinator for Selmar, Michelle's role is to build relationships with aged care facilities and Selmar's aged care learners. Getting to know the facilities and how they run means Michelle can communicate effectively with them and ensures the learners she assigns for placement at their facility are a good fit. On the other hand, finding out more about each learner and their goals means Michelle can find them a placement location where they can learn and thrive.
With plenty of her own experience working and training in aged care, Michelle is well-equipped to guide learners as they approach their practical placement and match the right learner with the right facility.
"My job is to communicate with learners and aged care facilities, building relationships with both so that everyone can get the most from practical placement," says Michelle.
Michelle views practical placement as vital to getting qualified in aged care, as it gives learners an understanding of what their role in the sector will entail. It provides hands-on experience where learners actually get to observe and also start practicing the skills they've learnt during their course.
"I know a lot of learners are nervous when they first start their placement, but by the end of it we see them grow in confidence and gain a deeper understanding of what their role in aged care really is," Michelle clarifies.
Getting prepared for placement
Before commencing their aged care practical placement, Selmar learners take part in a simulation session. This is a session that is set up to replicate elements of the aged care facility environment so that learners can gain some hands-on experience before they enter a real-world aged care workplace. They will learn to operate lifting machines and standing machines, so that when they are in the workplace they are already familiar with how to operate essential equipment.
Following the completion of the simulation session, Michelle gets in contact with the learner and finds out more about them, including logistical details like location and their availability. While it's essential that learners complete a minimum of two consecutive days of placement per week to ensure they get continuity in the learning experience, Michelle understands that learners have work and family commitments to fit in and tries to make this as easily achievable as possible.
"We try and be as flexible as we can, knowing that many people need to continue to work and earn an income while completing their course", she explains.
Learners are also encouraged to let the Practical Placement Coordinator know if they have a particular aged care facility in mind that they would like to complete placement at. Michelle suggests that learners approach the facility to enquire about whether they offer placement spots and to get their details, and Michelle will then contact the facility and try to arrange the placement at the preferred location.
Why Selmar learners stand out on placement
Selmar learners are well-known for being in demand at aged care facilities when it comes to placement and employment. Why is it that Selmar learners are so highly regarded for placements in aged care? Michelle believes it comes down to the way learners are prepared by their trainers.
"We make sure learners know exactly what to expect when they head into placement, starting with our simulation sessions through to explaining to them what they will likely be doing during their placement hours."
It's not just preparation that helps Selmar learners stand out, but the support they receive from their trainers all the way through. Trainers visit their learners during placement at the workplace a minimum of three times, usually four. Learners know that they can always contact their trainer with any queries or concerns, so they never feel like they're doing it alone.
Gain confidence, experience and employment through placement
The benefits of practical placement cannot be overstated, giving learners the hands-on training to complement what they are learning and take their knowledge into a real-world setting.
"I see the learners gain confidence in themselves. At the beginning they're just watching and assisting people. Then they begin to build rapport with the residents and the staff. It really sets them up to start their career well."
As well as gaining confidence and experience, many Selmar learners also finish practical placement with an offer of employment!
To ensure you get the most from your practical placement, Michelle has a few top tips:
"Ask questions, because there really is no such thing as a silly question. Be helpful and take initiative. Try to connect with the residents and staff. And be open to learn — that's why you're there."
If you're ready to embark on a rewarding career in aged care, the first step is to get the right qualifications. Selmar's aged care courses will lay a strong foundation for a thriving career in this meaningful sector, giving you the opportunity to change people's lives.