Life has changed a lot in the last couple of years, to say the least. From masks to working from home, checking in at shops and cafes and periods of not being able to leave the house or see loved ones.
Along with school children taking on remote learning from their homes, those studying or looking to get qualified during the pandemic were not able to head to campuses or classes. Thankfully gaining qualifications was still achievable with studying online becoming the new normal. In fact, while many things were put on hold, studying a course to change careers or upskill has been able to continue with the flexibility of online learning.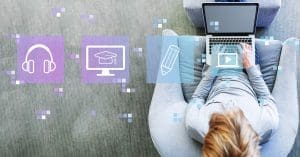 What is eLearning or studying online?
eLearning is a technology-supported approach to studying that is also known as distance learning, online learning, distance education, off-campus and more. Essentially, eLearning is enrolling and participating in a course to gain qualifications in an online setting. All you need is a laptop or computer with internet access and you are well on your way.
While studying a course online is nothing new, the onset of the pandemic meant that the shift to online study was fast-tracked. Online courses continued to be safe and allowed learners to proceed with gaining their qualifications.
As the nation's vaccination rates increase and restrictions ease us back toward a new normal, it's expected that many learners will continue to opt for eLearning. The flexible nature among other benefits are appealing to a range of individuals for a variety of reasons.
Why eLearning is so popular
The pandemic is not the only reason why online learning has become so popular. There are plenty of reasons to choose an eLearning approach to get qualified in your chosen course, including:
Studying to suit your life
Rather than fit your life around class times and on-campus schedules, online courses empower learners with the flexibility to study when it suits them. For parents returning to study, this might mean when children are at school or asleep. For those currently working, before or after work, or even lunch breaks can be great to fit in coursework. Fit in your social life, family time, self-care and more along with your online studies in a balanced way that works for you.
Improved accessibility
Travel time can eat into the week, especially if you live in a regional or rural area that would require a lot of travel to take on a course. Not everyone has access to a car, and public transport isn't always an option. Furthermore, if you live with mobility issues or auditory or visual impairments, in-class learning might not be ideal for you. When you study a course online you can overcome many accessibility concerns by choosing to do your coursework in an environment that best meets your specific needs.
Flexible ways to reach support
Studying online with a high-quality training provider should also mean studying with the support of a dedicated trainer who gets to know you. Best of all, there are so many ways to reach support when you need it during your study journey. Video chats, email, texting, phone calls and in-person catch ups mean you will always be able to get the guidance required in a way you find it most helpful.
Pandemic and lockdown-proof
While practical placements can be affected at times, for the most part eLearning is pandemic-proof. This means you can be confident that you will continue to learn in a safe space.
Our approach to eLearning
Every training provider is different, but at Selmar we believe that eLearning should be just an individualised and supported as training on-campus. This means a dedicated trainer who supports you and gets to know you throughout your course, as well as clearly structured course material that is easy to follow.
Our online learning portal is simple to use, so if technology isn't your strong suit there's no need to worry. Plus, there's plenty of support as needed. A set schedule of when units and assessments need to be completed means you can plot out your own approach to your coursework to suit your life. Everyone is different and the same style of learning doesn't apply to everyone.
Online coursework through the Selmar learning portal includes:
Watching videos online
Completing quizzes
Submitting assessments
Discussion forums with students and trainers
Also featured in our online portal are online community hubs. These are designed to build up each learners' knowledge while delivering a sense of belonging within the learner community. Chatting to trainers and other learners who are studying the same course as they are can enhance confidence and provides an opportunity to interact with the content and discuss each unit with peers. The online community hubs cover a range of learning styles from visual to auditory to maximise the benefits for all learners.
Studying early childhood education and care online
By choosing eLearning and studying your course online, you could commence a fulfilling career in the early childhood education sector sooner rather than later. While the pandemic has meant putting many aspects of life on hold, your studies can go ahead.
Enrolling in a Certificate III in Early Childhood Education and Care is the entry level qualification to get started in this thriving sector. Plus, completing this qualification opens up doors to pathways to upskill to a Diploma or even a university degree in teaching down the track. Studying online can be undertaken at any time, including within an early childhood education workplace setting while you're studying, or via a traineeship. A computer or laptop along with an internet connection are all you need.
If a flexible approach to studying that comes complete with support from trainers and peers sounds like a great way for you to get the qualifications you need, consider eLearning with Selmar.
Contact our team to chat about your goals and find out how we can help you achieve them.
–
As seen in Child Care Australia magazine.