Finishing Year 12 and leaving high school behind you is a big deal. After all, you've spent most of your life at school up until this point. If you have just finished Year 12, chances are you've been doing a lot of thinking about what comes next for you.
In particular, you might be wondering what career will be a good fit for you. It's important to remember that the average Australian worker will go through around five to seven career changes throughout their lifetime, so what you choose to do as a career now doesn't necessarily mean it is what you will do forever. However, if you find a meaningful career you love, then who knows what the future may hold!
For many, a career in early childhood education is a highly enjoyable and rewarding option. Whether you enjoy working with children, want every day to be something new or don't want to be sitting at a desk all day, early childhood education careers have a lot to offer.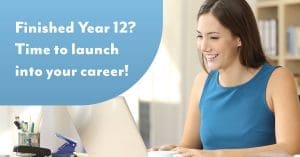 Should I work in early childhood education?
When you're considering working in early childhood education, or any career for that matter, how do you know it's right for you? In many ways, it can be a challenge to know for certain, but having a firm understanding of what the career path involves and what your working day could look like can help.
There is no one 'type' of person who is best suited to a childcare career, especially considering that there are a variety of roles within the sector. However, to thrive in a career in early childhood education, there are several personal qualities that can help. You may already possess these qualities, or you might strive to adopt them through your training and placement experiences. These attributes include:
Patience
Effective communication skills
Common sense
Ability to work in a team
Problem solving skills
Creativity
It could also be useful to take yourself through our checklist 'Are you ready to study child care?' to gain further insight into whether early childhood education is the right choice for you.
Life after Year 12 — Early Childhood Education Pathways
As mentioned earlier, there are many roles on offer in an early childhood education career with a range of pathways available to those interested in working in this booming sector.
So, what could your day-to-day life look like now that you've finished Year 12? In an early childhood education career, there are a few options depending on the type of employment you opt for.
Early childhood educator
Work with children from birth through to school age supporting them to learn and grow with play-based learning experiences. Engaging with children and providing them with engaging ways of enhancing development are key elements of this role. There are a variety of shifts and hours depending on the service within which you gain employment, so the work can be quite flexible and give you a lifestyle that suits your other commitments.
Nanny
In a nanny role, you will support families in caring for their children. This may be a few hours a day, all day every day or on a set agreement that works for everyone depending on the children's age and needs, and the parents' working schedule and requirements. Your daily tasks might be walking the children to school or picking them up, helping them with homework or caring for babies while parents work. You get the chance to create a meaningful and nurturing relationship with the family you work with.
Kindergarten assistant
Your role as a kindergarten assistant is to support a kindergarten teacher as children gain school readiness and enhance their learning in the year or two leading up to commencing their primary school education. Working with children aged approximately 3 to 5-years old, helping them to master the essential skills required to thrive at school and beyond are at the core of your role as a kindergarten assistant.
Qualifications after Year 12 for early childhood education
Once you're ready to get started on your very own early childhood career path, it's time to explore your entry-level qualification requirements and options.
Commencing your early childhood education career after Year 12 often starts with a Certificate III in Early Childhood Education and Care. This course will take you around 12 months to complete and can be undertaken online or within a workplace training mode. A nationally-recognised qualification, upon completion you will be able to work in early childhood education anywhere in Australia.
Taking it further — upskilling and career pathways in early childhood
As a career with plenty of space to grow and progress, early childhood education offers the opportunity to upskill throughout your journey. You might consider taking on further studies to achieve your Diploma level qualification, opening up positions like Room Leader or Centre Director at an early learning service. You could even look at our university pathway to a Bachelor of Education in either Early Childhood Teaching or Early Childhood and Primary Teaching with Swinburne Online, or maybe explore a career as an early childhood education trainer yourself!
Where to get qualification in early childhood education
With many registered training organisations (RTOs) offering courses in early childhood education, it can be overwhelming deciding where to get qualified. Understanding the key differences between RTOs and TAFE, and what RTOs have on offer will help you make an informed decision about where to study.
At the end of the day, you should choose a training organisation that has a solid reputation in early childhood education, offers the right course for your career goals, and provides its students with ample support to complete their qualifications with confidence.
There's no point finishing up with a piece of paper and no practical experience either. That's why at Selmar practical placement is incorporated into our early childhood education qualifications, so you graduate job-ready.
Support for Year 12 graduates on their career journey
Life after finishing school can be quite different, and learning in a secondary school environment is worlds apart from undertaking your first course post-Year 12! We get it — and we offer learners the support required to thrive on their early childhood education pathway.
We've been training people to become valuable members of the early childhood education workforce for over 15 years and in that time we have continually ensured that we listen to what our learners need to do well.
We make sure everyone gets that vital support during the training journey. Our dedicated trainer support is unwavering from start to finish. You will notice as soon as you get in touch with us that we are by your side to get you enrolled, introduce you to your trainer, help you navigate the online learning portal, give you access to extra help in the areas you need it most —we support you to succeed at every step.
If you're ready to take that first step toward a fulfilling and fun early childhood education career, we would love to chat to you. Get in touch today.