Early childhood educators enter children's lives at a crucial time, nurturing babies, toddlers and preschoolers to safely explore their own capabilities and discover the world around them.
Early Childhood Educators' Day 2023 takes place on Wednesday 6 September and recognises the contribution early learning educators make to the wellbeing and development of children in their care. It also provides communities the opportunity to show their gratitude and thank educators for the inspiring work they do each and every day.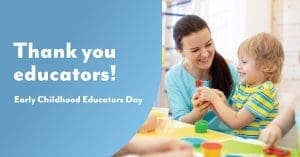 Shaping children's futures
There aren't many careers where you can claim to be shaping the future, but early childhood educators certainly can! Research continually shows that a high-quality early childhood education experience can have a lasting positive impact on the educational success of children as they advance through their formal schooling years.
Early childhood educators come from all walks of life, but what they all have in common is an unwavering commitment to enhancing the learning and development of children. Educators combine a number of qualities such as patience, flexibility, fairness and open-mindedness to ensure that children feel cared for, seen, safe and engaged in child care settings.
Providing a lasting impact of children's lives
The passion educators share for laying the very best foundation possible for children's learning now and throughout their lives is not just inspiring – for the children in their care, it's life-changing.
Children deserve to have access to educators who are highly trained and equipped not only from a pedagogical perspective but from a practical perspective too. We take great pride in providing our early childhood education learners with the training needed to be capable of teaching children how to be adaptable, resilient, life-long learners who can meet challenges with confidence and a healthy sense of self-worth.
Early childhood educators provide excellent support with ensuring families feel confident in leaving their children in the care of another. This restores balance to families and enables parents to head to work and provide for their children.
Ways to say thanks to educators
Birthdays, Mother's Day, Father's Day, Easter, Christmas — educators never seem to miss an opportunity to help children celebrate all that life has to offer, so now let's celebrate the early childhood educators! Here are a few ways to do so:
Create a Thank You video
A quick video saying thank you to the early childhood educators for their role in your life will make them feel appreciated.
Post a photo and caption
A public show of gratitude is always nice, so join in the fun of Early Childhood Educator's Day and post something for the educators you know and love via social media. You can show support for the occasion on social media using the hashtags #LoveMyECE and #EarlyChildhoodEducatorsDay.
Thank You notes
Bring a note into centres to display in a designated spot or post a thank you note to educators letting them know how grateful you are for their work.
Download our 'Thank you educators' certificate
The importance of early childhood educators
No matter which way you choose, take the time to say thanks and show educators just how important they are in our communities and the difference their role makes in so many lives.
To all the early childhood educators out there, we say THANK YOU! Thank you for your kindness, your patience, your hard work and your commitment to the future of every child.
Inspired to work within the early childhood education sector? Contact us to learn how to get started.