The holiday season is a festive time of togetherness, celebration and enjoying the sunshine. Many will be excited about their upcoming Christmas traditions, along with a variety of other celebrations and events depending on culture, preferences or religious beliefs.
Fostering a sense of belonging is vital for children's development and wellbeing in early childhood, and creating an inclusive learning experience around the holidays is a great way to do just that. Holiday celebrations can be a great opportunity for children to explore how different cultures and religions celebrate at this time of year, if at all.
Early childhood education is a diverse sector that involves collaborating with educators and families from various cultures each and every day. Cultural competence is essential for early childhood educators, and we can also help children to develop their own appreciation of diversity through implementing positive practices.
We explore activities to support educators and families in feeling festive, promoting togetherness and understanding the different ways this time of year may be celebrated within communities.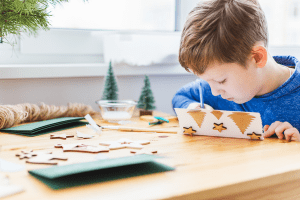 Getting crafty
There is no shortage of festive craft ideas. These ideas are easily adapted to any cultural preferences and we've ensured that they are sustainable too — both children and the planet will love them.
Tin can succulent planters
Using recycled tin cans, a bit of potting mix and some succulent cuttings, you can create a beautiful houseplant decoration or gift.
Before planting, paint the tin in Christmas colours or add string, ribbon and other decorative touches that can be attached with glue.
You can find more eco-friendly craft ideas here.
Festive scavenger hunt
Summer is here for the festive period in Australia, making it the perfect time to get outdoors. Take your holiday fun outside with a scavenger hunt. Get a bunch of items and hide them around your service. The items could be themed around anything (or nothing), meaning you can adapt it for Christmas-related items or other celebrations such as Hanukkah, Diwali, Chinese New Year and more. You can even do a combination.
Make it a group activity whereby everyone can work together to find the hidden items that need to be found. For younger children a list of the items is ideal, but for older children you could create fun clues about what the items might be (there are plenty to be found online).
Find scavenger hunt printables and inspiration here.
End of year performance
Children have no doubt spent plenty of time together singing during the year. They have likely enjoyed many stories too. Why not put together a performance based on Christmas or a much-loved favourite story to celebrate the end of a year together?
Work on children's memory and confidence while celebrating all the while. All you need is an idea, concept or story to base your performance on. It may be related to Santa and his reindeer, or maybe a book that children enjoyed during the year. Each child can perform as a certain character and the children can work together to create a fun expression of celebration and shared interest.
Invite families to come and watch (pandemic-restrictions dependant), and create your own end of year concert!
Dance and sing
Song and dance are used to celebrate across many cultures all over the world and in various religions. They are also lots of fun! Work on fine and gross motor skills, while enjoying the sheer joy of dancing and singing.
Incorporating dancing and singing into your holiday activities and celebrations can be a great way for children to share something special about their family's approach to the festive period.
Encourage families to share a song or dance that is important to them. You can also look at festive songs or songs children have loved during the year, add some movements and create a beautiful performance of your own to celebrate a great year together.
Cooking and sharing
For many cultures and holidays, cooking and eating is central to the celebration. Help children learn some kitchen familiarity and food preparation skills by taking your holiday celebrations to the kitchen!
Cooking is a great way to share a taste (quite literally) of others' cultures. It's also a great science experiment, watching solids turn to liquids, liquids turn to solids and all sorts of exciting occurrences during the cooking process.
Remember to ensure you are aware of any allergies and food preferences, and enjoy sharing some delicious food together!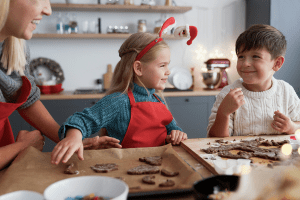 Quick tips for inclusive holiday activities
Ask families how they celebrate the holidays
To ensure everyone's unique culture, religion or festive preferences are included in your centre's explorations, ask families how they celebrate during the festive period.
Focus on broader festive themes
When planning your holiday activities, try to focus on the themes of the festive period that may be shared across many cultures. For example: being with family, sharing traditional meals, enjoying the Australian summer, decorative lights or gift giving and receiving.
Keep it simple
While there are plenty of elaborate crafts or fundraising ideas that you might like to include in your holiday activities, try to keep it simple and budget-friendly. Not all families have the available time to source what may be required, or the same financial resources to participate. A simple approach with natural resources and some imagination are the way to go.
Be accurate
Make sure you do your research around each family's approach to their holiday celebrations. Children may feel embarrassed or unsure of their family's traditions, so having an understanding to prompt children can help them feel more comfortable sharing.
Offer alternatives
No holiday celebration is forbidden and educators and children should feel comfortable undertaking craft from any celebration. It is, however, important to offer an alternative in case a child prefers not to participate.
Happy celebrating and learning together
The most important thing when jumping into holiday activities in early childhood education services is to have FUN! There is so much to learn from one another and the festive period is a wonderful time to share and celebrate together.
We have more activities for children to enjoy at any time of year, at home or in early childhood services. Download these activities here. Remember to stay COVIDSafe during all holiday activities.
From all of us at Selmar, happy holidays!