There are many avenues for upskilling in an aged care career. One pathway well worth considering is upskilling with a CHC43415 Certificate IV in Leisure and Health. This lifestyle-focused area of specialised care is a powerful way to have a notable positive impact on the lives of ageing individuals or those living with a disability. You can discover a rewarding career in leisure and health to take your aged care career to the next level.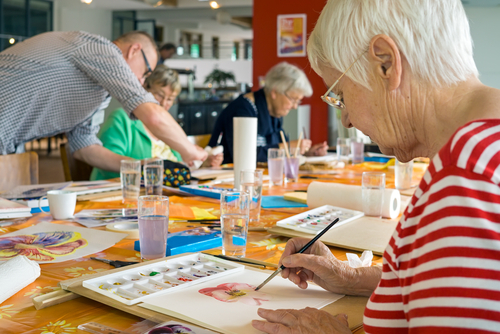 Selmar learners undertaking this qualification did so to pursue new job opportunities in the leisure and health field. They are passionate about creating care experiences that improve the lives of others every day and working with other care providers to ensure that a person's care program is fitting with their needs.
Understanding the Certificate IV in Leisure and Health
The CHC43415 Certificate IV in Leisure and Health is a qualification designed for those already working in the aged care or disability care sectors as well as individuals not currently working in the community sectors services. It delves into the specifics around designing leisure and health programs for those who are receiving disability or aged care. That is, understanding an individual's needs as well as their interests, both past and present. Those studying this qualification will learn how to design lifestyle-based programs around existing medical care plans, as well as implementing the programs and evaluating their impact and success.
Units in the course cover effective communication for relationship-building, safe work practices, supporting wellbeing through lifestyle programs, supporting independence, promoting community participation and facilitating the empowerment of those in your care.
If you think that you might have less support for upskilling than when you first trained to enter the sector, think again! Selmar ensures that you continue to feel supported and have your own dedicated trainer who is there for you as needed every step of the way. Whether it's a query about the course material, a need for extra assistance or flexibility, or simply reassurance, your experienced trainer is on hand to help you.
The benefits of upskilling
There is no shortage of benefits when it comes to upskilling in aged care. Choosing to upskill with the CHC43415 Certificate IV in Leisure and Health can set you on track for many advantages in your career. Many of these benefits will also have a positive impact on your life more broadly too.
Improved job satisfaction
Everyone wants to feel satisfied within their career, and upskilling can definitely enhance your enjoyment of your work. New skills and specialised care knowledge will see you feel inspired and get more from your career than ever before.
Fresh connection with clients
Advancing from a personal care worker position for example, you may find that the Certificate IV in Leisure and Health helps you to build deeper connections with your clients. As you learn more about them in building their lifestyle care plans you can create strong relationships that make your work even more fulfilling.
More opportunities
It's no surprise that upskilling will open more doors and more opportunities in your career. The CHC43415 Certificate IV in Leisure and Health can lead to more senior positions and team leader roles where you can build on your management skills and continue to grow your career.
Leisure and health career opportunities
When looking into upskilling options, it's important to know what potential career growth opportunities may lay in store for you.
Undertaking the CHC43415 Certificate IV in Leisure and Health could lead to a role such as:
Lifestyle coordinator
Leisure and health coordinator
Diversional therapist
Aged care activity worker
Leisure and therapy assistant
Disability officer
Activities officer
Community leisure officer
Leisure officer
Recreation activities officer
A leisure and health career may be in residential care or community-based care, and could include individual lifestyle care plans as well as group lifestyle program coordination.
Roles centred around leisure and health mean you will spend your time getting to know those in your care to find areas of interest for them. In many cases you will use lifestyle questionnaires to find out about things like childhood interests, favourite music, preferred sports, past occupations or passions that the individual has or once had.
Using appropriate information, you will design and implement a lifestyle plan either for each individual or for a group, depending on your role. You will need to consider existing medical plans that may be in place, as well as any other restrictions such as budgets, available space or travel. At regular intervals it is important to assess the success of the plan and rethink it as necessary, which means you need to be flexible and often think outside the box.
Changing lives for the better with leisure and health
This qualification plays a crucial role in the empowerment of older Australians and the enrichment of their lives. Taking your career in the direction of leisure and health will see you have a positive impact on the quality of life of those in your care, as well as on the quality of care delivered across the entire sector. The Royal Commission into Aged Care's final report highlighted that a foundation of the new aged care approach needs to place people at the centre of aged care, which is aligned with the role of a person specialising in leisure and health.
Does a career in leisure and health sound like it's right for you? Our team can help you learn more about the Certificate IV in Leisure and Health and get started on the path to enriching the lives of others every day.
Get in touch with the team Selmar to discuss your study options.