As more and more Australian families embrace the fun of Halloween, you can't miss the spooky decorations popping up all over the place.
DIY decorations are an easy, cost-effective and inclusive way to celebrate Halloween in Early Childhood Education Centres.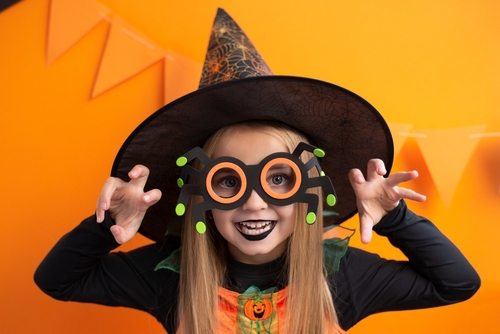 Here are four fun craft ideas and activities to celebrate Halloween and bring the spooky season to your centre.
Paper plate pumpkins
What's more iconic than pumpkins at Halloween? While in our part of the globe pumpkins are expensive in October, paper plate pumpkins are easy as (pumpkin) pie!
All you need are paper plates, orange and black textas, paint or crayons, green pipe cleaners and a holepunch. Now it's time to get crafty:
First, let the children colour their paper plate orange.
Next, punch a hole at the top and attach a green pipe cleaner for the stalk.
Wind the pipe cleaner around a crayon or texta and then slide it out so that your stalk has spirals.
Encourage imaginative play by getting children to give their pumpkins funny, spooky faces!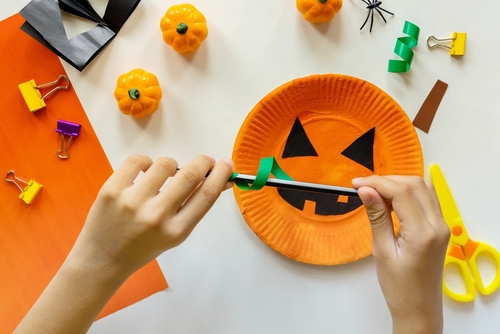 Cotton wool ghosts
Ghosts are one of the easiest craft ideas for children, and there are plenty to choose from. This one is great for younger children, involving tactile play and helping them develop fine motor skills. They will love the drawing, stretching, glueing, pressing, cutting and sculpting this super simple DIY decoration involves.
You will need black construction paper, white chalk or crayons, cotton wool, glue, paintbrush and black buttons.
First, show them how to draw the outline of a ghost on the construction paper. Children will have lots of fun doing this.
Next they will need to stretch their cotton wool to flatten it out and make it easier to glue.
Now they will need to paste an even layer of glue onto their ghost.
Here's the fun part: sticking the cotton wool to the ghost! Children will love how this feels and enjoy watching their ghost take shape.
Finally, glue on two black buttons for the eyes.
Boo! You've got some cute, creepy ghosts to put up around the centre.
Cut and paste fruit bat
In spring we see huge flocks of fruit bats sweep across the sky, and what better way to celebrate Halloween in Australia than by making some cut and paste spooky bats?
This activity helps children develop spatial awareness while also stimulating the imagination. You can tack these bats around the centre or have children take them home to show their parents. They'll certainly be impressed!
You will need purple construction paper, black paper, scissors, glue and a pair of googly eyes.
Cut out simple shapes that can be used to make bats. We suggest circles, triangles and rectangles.
Chat with them about what bats look like. Have they ever seen a bat? Are there any books you could read together? Encourage the children to develop their spatial awareness by figuring out which shapes match parts of the bat.
Once they have an idea for what how they'd like it to look, show them how to assemble their bat. You might start with a circle for the body before glueing on the wings.
Finally, glue on some googly eyes and let it dry.
It's important to let children experiment with shapes – there is no 'correct' way to make a bat. See where their creativity takes them! It might surprise you.
Silly spiders
Silly spiders are fun to create and can be made by children of any age. There's no one way to do it and it's best to give them a bunch of materials and see what they come up with. You might like to use:
Paper plates
Pipe cleaners
Googly eyes
Paint, glitter, textas, crayons
String
Cut-out shapes
Let the children know that their spiders can look different. This can be an opportunity to explore colour, shape and form. You might like enlist the help of parents and encourage them to hang these quirky creations up around the house.
Let the children paint or colour their paper plates in any way they choose.
Punch a hole in the top and fasten a long string for hanging.
Attach pipe cleaners, paddle pop sticks or cut-outs for the legs.
Give your spiders silly, spooky faces.
Sing the Itsy Bitsy Spider song!
Take them home to hang around the house.
It can be interesting to repeat this activity every year to celebrate Halloween so that parents can observe how their childrens' style, creativity and awareness develops from year to year.
For more information about our courses or the sector, get in touch.