Easter means a lot of different things to everyone, whether it's a time of religious recognition, a long weekend to look forward to or a period to eat lots of delicious food (and chocolate!).
Whatever Easter means to you, it's commonly a time that people get together with their families or gather within communities. It's also a time that children tend to love, especially when it comes to the Easter bunny hiding chocolate eggs for them to find!
Creating engaging Easter activities to enjoy in your early childhood service or for children to take home to share with the whole family is a fun way to learn and celebrate this time of year. To help you, we've compiled some top Easter activities that everyone will love.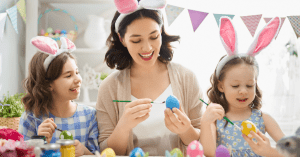 Easter activities children will love
1. Decorating eggs
Rather than paint and draw on a flat piece of paper, diversify your approach to craft with Easter-themed painting of eggs. This is a traditional pastime for this time of year and can be done with real eggs by blowing out the egg inside to paint the shells. Be mindful of egg allergies in services and of course, you don't have to use real eggs — any egg-shaped object is fine. Encourage children to get creative and experiment with different colours and designs, expressing themselves through art.
2. Cooking an Easter feast
Cooking is a great way for children to learn. It incorporates science, explores many of the senses such as smell, sight and touch, plus don't forget about the mathematics through measuring out ingredients. You can even use the egg that was blown out for your traditional egg decorating as an ingredient. Take a look here at some great Easter-themed recipes that are simple enough for little helpers to be involved.
3. Make an Easter bunny mask
The magic of the Easter bunny is exciting for all children, and while Easter bonnets and hats are a fun craft idea, why not branch out and make bunny mask this time around? Any occasion is a good occasion to play dress ups, and a handmade Easter bunny mask makes for an adorable feature! Here's a simple approach using a paper plate, or try these free printables.
4. Egg and spoon race
Getting little bodies moving each day is a must for health and wellbeing. This Easter let's continue the egg theme and head outside for an egg and spoon race! You could use an Easter egg or even just a small ball to balance on a spoon and you're all set to race!
5. Easter treasure hunt
You don't need to hide chocolate to have fun at Easter. This sensory treasure hunt takes children outdoors to find things that are smooth, rough, smell nice and a range of other prompts to encourage them to explore. You can even make up your own to suit your indoor or outdoor environment.
Incorporating play-based learning experiences at Easter
Every day there is something new for children to learn and explore, and Easter is no exception. You can level up the learning and educational element in many of these activities easily. Try adding counting to your treasure hunt, such as finding a certain amount of leaves. Promote sensory development, discovering things through each of the senses. Discuss shapes and colours when making bunny masks, work on jumping and hopping in the egg and spoon race and so much more.
If you would like some more ideas for activities to do within centres or at home over the long weekend, we've compiled a list of activities that children will love to try!
Whatever Easter means to you, enjoy yours having fun with family and friends!