The average person is likely to spend around a third of their time at work over the course of a lifetime. Sure, this figure is approximate and will vary from person to person, but whatever way you look at it most of us will spend a hefty amount of our life in our job.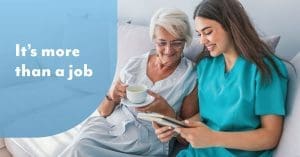 With such an investment of our precious time going into the workplace, it makes sense to choose a career that will be more than just a job. A career that we can be passionate about and proud of. A career that makes the world a better place.
The aged care sector can provide a meaningful career path that ticks those boxes. Working in aged care is more than just a job, delivering life-altering care to those who require support to get by. If you're going to spend a lot of time working in your life, why not spend it enhancing the lives of others.
The types of people suited to an aged care career
Thriving in aged care jobs can be achievable for anyone who commits to getting qualified and is interested in helping others. The sector is well-suited to people who are seeking a rewarding career path that brings professional and personal satisfaction.
There are certain qualities and skills that lend themselves to aged care. If you're a person who has one or more of these qualities, it could be that aged care is a great career path for you to explore:
Empathy
Respect
Adaptability
Communication skills
Patience
Commitment
Interested in aged care but worried you aren't on top of these traits? While sometimes these qualities might be more well-developed in some people than others even before entering aged care, a quality aged care course will help you to hone them. As long as you are caring and compassionate, you can pursue a meaningful aged care career.
What makes aged care work so rewarding
It might seem like you always hear about aged care work being described as meaningful, rewarding, fulfilling and the like. But what does that really mean?
These terms are often used to describe an activity or undertaking, such as work, that give us a sense of purpose. And let's face it — most of us are looking to feel that sense of purpose in life. Rather than just going through the motions and doing the set tasks, an aged care job has a genuine impact on the people receiving the care.
Depending on the role you have in aged care, you will do things to improve people's lives such as dressing, showering and feeding, providing companionship and conversation, supporting them in maintaining quality of life as they age.
For many people, this act of making someone else feel better, healthier, safer or happier is what makes an aged care career feel so satisfying. Selmar aged care trainer, Sonja Morris says:
"Working in aged care has been a wonderfully fulfilling career.  It has provided me with the tools to better communicate with the elderly and share experiences. I have loved the opportunity to provide care and friendship to people to assist them to maintain independence. I feel truly blessed to have been a part of their lives in a positive way."
Why people choose to work in aged care jobs
Everyone has their own reasons for opting to pursue their chosen sector. For those working in aged care, their reasons might include one or more of the following:
Every day is different:
In aged care jobs you will work with a diverse range of people every day. You will engage with them, hearing their stories, supporting them with their challenges and exploring how you can continue to improve their lives. No two days are the same.
Excellent job prospects:
Australia's population continues to grow older and with that the need for aged care workers increases. While the industry currently employs over 255,000 people, it is forecast that 1 million aged care workers will be required by 2050 due to Australia's ageing population. This means when you enter the aged care sector, you can be confident in securing a job long term.
A sector that is evolving:
The aged care sector is undergoing a period of change, making it an exciting time to enter the workforce. The Royal Commission into Aged Care has spurred a number of sector changes that emphasise a commitment to high quality care, including more training more often to keep aged care workers highly skilled.
Career growth options:
A career that has room for growth and change means that you are more likely to be able to continue to flourish in a sector without stagnating. The aged care sector has so many pathways to develop your career or pivot. From working in home care, to residential care facilities or even developing lifestyle programs for the elderly, there are plenty of options for your career's future.
Make a difference in people's lives
If you are the right type of person for aged care jobs and feel that you are ready to make a notable difference in the lives of people who really need support, we can help you enter the sector. Starting with a Certificate III in Individual Support, Selmar will help get you qualified to commence a career in aged care. With a dedicated trainer who has a wealth of experience, you can feel confident that you will have everything you need to succeed in your studies and beyond.
"Many learners especially love attending Simulation Training and always give 100% during these sessions. The students feel this is a valuable day that gives insight into what to expect when attending placement hours", Sonja explains.
Practical placement is incorporated into our course structure so that learners get essential hands-on experience.
"Witnessing a learner enter 120-hour placement quite often nervous and then seeing them blossom and grow and complete placement full of confidence and quite often with the offer of a job is perhaps the most rewarding part of my role", says Sonja.
Reach out to our team here and get all the information you need about getting qualified for aged care.