Aged care isn't one size fits all. Many approaches to aged care are available, with the care style dependent on the recipients' unique needs, preferences and abilities.
While once upon a time, growing old and requiring assistance meant the only option was to move into a residential care facility, there are now a range of care types on offer for the elderly. This also means there are now many different types of roles to fill in the aged care workforce. From providing support to ageing individuals in their own homes, delivering short-term aged care or caring for seniors in live-in aged care facilities, each aged care style requires highly skilled professionals who have the appropriate knowledge and practical skills.
For those exploring an aged care career pathway in a truly meaningful sector with plenty of demand for high quality aged care workers, it's important to understand the various roles available and the right qualifications to get you where you would like to go.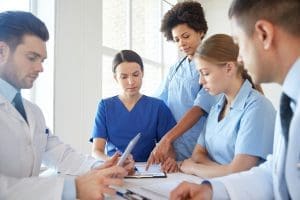 Aged care: types of care available
From live-in care requirements to short term support or assistance remaining independent in their own home, aged care needs vary greatly between elderly individuals. To cater to a range of levels of care that are required, there are a number of types of care. As an aged care worker, your career goals might focus on one particular approach to care, or you might explore working in a few different care types to find the best fit for you.
Let look at the types of care settings you might work within as you embark on an aged care career:
Aged care facility
An aged care facility is a live-in care setting where a number of elderly individuals can live with care accessible to them. They are sometimes known as an aged care home, residential aged care facility or even a nursing home. Older people may choose to leave their homes and relocate to an aged care facility, or in some cases their families choose this option to ensure the ageing individual receives the care they need. Aged care facilities provide care recipients with their own room and furnishings, as well as meals, laundry and social activities. Individuals also receive support with self care, bathing, dressing and eating, along with clinical care as required.
Help at home
While getting older means living independently can become more challenging, it doesn't always mean that moving in to a care facility is necessary. Aged care workers can provide support for ageing individuals who wish to continue living at home by helping them with things that they find difficult to achieve alone. This varies person by person, but home care for the elderly may include showering and bathing, dressing, getting in and out of bed. It can also include domestic support including cleaning the home and doing the shopping. Help at homes helps seniors continue to live at home for longer.
Short-term aged care
If care is only required for a period of time, short-term aged care may be an option to support elderly people in their homes. Some older individuals may have a family member who is also their carer — short-term aged care can step in as respite care to give the family member a break or take over the care role while they are unable. Short-term aged care is also used after hospital stays or injuries, and could be anything from a few days to a few months.
Aged care career pathways to support care types
In addition to exploring the different care types within the aged care sector, there are also a range of aged care roles to consider. While each role within aged care supports the health, wellbeing and quality of life of ageing individuals, there are many differences too. Furthermore, the preferred career entry point for your aged care career pathway will determine which qualification you will need to pursue.
With a Certificate III in Individual Support (CHC33015) you might explore one of the following aged care roles:
Residential care worker
As a residential care worker you will work in aged care facilities assisting the elderly residents with their day-to-day needs. Because residential aged care facilities provide care day and night, you may be able to work unique hours, including day shifts, night shifts or a mixture of both on either a full time, part time or casual basis. Your responsibilities may include providing support for residents with personal care such as bathing, feeding and dressing, as well as companionship and following their set care plan.
Home care assistant
In this role you will help older individuals with their daily tasks by visiting their homes. You might support the elderly with daily tasks like showering, dressing and eating. You may do their shopping for groceries and medications as needed, or clean their home. If they have an outing, you could assist them in getting there or even join them in some instances. For many elderly people you may be one of few visitors so your support as a companion may be valued too.
If you want to upskill on your aged care career pathway, a Certificate IV in Ageing Support (CHC43015) or Certificate IV in Leisure and Health (CHC43415) is advantageous to access to roles such as:
Care supervisor
Is the care supervisor's role to lead a team of care workers and help to oversee the care delivered to elderly individuals to ensure they are receiving high quality, appropriate care. As a leadership position, you might assist in training others and organising meetings. As a care supervisor you would be responsible for ensuring that your team members undertake relevant professional development and training to assist them in their roles.
Program coordinator
As a care program coordinator, you are responsible for designing and developing a program of activities for older clients that works in tandem with care plans provided by other health care providers. You'll devise activities that will engage clients, encourage social interaction and develop a sense of community with their peers. Your role as care program coordinator will see you liaise with other care professionals, sharing information that will help assist individuals and groups to enjoy a greater quality of life in their later years.
Community support worker
As a community support worker, you could work across a variety of aged care settings, from residential facilities to community programs. Your role is generally centred around helping elderly individuals to stay engaged with the community, stay social and maintain a fulfilling lifestyle.
Take an in-depth look at more aged care career pathways and roles here.
Getting qualified for an aged care career
If you're ready to get started in an aged care career, the Certificate III in Individual Support (CHC33015) is perfect to get qualified for this fast-growing sector. This qualification provides learners with comprehensive, practical and relevant training so that they are confident to provide care beyond compliance in the aged care workplace. Learn how to meet the needs of the elderly in a safe and effective way, how to provide first aid, and ways to empower the elderly across the range of core and elective units.
The Certificate IV in Ageing Support (CHC43015) expands on the Certificate III level qualification, focusing on leadership in care settings, assisting clients with medications and coordinating services to maximise outcomes for the elderly.
Taking on the Certificate IV in Leisure and Health (CHC43415) helps learners to develop an in-depth understanding of what ageing individuals need to thrive from a lifestyle perspective. Discover how to plan and implement effective leisure and health programs, including to support those with complex needs.
Our aged care courses are available via workplace training or distance learning, each offering a thorough learning experience that combines practical learning and theory under the guide of experienced and committed trainers.
Take the first step toward your aged care career pathway for a career that makes a true difference, or upskill and discover a meaningful aged care career with plenty of room to grow.
Get in touch with us to chat about your aged care career pathway.