A traineeship is a great approach for those looking to start or advance a career while continuing to work — and earn — in their desired sector.
For those with management roles within organisations, using the traineeship model could be a successful way to boost the capacity of your workforce.
With the Australian Government committing $1.2 billion in a funding boost designed to support more people in gaining skills and employment, and support businesses in taking on trainees to create a highly skilled workforce, it's the perfect time to embark on pursuing a traineeship — or using trainees in your workplace.
A traineeship could see you gain qualifications in booming sectors such as Early Childhood Education and Care or Aged Care, benefitting from a training approach that maximises hands-on experience and confidence for a bright career.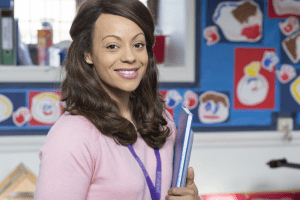 What is a traineeship?
Many courses involve theory-based learning combined with varying degrees of practical experience. A traineeship takes this up a notch, pairing work in the sector with the required training to ensure that learners receive a thorough training experience that will adequately prepare them for a real-world career. This has the added advantage for learners enrolled in a traineeship to be able to earn and learn at the same time, while gaining skills, qualifications and confidence on the job.
You may have come across traineeship opportunities described alongside apprenticeships. They do have their similarities, in that they both involve learning and working simultaneously but they aren't quite the same. While apprenticeships are a means for a person to gain qualifications and be trained in skilled trade, traineeships support those seeking training in vocational areas.
Another key difference to note is that apprenticeships generally take around four years to complete, whereas a traineeship is more likely to be from 12 months to three years in duration.
Getting qualified through a traineeship
For some individuals, a traineeship is a great way to take on further qualifications within the sector you are currently working in, continuing within your workplace while training. For others, it is a hands-on way to start on a career in a rewarding sector with the ability to earn while you learn. For employers, traineeships mean gaining highly-skilled, well-trained employees who are committed to training and contributing to your place of business.
In early childhood education and care, traineeships are an opportunity to learn quickly. Being in the workplace environment while you are undertaking qualifications enables you to easily apply the theory you are learning to the real-world experience of working in an early childhood education setting. It is also highly beneficial for extending your knowledge in the sector through identifying mentors within the workplace who can support and guide you on your career journey.
Aged care traineeships are a highly regarded approach to getting qualified for careers in this meaningful sector. Learning on the job ensures that you don't need to choose between your income stream and studying — you can do both. You will also have consistent support through your trainer, co-workers and employer. Plus, you may even find a role model who can mentor you as you move through your aged care career.
Key benefits of traineeships for learners:
The ability to earn while you learn
Flexible training
Get a headstart with valuable real-world experience
Benefit from mentors and role models in your chosen sector
Improved understanding of theory through real-life application
Employers gain highly skilled employees
For any employer, highly skilled and confident employees are always desirable and sought after. With this in in mind, traineeships present an advantageous opportunity for employers to effectively train staff on the job in their prospective workplace environment. This means the chance to develop the ideal team for your workplace from their commencement of training and beyond.
At Selmar, we specialise in training individuals for thriving careers in the aged care sector and in early childhood education and care. Our courses are designed to be a great fit with the traineeship delivery mode, supporting both individual learners and employers to reach their full potential.
Both theory-based learning and practical, hands-on skills are prioritised to ensure our learners and workplaces get the most from their training experience. We also place importance on the development of soft skills. These more personal qualities can have a positive impact on the way that individuals can offer support to those they work with — both those in their care and those they may be working alongside.
In addition to the latest funding for businesses offering traineeships, your business may be eligible for other wage subsidies too — take a look here.
Key benefits of traineeships for employers:
Employees with well-developed practical skills to match your workplace
Improved employee confidence
Promoting job satisfaction and motivation for employees
Subsidies and support to develop your skilled workforce
Getting started with traineeships
If you are looking to build the best aged care facility or early childhood education service possible, taking on trainees can be a successful move forward for your business. Similarly, if you are looking to find a traineeship to take on a thriving career in booming sectors such as aged care or early childhood education, we can help.
Contact Selmar today to learn how we can support your traineeship program to help you shape a thriving workplace.