Home care can mean the difference between an elderly or disabled person having to move out of their home into a care facility or being able to stay in the comfort of their home. Home care is highly valuable to those requiring care who want to continue living at home. It is also a valuable career choice if you're looking for a career that makes a meaningful difference to others' lives.
A person's home is often their sanctuary and for many there is no place like home. For many ageing Australians, staying home and living as independently as possible for as long as possible is their goal. After all, home is our most comfortable space and are full of our belongings and memories.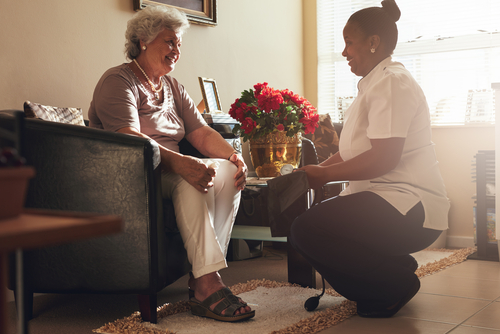 The goal of staying at home is often made achievable with the support of a type of aged care called home care. This is delivered by qualified aged care workers who visit the elderly or those living with disability in their homes.
What does home care involve?
Home care is intended to support ageing individuals to maintain their health, independence and safety at home and in the community. To ensure this, home care workers attend homes to provide care at appropriate intervals and to achieve necessary outcomes. The extent of care required will depend on each person, and is delivered on assessed needs on an individualised basis.
The types of aged care services that a person may need includes assistance dressing and showering and living support such as shopping, home cleaning and running errands. A home care worker may attend multiple clients' homes at the required times and days as per a care plan.
The increasing demand for home care
The Royal Commission into Aged Care final report outlined a range of recommendations, many focusing around the need for a system that prioritises person-centred care. Part of this requires acknowledging and supporting that the desire to continue living at home as we age is increasing.  This preference for remaining at home was a constant theme heard through the Royal Commission. The inclination toward home care has been strengthened further by the Covid-19 pandemic, where those living in residential aged care facilities were among the worst affected.
As a home care worker or home care assistant your role will be to help older individuals with their health, wellbeing, personal care and daily tasks by visiting their homes. You might support the elderly with daily tasks like showering, dressing and eating. You may also do their shopping for groceries and medications as needed, or clean their home. If they have an outing, you could assist them in getting there or even join them in some instances. For many elderly people you may be one of few visitors so your support as a companion will likely be valued too.
The benefits of a home care career
There are many fulfilling career paths to follow in the aged care sector, each with many benefits not only to care recipients but to carers themselves.
Working in home care you can enjoy benefits such as:
Flexible working hours
Home care offers a range of working hours, rather than a standard 9 to 5 role. You can work part time, casual or full time and a variety of shifts, making home care a flexible option for a range of life circumstances.
The opportunity to work autonomously
In a home care role you will visit a number of homes rather than an office. You will mostly work independently, attending the homes of your clients at set times and be able to get to know your clients one-on-one.
A sense of purpose
A career that is fulfilling and offers a sense of purpose is hard to find. Working in home care, the work you do is important and necessary. You are going to work to help someone get dressed for the day, assist them in getting groceries and other important tasks. Your work in home care is indispensable.
Make a genuine difference
The research makes it clear that elderly individuals increasingly want to stay living at home as long as possible. As a home care worker you are making this possible for them and genuinely changing their lives for the better.
Starting a career in home care
To enter a home care career in the aged care and disability care sector, a Certificate III in Individual Support (CHC33015) is the best place to start.
This is an entry level qualification that is ideal to enter the sector. It will equip you with the skills required to empower and enrich the lives of older Australians, while ensuring they receive the necessary support and healthcare continue to live safely in their homes.
The Certificate III in Individual Support incorporates practical placement hours, so by the time you graduate you will already have the hands-on skills required to provide compassionate care with confidence.
An experience aged care trainer will be there for you every step of the way, regardless of your study mode. This means you will have support throughout your training journey — your individual questions, concerns and needs will be met as you go.
Follow a career path that changes lives and join the aged care sector as a home care provider.
Get in touch with Selmar and get started today.