Training, supporting and guiding people who are new to a sector or upskilling within a sector requires the knowledge and skills that come with experience. That's why Selmar aged care trainers all have a story to share about their own careers in aged care prior to becoming a trainer.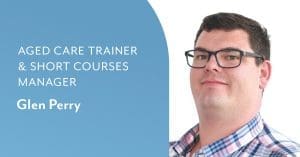 Selmar aged care trainer and short courses manager Glen Perry has a background in aged care, having worked in the sector for around 10 years. For Glen, his career path unfolded from his natural inclination towards helping others.
"Even through school when you had to do work experience, I always gravitated to wanting to help people," explains Glen.
It was this desire to provide support to others that lead him to expand on his aged care career and move into becoming a trainer.
"I saw new employees coming in and starting out in their own aged care careers and I just thought I could make a difference and help those people achieve their goals, become well-trained and know as much as they can before they enter the sector."
Support and motivation when learners need it
Every learner who chooses Selmar to gain their aged care qualifications will have the support of a dedicated and experienced trainer, like Glen, who is committed to helping them achieve a great outcome from their studies. Whether they are just starting out or are progressing in their career through upskilling, the support that trainers like Glen offer can make all the difference to the training journey. A key part of Glen's role as a trainer is motivating learners.
"Many learners hitting the occasional brick wall where they often just need to be reminded of why they are studying to keep them on track," says Glen.
Commence, enhance, advance in aged care
While sometimes upskilling will involve a Certificate or Diploma course, other times a short course is needed to give your career or skillset a boost or refresh. A short course can provide essential qualifications, such as first aid, CPR (cardiopulmonary resuscitation) and infection control.
In aged care, CPR qualifications need to be refreshed every 12 months and first aid qualifications should be undertaken every three years. Short courses can also open up new skills for learners, such as assisting clients with medication.
Glen is the short courses manager for Selmar and guides learners to choosing the right course at the right time. He notes that short courses can be a valuable way to upskill in the aged care sector in a short period of time:
"Short courses give learners more skills and more opportunities within the workplace."
More skills certainly benefit the learner, but Glen also explained that upskilling employees has a lot of benefits for the employer and the sector more broadly. As many of the Royal Commission into Aged Care recommendations are put into place, including mandated training, Glen expects to see the standard of care continue to be raised, creating more opportunities for highly trained aged care workers to provide compassionate care.
Start a fulfilling career in a high demand sector
For those considering aged care as a career path, Glen says jump in and do it:
"It's a high demand industry and you will go home every day feeling fulfilled in what you do. Even something simple like getting someone ready for the day. You've helped them right away and changed the way their day will go."
To learn more about Selmar's range of short courses click here.