Early childhood education services have been impressive in their swift pandemic response, making vital changes to the way they operate when faced with restrictions and lockdowns. Deemed by the Government as an essential service early in the pandemic, early childhood education centres have been a source of stability and support for many families and children.
While buoying up children and families, childcare services have adapted with increased focus on health and hygiene practices to minimise the risk of spread and transmission of the virus in early childhood settings. All the while, managing their own pandemic and sector challenges.
Among the pandemic response, your centre can also continue to strive for excellence under the National Quality Standard (NQS). This can be a great time to take stock and focus on what you can do to stand out and shine in early childhood education.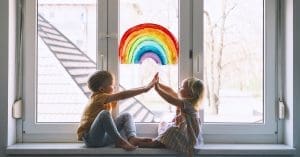 The changes and challenges facing early childhood
The impact of COVID-19 on the sector has been notable. Centres have been working hard to uphold COVIDSafe environments. This has included staggered drop-offs, careful staffing and rosters, temperature checks and even more rigorous hygiene standards.
Additionally, many centres are experiencing reduced occupancy as a result of families being unable or unwilling to attend and withdrawing their children, or from being unable to work and no longer requiring or being able to afford childcare.
For those who have been studying in the workplace or undertaking a course in early childhood, placements and student observations have been paused causing delays and frustration throughout the sector.
Add in the personal impacts of the pandemic and associated restrictions and it's fair to say that is has been a time of immense change and many challenges for those involved in the early childhood education sector.
Essential excellence for your community
One benefit that early childhood education professionals have encountered during this time is the recognition of their role in society. While feeling undervalued or unappreciated has been a concern for the sector, the pandemic has shone a light on just how vital childcare is for communities and their families.
The government deemed early childhood education and care an essential sector from the beginning of the pandemic, allowing centres to continue to open and offer care and keep educators in jobs.
Even during times when some families were not able to access childcare, many educators continued to provide online resources and engaging educational experiences to keep in contact with children and uplift families.
While restrictions have and continue to shift in relation to who can access early learning services, it is clear that they play a key role for families across Australia. Early childhood education has and continues to:
Maintaining continuous quality improvement
As early childhood education continues to support families and one another, it's also important to keep up continuous quality improvement (CQI). Continuous quality improvement is a process designed to manage the quality of care provided by centres. Because as well as being essential, childcare services should be working towards being excellent too (including your rating under the National Quality Standard).
A CQI process involves promoting ongoing self-reflection and striving towards improvement at all times. Questions educators should be encouraged to consider frequently might include:
How am I doing as an educator and how are we doing as a team?
Can we do things better and if so, what?
How can we increase engagement and promote children's development in new ways?
Services, management and educators can collaborate to achieve the best outcomes possible for their early learning centre. A good place to start is with your Quality Improvement Plan (QIP) and to consider all areas of the National Quality Framework in all that you do.
Some quick tips to keep in mind in your efforts to continually improve and grow are:
Ensure you are recruiting and retaining qualified, highly skilled early childhood educators
Always ensure your team has access to professional learning opportunities
Develop a work environment that is positive and enjoyable
Know and understand the NQF and National Quality Standard requirements as well as the EYLF
Carve out time for team professional development, sharing and critical reflection
Try new things and incorporate a diverse range of approaches into your program
Celebrate successes with your team of educators
Delegate effectively and encourage strong leadership in your team
Prioritise exceptional open communication with families, via email, phone and in person
Check out more strategies for shaping a childcare service that is the best it can be with an National Quality Standard Rating that reflects that here.
Set your service up to thrive now and into the future
Change has been unsettling at times over the last one to two years, but change isn't always bad. Making positive changes to the way you approach early childhood education, the way your service is run and your systems and procedures can benefit your occupancy levels, employee satisfaction and outcomes for children.
There's no time like the present to start setting yourself up to stand out and deliver excellence in the early childhood education sector.
For more information on how we can support childcare services and educators to reach their full potential, get in touch with Selmar.