The way education and training is approached can evolve over time. And so it should, as the way we study and work changes too. New technology, sector overhauls, societal shifts — there are many factors that influence learning trends from year to year. Not to mention of course the pandemic that certainly drove changes to the way we live, work and study.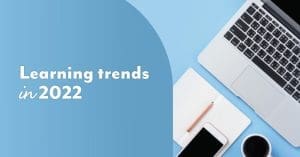 The year 2022 brings us trends in education that are reflective of the impact of the last couple of years. As a training provider, part of our role is to ensure that we are delivering a learning experience that understands the needs and wants of learners in the moment. We continually consider how to shape a training journey that supports our learners in reaching their goals and full potential.
The key learning trends in 2022 lean into the shift we have all seen in being able to be productive and get the job done from our homes. We are seeing a much-needed focus on adaptive and interpersonal skills as well as an understanding of learners' needs to have flexibility. Support that prioritises learner wellbeing is a must, along with a clear pathway for how to pursue lifelong learning and upskilling opportunities.
Let's learn more about these trends.
Learning online: flexibility and simplicity
Online training or distance learning options have been a delivery mode for a range of courses for many years. However, the pandemic fast-tracked the shift to online learning as a means of continuing with studies even when heading on campus wasn't an option due to public health concerns. In fact, a swift move to distance studies can be credited with minimising interruptions to studying for students back in 2020 when the COVID-19 pandemic began.
In 2022, the inclination towards studying online will continue, with the advantage of reducing uncertainty in case of COVID outbreaks. On top of this, learners have come to enjoy the flexibility and ease of learning online. They are able to fit their studies in around their existing life commitments, and jump online to get stuck into coursework anywhere, any time.
For those studying early childhood education, Selmar has ensured our online learning portal is simple to use, with extra support available as needed (we don't expect everyone to be a whiz when it comes to the computer!). The support doesn't only extend to the tech side of things — every learner has a dedicated trainer who is available to text, email, chat on the phone or catch up in person to offer guidance throughout the course. You can even chat to other students for extra support too, in our collaborative spaces via the online learning portal.
As time goes on, we expect to see online course options continue to a trend in learning, as well as workplace training which offers the chance to earn and learn on the job.
Adaptive skills for a thriving career
Having adaptive skills is definitely a trend we are seeing plenty of in vocational training. Again, this focus was a result of the need to quickly respond and adjust to changing circumstances — an experience we have likely all had in the last few years.
Adaptive skills are sometimes known as soft skills or interpersonal skills. They include qualities such as:
Teamwork
Compassion
Emotional intelligence
Problem-solving skills
Critical reflection
Communication
It likely goes without saying that when you're working with children these skills are highly valuable. Being able to lean into these qualities means you have a strong foundation for responding appropriately in a variety of situations and being a positive role model for young children in your care.
Working in aged care, you definitely need to have well-developed adaptive skills. Effective relationship-building with your elderly clients is vital to the role, along with the ability to understand what an individual in your is feeling or might require to improve their quality of life.
Our courses aim to enhance adaptive skills so that our learners can become more flexible, self-aware, solution-focused, and resilient professionals in their chosen field.
Support for learners and their wellbeing
Support is a must for students to succeed, but the difference we are seeing emerge as a trend in education is the attention to wellbeing support. Times have been tough for a lot of people throughout the pandemic, and this shared experience has allowed people to share more openly about what we have all been going through.
At Selmar we are committed to support that covers it all. Our learner success team offers support for those who feel they are struggling or falling behind, as well as coursework support. We provide wellbeing resources and encourage group support via our online community hubs.
We believe that a holistic approach to supporting learners is a trend that ought to stay, as wellbeing, mental health and our ability to learn and thrive are undeniably connected.
Clear pathways for progress
Learning is lifelong. Every day presents a new chance to learn, and we see learners wanting to grab hold of new opportunities in their education. In fact, studies show that Millennials may be the most educated generation in history!
To underpin the trend toward gaining more insights, experience and qualifications, Selmar has a range of options and pathways to suit every learner and their goals. Whether it's going from a Certificate III to a Diploma or staying in the know with a short course in infection control or first aid, continual learning is a priority. For those in early childhood education, exploring a pathway to university might be of interest. In aged care, you might look at progressing to a managerial role with an Advanced Diploma.
Here at Selmar we strive to be a course provider that understands what you need for a fulfilling training experience.
Whether you're looking to commence a new career or are exploring your upskilling options, reach out to our team for a chat about your individual goals.