No matter what stage you're at, changing careers or deciding on a new job involves many questions.
If you're considering a career in aged care or early childhood education you might be asking yourself: will I be good at this? Do I have the skills to succeed? And will any of my current skills apply to my new job?
The good news is that they absolutely will. You may already have a number of transferrable skills which will carry over into your new career.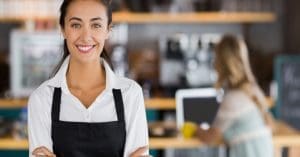 Skills for life
Although they may look different, most people-facing industries actually have a lot in common. You might be working in hospitality, retail or administration, or maybe you're a babysitter or hairdresser. Most of these roles involve a unique skillset we call 'transferrable' or 'adaptive' skills.
You might know them as 'people skills', a pretty broad term which basically refers to an entire host of skills – like empathy, problem solving and teamwork – which make it easier to communicate and work with other people.
These are skills which promote personal growth, enabling you to hone the ways you relate to other people, manage tasks and practice compassion and care. As you may have noticed, these are also attributes which make for great educators and carers.
Useful skills for a rewarding new career
Working in aged care or early childhood education means working with people: specifically, the oldest and youngest in our communities. Both jobs come with a set of challenges and surprises which make them highly rewarding.
If you're thinking about changing into meaningful career and wondering if you'll be good at working in aged care or early childhood education, don't forget you might already have many of the skills that count.
Some skills you might already possess and want to focus on include:
Communication
Adaptability
Teamwork
Patience
Problem solving
Organisation
Resilience
Cultural awareness
Let's talk a little more about what these skills involve and why they make a difference in both early childhood education and aged care.
Communication
Strong and clear communications skills are essential for building relationships: like speaking, listening, reading, writing and effective use of non-verbal skills such as body language. When working with the elderly and/or the very young, being able to communicate effectively is important.
You might like to think about what roles and experiences have prepared you for speaking clearly and respectfully, listening patiently, reading non-verbal cues and adapting your tone of voice to convey confidence and approachability.
Adaptability
Adaptability means the ability/willingness to adjust your behaviour to suit varying conditions and is a great skill to have in aged care and early childhood education, enabling you to handle the challenges of the workplace in positive ways.
If you've ever worked in a busy restaurant or retail store, for example, you probably already have experience being highly adaptable.
Teamwork
Teamwork means working together to achieve common goals. There will be many instances in both aged care and early childhood education where you will need to work as a team. Teamwork skills include being able to communicate in a clear and reasonable manner, being able to identify common goals, and having an awareness of group dynamics.
In every workplace there's usually teamwork involved. For example, you might have worked on an administrative team and used your teamwork skills to prioritise workflow.
Patience
Working with children and the elderly requires a lot of patience. Young children are in the process of learning a whole heap of new things and won't always get them right the first time around. It's your job to encourage them to learn and grow. On the other end of the spectrum, elderly people might take a little longer to do things than others. Carers need to be attentive and calm in order to give their clients the time they need.
If you've ever worked in a sales role where you spent a lot of time on the phone, in a café where you had to train new staff, or in a hairdressing salon with long wait-times, you'll know that as they say – patience is a virtue!
Problem solving
Identifying problems and finding solutions is a valuable skill across the board. No matter the job, we've all been in a situation where we've had to analyse, make a decision and come up with a workable solution. You might like to think of times where you successfully resolved an issue at work and identify the skills you relied on.
Organisation
Being organised is a handy skill to have in work and life – it makes everything easier! Most of us have organisational skills from previous jobs that we can focus on and hone: like managing time effectively, keeping track of records, adhering to systems and acting with purpose.
Resilience
Aged care and early childhood education are not without their challenges. On both ends of the spectrum you'll be working with society's most vulnerable, and this sometimes means having to see and respond to things which make you feel uncomfortable.
Being resilient means being able to recover from difficulties and look on the bright side. Lots of us don't know how resilient we are – but if you've ever had a stressful situation you've recovered from at work, you've already demonstrated your ability to stay positive and bounce back.
In essential service industries resilience is also a way to protect yourself and avoid burnout.
Cultural awareness
Australia is a multi-cultural society and this is reflected in both our elderly and young populations. Understanding diversity and being respectful of other people's culture and identity is a crucial part of providing quality education and care.
Most of us will have lots of experience with cultural awareness, whether through work or even just through community, friendships and school. It's worthwhile considering what skills you use to stay culturally aware: skills like empathy, taking an interest in other cultures and listening to other people's stories.
Do you have what it takes?
We think you do! Whether you're interested in aged care or early childhood education and care, there are lots of transferrable skills which will carry you into your next job. We can help start you on the path to a rewarding new career.