The avoidance of infection outbreak and management to reduce its reach are high priority in any sector, but particularly when your work environment involves caring for some of the most vulnerable members of the community.
The right knowledge and practical skills are needed to protect those in your care from infection, and ensure that the outbreak's risk of spreading is minimised. Our new short course is designed to build those very skills and enable your team to control infection in aged care. This nationally recognised training unit Comply with infection prevention and control policies and procedures (HLTINF001) has been developed with the needs of the aged care and community care sectors at front of mind. 
Training to enhance your team and standard of care
Infection control and prevention are imperative in aged care settings, where residents may be at higher risk as a result of being older, having been in hospital or living with disease and/or illness (Australian Department of Health). 
Relevant and practical training has never been more important to the aged care industry, as we focus on upholding high standards of person-centred care across the sector. Short courses such as our latest offering provide a productive form of training that enables you to retain, develop and empower your staff, while lifting the overall standard of care your aged care business delivers.  
Stay up to date with the best practices in infection control
With advancements in science and technology, it's important to be up to date with best approaches to infection control. This includes cleaning and hygiene innovations and new and improved practices and techniques.  
Our new infection control short course trains your entire team to understand the latest approaches in infection controls and helps them to comply with your policies and procedures. 
Short courses that are comprehensive and convenient
Short courses at Selmar while short in duration are thorough in their approach. We ensure that undertaking them is convenient and comprehensive.  
Your team can complete two thirds of the 9-hour infection control short course in our interactive online portal, while the final 3-hours takes the form of a practical group workshop, delivered by our experienced trainers. We fit in with you, delivering the face-to-face portion of the course at your workplace.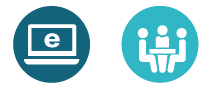 Online and face-to-face training
Reinforcing standards
Your aged care facility is only as capable as your aged care workforce. Reinforce the quality of care you deliver through effective, relevant training.  
Our high-quality infection control training enables you staff to adhere to policies and procedures and uphold the highest quality standards.  
Learn more about this infection control short course here.