Gaining experience in a particular field of work to improve your employment prospects often seems tricky. You can get the qualifications required by undertaking the relevant course, but how about getting those on-the-job skills?
A course that incorporates practical placement or work placement can be a game-changer. You can acquire the necessary qualification for your chosen career while also gaining essential know-how that will enhance your confidence and capabilities. Plus, completing practical placement will give you an edge when it comes to getting a job as you already have experience in the workforce.
Real-life jobs require real-life training. This is the kind of training that is achieved through work placement. Understand what practical placement involves, the benefits, how to prepare and what to expect to get the most out of placement hours and shine in your chosen career.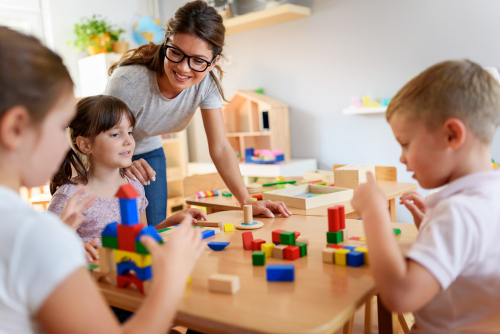 What is practical placement?
Reading course material, doing research and completing assignments are all elements of coursework known as theory-based learning. This is vital to learn all that is involved in the sector in which you are planning to start a career. Practical learning on the other hand is a means of learning through active participation and is incorporated into a course to enhance your learning journey.
Practical placement enables you to apply your theory-based learning in a real-life setting. It's as though you are stepping into the job, but with the full support and supervision of experienced professionals as well as your trainer.
Work placement for early childhood education courses
In early childhood education, a practical placement allows you to head into a childcare service and work with children and other educators to deliver the program. You get to step into the role you are working towards through your studies, applying all that you have been learning during this on-the-job experience.
You can gain immense insight into the inner workings of a early learning workplace. You'll also be surrounded by committed early childhood education professionals who will support you as you learn and undertake many tasks that will be part of your future career in the sector.
How does your course provider support your placement?
While all course providers are different, here at Selmar our team supports learners in finding a suitable workplace to undertake their practical placement units. We take care to create strong partnerships with many early learning services. By gaining an understanding into how their centres run, their values and their approaches, our placement coordinator can match each learner with the right centre for their practical placement. Thoughtful matching along with placement induction sessions helps Selmar's learners settle in to get the most from their placement experience.
Practical placement is improved further for Selmar learners thanks to our practical placement journals. This journal focuses on the essential skill of critical reflection, helping you to better connect with what you are learning and enhancing soft skills such as empathy, communication and creativity.
How to prepare for practical placement?
While the idea of heading into the workplace and getting your head around a range of tasks and responsibilities can be overwhelming, a little forward thinking can go a long way. Before you begin, it's useful to do some practical placement preparation.
To feel prepared, make sure you are organised before your first day arrives. This means planning where you need to go, how to get there on time and what you need to bring. Making sure you are dressed appropriately is important, including being SunSmart and keeping long hair tied back out of the way. If you're unsure on any of these things, check with your trainer or centre contact in advance.
What can you expect on placement?
Your practical placement will be a lot like heading to a job at an early learning service, with set hours and tasks. When you arrive for your work placement you will be introduced to the team and shown around. The centres Selmar collaborates with are welcoming and supportive, ensuring you know your way around and feel comfortable. You will likely move around the service to experience a range of different elements of the childcare workplace environment. You will be guided to undertake specific tasks, which may include helping children with crafts, setting up for meal times, supervising and guiding play outdoors as well as a range of other responsibilities.
Your Selmar trainer will visit you onsite at times to continue the learnings through your course in this practical space. The trainer will also conduct observations with you while at the service, and will provide guidance and support as needed.
What are the benefits of practical placement hours?
Practical placement is incorporated into courses for many reasons and the benefits extend to you as the learner, to the children you will care for and to your potential future employers.
Become capable and confident
Confidence comes with experience. Work placement provides learners with the chance to apply what they are learning and graduate feeling capable and confident as a result of having put their theory into practice.
Practical work placement gives your course material real-life context. Sometimes concepts can be tricky to grasp when you are simply reading about them or researching them online, but suddenly become very clear when you experience them first-hand.
On-the-job training makes you sought-after to employers who generally want someone who has some experience. Thanks to our effective practical placement course component, many Selmar learners have received offers of employment during their placement hours. You could gain a job before you have even completed your course!
A high standard for the sector
Hands-on, practical learning can contribute to upholding a high standard of care for the early childhood education sector. By having the most thorough, on-the-job training you are going to be best equipped to thrive as an early childhood educator, shaping the future generations.
Thriving as an early childhood educator
With the hands-on learning that takes place during practical placement in your early childhood education course, you will graduate feeling job-ready. This practical component gives you vital and valuable experience in the workplace and the sector to help you successfully complete your training.
For more information on how practical placement works and why it's such an essential for your learning experience, get in touch with Selmar.