As society continues to open up, many people and institutions are returning to face-to-face learning. While at Selmar we understand there are many advantages to online study, it's easy to forget that there are just as many benefits to learning in the classroom.
That's why we're introducing a new classroom study delivery mode for our CHC30121 Certificate III in Early Childhood Education and Care and our CHC33015 Certificate III in Individual Support.
We're excited about this new offering, and below you'll find a helpful list discussing the advantages of learning in the classroom as well as all the information you need to know about our new delivery mode.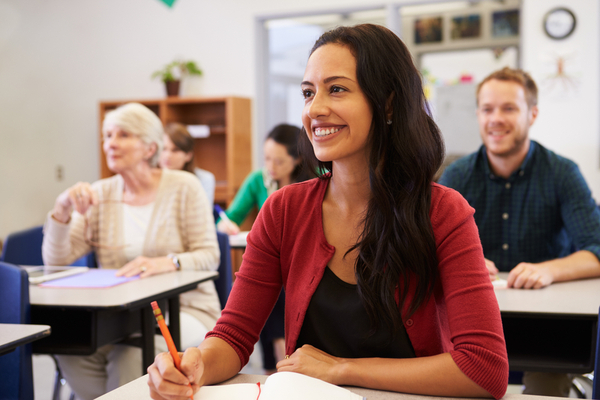 What is classroom-based learning?
Classroom-based learning is just another way of saying that you'll be attending classes in person as opposed to online. The great thing about our classroom delivery mode is that it provides intensive training which allows our learners to fast-track their way to a work placement while experiencing everything the classroom has to offer.
How does classroom-based learning works?
Learners will undertake two days of study per week for just 12 weeks. During this time, learners will gain foundational knowledge which will set them up for their entry into the workplace. You'll also be provided with essential training and support, like First Aid training and help building your cover letter and resume.
Once they've completed this initial part of their studies, learners will go on to do their first practical placement module. From there, learners will complete the remainder of the course via distance learning online.
Learners who choose to study aged care will complete their entire course in just 8 months (aged care) or 9 months when studying child care, meaning they can get straight into the workplace and begin making a difference.
Learning via classroom is a great way to speed things up while immersing yourself in all the benefits the classroom has to offer. Studying is not just a means to an end but should be a rewarding and enjoyable experience where you get to learn, grow, make connections with trainers and learners, and apply your new knowledge in challenging and exciting ways.
Five benefits of classroom learning
If you need more convincing, below are five key advantages to learning in the classroom.
1. Get help from your trainers in real time
You'll get to interact in real time with trainers and support staff. If there's something you need assistance with, your trainer is there in the room to help you right away.
In the classroom, trainers have the opportunity to observe and interact with you, which enables them to identify your strengths and learning style. This means that you're more likely to get a learning experience that's tailored to you.
Learning in the classroom also means that it's easier for trainers to demonstrate practical aspects of the course where necessary. When developing the complex practical skills you'll need on the job, it can be really helpful to watch and learn.
2. Peer to peer learning
Sometimes it's the people we study with who can teach us the most. While studying online gives you flexibility, attending classes means that you will experience a sense of inclusivity and community with your peers. Cohorts often develop tight bonds as they support each other through the challenges of the course.
In the classroom there's no screen between you and your class, which makes communicating easier. You will be able to share knowledge with your classmates, learning from each other and asking questions in a friendly, non-judgemental environment.
3. Social interaction
Since the onset of the pandemic many people have realised that social interaction is one of the most important and nourishing aspects of our lives. Seeing, talking and engaging with people in person helps to inspire us. It enables us to develop mutually supportive relationships, and you might even find that during your time learning in a classroom setting will help you to meet some like-minded people with whom you'll be lifelong friends. Coming to class is a great reason to get out of the house and enjoy some time connecting with others.
4. A structured and immersive learning experience
For some people, self-directed learning can be difficult. Attending classes provides a firm structure and a timetable which tells you where to be and when, as well as what's required of you. The structure of having a place to be at a specific time is often just the thing many of us need to stop procrastinating and achieve success.
5. Access to resources
With classroom-based learning, you don't need to worry about dodgy internet connections, slow wi-fi, uncomfortable chairs, dogs barking, or other people making noise in the house. Attending classes gives you access to specialised study spaces and facilities. You might also like to check in with our Learner Support team, who are always happy to give advice or simply have a chat.
Study via Selmar's classroom learning experience!
Receive in-person support from caring, expert trainers, learn alongside peers in a collaborative environment and gain feedback in real time!
Learn more about our classroom study option via the video below:
Immerse yourself in the classroom experience and get inspired! Find out more about our courses, delivery modes and what supports are available to you.