It's safe to say that 2021 didn't end up quite how many of us may have planned. After 2020, there was hope that this year would be nothing like its predecessor. However, we quickly learned that while we were no longer necessarily living in unprecedented times, uncertainty was still prevalent.
Nevertheless, it seemed that we had all learned many vital skills and habits that could carry us through and ensure that we could fulfil our potential in 2021. Resilience, grit, adaptiveness, kindness and compassion come to mind when we consider what people have learned and leaned into through the experiences faced in recent times. Let's reflect on the best bits of 2021. While there's plenty we will all likely hope to leave behind, there are still many positives to take with us into 2022 and beyond.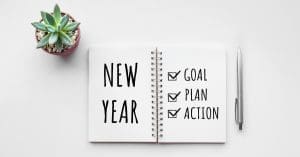 What 2021 taught us
There were moments in 2021 where we all had to dig deep. Finding that motivation to get your studying done or get outside and go for a walk wasn't always easy. Each time we rose to the occasion or did something to improve our lives we started to create positive habits. For many, these habits can continue to make life better and improve the way we live, work, study and feel on a day-to-day basis.
Positive habits to keep
Here are some of the key ways that 2021 gave us positive habits that are well-worth holding on to:
Mindset
Understanding ourselves: With more time alone or in smaller groups than usual, many people found they were getting to know more about themselves. Self-reflection has meant the possibility of better understanding how you operate. Continue with this in 2022 — check in with yourself, assess where you're at and where you want to be and work to your fullest potential.
Mindfulness and self-care practice: Mental health took a front seat in 2021. With lockdowns and distance from loved ones, combined with concern around health or work, prioritising mental health was a focal point. Some of us introduced mindfulness into early childhood or tried mindfulness techniques in aged care settings to support others too. If you starting accessing mindfulness, deep breathing and/or acts of self-care such as walks, baths or journaling, keep it up!
Study
A better place to study: If you set up a learning and/or work station in the home, you might have found yourself changing things around to get it just right. Hopefully by now you've created the perfect set-up to optimise your study and work.
Improved study habits: As well as getting the environment just right for studying from home, new study routines and schedules were a lifesaver for many in 2021. If you managed to find the best approach to your daily plan, stick with it. Knowing how, where and when you learn best is incredibly valuable.
Career
Following a new career path: You might be one of the many people who found themselves thinking it is time to do something new with your life in 2021. If you started to make plans to follow a career path that will be fulfilling or give you a sense of purpose is definitely something to continue with in 2022.
Exploring career progression: Similarly, if time in lockdown had you planning out where you want to be in one, two, five or 15 years in your career, carry that motivation through to 2022. The 'pandemic years' have been a catalyst for many people to reflect on where they want to take their career, and making a plan for achieving your goals is always a good thing.
Health
Getting physical: Gyms were once again closed for various period, especially in Victoria and New South Wales. This meant getting innovative about how we move our bodies. Local walks, bike riding, or swimming in the sea have seen a huge increase in popularity and that can only be a good thing.
Cooking at home: Making nutritious homemade meals and discovering a love of home cooking was, for many, born from not being allowed to eat at restaurants and cafes. But there's nothing wrong with enjoying your own culinary talents! That's a habit to keep.
A new year full of new opportunities
While you're reflecting back on 2021, it's a great time to consider what you want to achieve this year in 2022. With a new year comes new opportunities, and while new year's resolutions don't have a great reputation at being upheld, goals are always worthwhile.
If your 2022 has goals that involve, a fresh start in your career, upskilling to progress your career or you are interested in studying, keep Selmar in mind.
We can't wait to make the most of 2022 and support others in creating a life they love.