Each day across Australia carers are doing valuable work supporting those who are in need. This week is National Carer's Week — the perfect opportunity to take the time to reflect on just how vital the role of carers is in our communities. In fact, carers are crucial to our health care system and underpin aged care and disability care in Australia.
While being a carer is a rewarding career option, many carers are unpaid and working hard caring for family members, friends or other people in their community who are elderly and/or living with disability, mental illness, chronic health conditions or even terminal illness.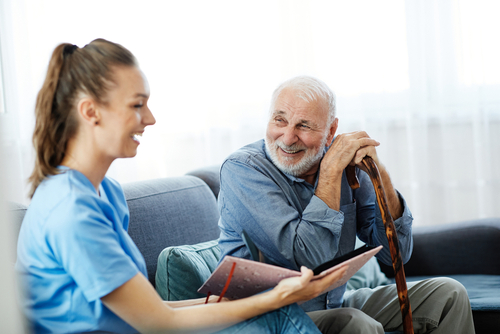 Anyone can be a carer at any time, and chances are you know someone or you are someone who is providing unpaid care to improve the quality of life for another person. National Carer's Week aims to recognise and celebrate these 2.65 million Australians who provide support to a friend or family member.
What it means to be a carer
To truly appreciate the dedication and value of carers, it is important to understand who these carers are, what they do and the impact they have on those who require support.
In Australia, carers make up almost 11% of the population. While any person can be a carer, 7 out of 10 carers are women, with the average age around 54-years old. That said, 1 in 11 carers are younger than 25.
Carers who are the predominant person delivering care to someone are known as primary carers, and support might vary, depending on a person's needs, from informal and casual to intensive daily care. One third of primary carers provide 40+ hours of unpaid care each week, while more than half of primary carers provide care for a minimum of 20 hours per week. Keep in mind, many of these carers will also be juggling paid work and family commitments alongside their unpaid care duties.
Caregiving for those who need it most
A carer may provide care and support to a range of different people, and usually unpaid care work is for family or friends in need. The relationship a carer may have with the recipient can vary — it could be an adult child caring for a parent, a sibling supporting another sibling, or a friend taking on the role of carer for someone close to them.
The care work itself can vary drastically too. Here's what a carer might be doing to support a person in need:
Personal care such as showering, dressing, lifting, eating, toileting
Transport as needed for appointments or errands
Managing medications
Providing emotional support and companionship
Organising and attending appointments
Banking and managing bills
Dealing with emergency situations
It's easy to see how carers are so incredibly valuable to those they provide care for and to support the healthcare system.
Being a carer as a career
Carers often possess well-developed adaptive skills alongside practical skills that make them well-suited to extending themselves to work as a paid carer, too. Whether you're currently a carer or have been in the past, that experience could lend itself to a rewarding career caring for others.
Valuable skills carers possess include:
Patience
Empathy
Adaptability
Practical nature
Observant
Reliable
Respectful
The aged care sector needs high quality, compassionate carers with these traits to improve the quality of life for those who are living in residential care, or who require at-home care to continue living independently.
If you're a carer exploring career options to earn a living with your knowledge and skills, an aged care career could be a great fit. A career providing care to the elderly as an aged care worker can be an option that is flexible enough to fit in with unpaid care commitments. Alternatively, it can be a great way to put your understanding of what it means to care for someone to good use and continue improving people's lives as a job.
To learn more about being a carer in the workplace, take a look at the information available on the Carers Australia website. This helps you understand your rights around flexible work arrangements, your entitlements as a carer and employee and how to balance work and caring responsibilities.
Getting qualified as a professional carer
Transitioning your role as a carer to becoming a professional carer requires undertaking a 12-month qualification in aged care. At Selmar, our courses are structured to fit in with your life, so managing study with your care commitments and life in general is achievable with undue stress.
As we celebrate carers during National Carer's Week, and beyond, it's important to remember that caregivers require care too. We have compiled mental health and wellbeing resources to make sure everyone knows that there is someone to reach out to when support is needed — take a look at our mental health resources here.
To everyone providing much-needed care to the most vulnerable members of our communities, we say a heartfelt thank you.
If caregiving inspires you and you are interested in pursuing a career providing care to elderly people, get in touch with Selmar to learn more and start studying an aged care course.