For many ageing Australians, staying at home and living independently for as long as possible is a top priority. In fact, each year more Australians are choosing home care as a means of continuing to enjoy life in the comfort of their own homes and familiar surroundings.
We spoke with the team at Home Instead, Geelong about their valuable work in the aged care sector, specifically in the home care space.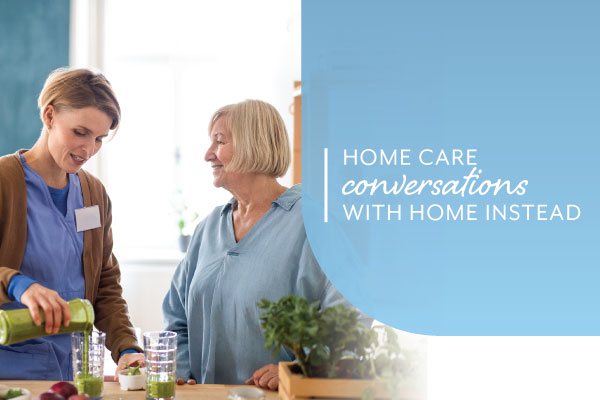 The life-changing value of home care
Giovanni Siano and his wife Gisele established Home Instead, Geelong in 2018, with a key mission: to enhance the lives of ageing individuals and their families.
With Australia's ageing population in mind, Giovanni is striving to change the face of ageing and redefine what it means to grow old. The in-home care provided by Home Instead's team of caregivers enables older people to live at home independently for as long as possible, rather than move into residential aged care.
Giovanni explains that home care often includes support such as:
Domestic assistance
Personal care
Assistance with shopping
Meal preparation
Medication assistance and reminders
Support with mobility
It's not just people managing older age who are wanting the support of home care to maintain their quality of life. Home Instead also provides ability care, which supports individuals living with disability as well as those with palliative care needs.
As well as caring for the elderly, Karen Pence has provided palliative care for many younger clients with degenerative conditions.
"Seeing people through to the very end is a real privilege", she says.
People living with degenerative conditions such as Multiple Sclerosis (MS), Motor Neuron Disease (MND), early onset dementia or Parkinson's disease are not necessarily older in age and can also benefit from continuing to live at home with the right level of care.
Matching clients with the right caregiver
Home Instead is careful and considered in matching their clients to caregivers. Their process involves a thorough care consultation with each client to design a care plan and identify goals and preferences. They then match this information with a carer who can fulfil the needs of the client and will be the best fit, both professionally and personally.
As a Home Instead carer, Warren Bohnke finds that the match-making process adds to the quality of relationship built between carer and client.
"Having a few things in common with clients can help to get conversation flowing and you can see straight away they relax a little when they see that you get where they are coming from and understand them".
For caregiver Karen, she highlights that companionship is a huge part of the role:
"For a couple of my clients I am the only person they see. I am their connection to the world and they are genuinely so excited for me to visit."
Strong results through strong partnerships
The partnership between Selmar and Home Instead means that nationally recognised qualifications and training are provided to Home Instead's caregivers alongside their own in-house training. This commitment to quality training and consistent approach to equipping each carer with the knowledge and skills required to thrive in the sector ensures exceptional outcomes for carers and clients alike.
"We partnered with Selmar to be able to certify our caregivers with a Certificate III or IV qualification. It's so empowering for them to be able to work with us and earn a salary while studying."
Many of the Home Instead team members also enrol in Selmar's Certificate IV in Ageing Support to continue to upskill and grow as carers. It's not just about getting the qualifications though. Their goal when recruiting carers is to find people who are likeminded and fit the Home Instead culture.
"We look for people who are aligned with our values and mission to change the face of aged care. We want people who really want to do this job because it's their passion and they want to give back to the community. And we find that those people put their heart into everything they do and they really are here to make a difference to people's lives", says Giovanni.
The results of the Home Instead approach speak for themselves, with exponential growth since they began in 2018. Not to mention, clients consistently return positive feedback and praise for the caregiving they receive.
A focus on high quality training
The Selmar team works closely with Home Instead's People and Culture Team Leader, Victoria to ensure that high quality training is available in a way that allows them to earn and learn simultaneously.
Victoria oversees the partnership with Selmar and has found the collaboration to benefit all involved:
"There are so many drawcards and benefits for our caregivers who find that studying while they're working in this field means they can put what they are learning into practice every day."
Warren is currently studying the Certificate III in Individual Support with Selmar while working as a dedicated caregiver at Home Instead. He says that his experience has been straightforward and enjoyable:
"I've been able to fit in studying with work and everything else — the mobility and flexibility has worked really well for me.

"Whenever I have a question for my Selmar trainer, she has been able to get back to me quickly and I've been able to just get stuck in and get it done."
Karen agrees:
"The trainers at Selmar are always more than willing to help. It's a great feeling to know that if I get stuck or have any questions, there's something there to help me out when I need it".
Regular contact and an individualised approach for each carer's training and support means that each Home Instead caregiver enrolled with Selmar gets the most from their course.
Practical experience for confidence in caregiving
Through Selmar's courses each learner is required to complete practical placement hours to hone their skills on the job. Home Instead complements this commitment to hands-on experience with their own simulation training in a fully equipped learning environment.
With access to hoists, wheelchairs, walkers and hospital beds at the Home Instead training facility, every carer gets the opportunity to understand the practicalities of how to use the equipment. Giovanni and Victoria see first hand how this bolsters confidence of the caregivers.
"Practical training allows our caregivers to go out and utilise the equipment in the real world with the confidence that they know how to approach it and have done it before", says Giovanni.
Enhancing lives in a home care career
For those considering a career in home care, it's worth noting that it is a career with many benefits to its employees:
One on one:
The ability to provide one on one care is satisfying and enjoyable.
Flexible:
You can pick and choose your hours. Flexible, having a work life balance.
Earn while you learn:
Ability to work in an industry while studying.
Be a part of something:
Home care is at the forefront of the healthcare and aged care revolution, and the pandemic has only accelerated this shift.
Not to mention, a career as a caregiver in home care will give your life a sense of purpose and fulfilment. As Warren explained perfectly:
"It's very rewarding. A lot of people appreciate what you do, and you also notice how much you're helping their life. It really leaves you going home feeling good about what you have achieved for the day and what you're doing with your life. If you're going to work it should make the world a better place."
To learn more about the tremendous work undertaken by Home Instead Geelong, visit their website.
Get in touch with Selmar to learn more about aged care training and partnerships to help develop your workforce.