Why wait until you've finished secondary school to start chasing your career dreams? We've partnered with Head Start, the Victorian Government school-based apprenticeship and traineeship initiative, to create a program that supports you to achieve qualifications in early childhood education to become an inspiring educator — while completing your secondary school education at the same time.
Head Start allows students to make a start on their qualifications for a bright, meaningful career in early childhood education. Plus, it's a traineeship so you will gain practical skills and confidence on-the-job and earn an income while you're learning.
With Head Start you get, well, a head start!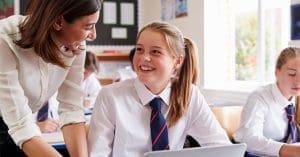 Understanding the Head Start program
Head Start supports secondary students to achieve a qualification, work in a booming sector and complete your secondary school education simultaneously. For those striving to become educators in the early childhood education sector, the Head Start traineeship sets you on the path to gaining a CHC30121 Certificate III in Early Childhood Education and Care.
You will have to fulfil the requirements of your traineeship and early childhood education employer. Generally, it is expected that at a minimum students will undertake paid employment as part of their traineeship for:
one day per week in Year 10
two days per week in Year 11
three days per week in Year 12
Students can commence the Head Start program if they meet the following eligibility criteria:
Enrolled in a Head Start participating secondary school
Maintaining minimum school attendance
Behaviour, maturity and keen interest to work in the early childhood education sector
Approval granted from school to commence program
How Head Start benefits you
Completing your secondary school studies is an important milestone in life. We also recognise that you might feel ready to start on your early childhood education career path now to save time down the track. With Head Start, you can have it all! Plus, you can earn while you learn on the job — it's a win/win.
Here are the key ways you can benefit from taking on a school-based traineeship through Head Start:
Get a Head Start pathway plan tailored to your specific needs and goals
Enjoy one-on-one support from a Head Start coordinator to keep you on the right track
Access quality-assured training through Selmar as the partner course provider
Complete your secondary schooling with a VCAL or VCE certificate
Make significant progress towards, or completion of, a qualification
Earn an income with payment of a fair training wage during your traineeship
Follow a tailored pathway into a priority sector career for a bright future in a fulfilling role
Reasons why you will love a career in early childhood education
Everyone has their own personal motivation for the career they want to pursue and why. You might have always loved being around children, or maybe you're passionate about making a real difference in the world and shaping the future for young children. There are many reasons to choose an early childhood education career. Let's look at just a few of them:
A growing sector
The early childhood education sector is booming, with educators in high demand as the sector continues to grow. With additional funding and recognition for the importance of educators, pursuing a career in early childhood education means gaining access to excellent job prospects now and into the future.
Make a genuine difference
Educators in early childhood education provide education and care for children during their most critical period of brain development which takes place in the first five years of life. This means early childhood educators have the opportunity to make a meaningful difference in children's lives and futures, laying the foundation for their learning and development.
Increasing recognition for educators
The pandemic highlighted just how vital early childhood educators are to communities, with educators deemed essential workers and the profession gaining well-deserved respect for their role in the lives of children and families.
A career that involves fun
Educators get to have fun and be creative in the workplace. Every day is different and rather than a 9 – 5 desk job, being an educator in early childhood education means playing games, connecting with children and having plenty of fun.
A supportive traineeship experience with Head Start
For learners undertaking secondary school studies alongside a traineeship in early childhood education, we believe that support is a must. In fact, support is important for any learner to succeed no matter your age or experience.
To help you reach your full potential and have an enjoyable training experience, ample support is offered through the program with Selmar. This includes:
A dedicated trainer
You will have your own trainer who is dedicated to you achieving the best outcomes possible. They will stay in touch and support you via text, email, phone calls or meet ups and will even visit you at your early childhood education workplace. Whether it's questions about the coursework, support with navigating your role in the workplace or looking for reassurance on your journey, your trainer has got your back.
Online portal
Your Head Start early childhood education traineeship is structured so that you can fit in secondary school alongside your vocational training on the job. This means your coursework is completed via Selmar's online portal. This dedicated learning hub offers an engaging and collaborative online learning experience that includes watching videos, completing quizzes, participating in forums with trainers and other students, and submitting assessments.
Learner success team
If you find yourself requiring some help with areas like literacy and numeracy, or perhaps if English is your second language, you will feel well-supported by our learner success team. As the name suggests, they are committed to your success and will make sure you have the individual tools, strategies and guidance you need to thrive.
Want to learn more about Head Start and grab the opportunity to earn and learn in a traineeship while still completing your secondary schooling?
Contact us today to learn more about how Selmar and Head Start can support your next career step!