In aged care, over two thirds of people living in residential care have cognitive impairment that is considered moderate or severe. With this in mind, having a thorough understanding of what dementia is and how we can support people to live with dignity is essential for those working in the aged care sector.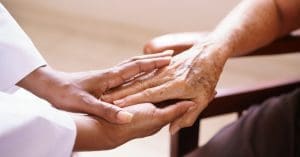 Did you know that dementia is the second leading cause of death in Australia? In fact, for women it is the leading cause of death. According to Dementia Australia, there are an estimated 472,000 people across the country currently living with dementia — a figure that is expected to increase to over 1 million by 2058 if medical breakthroughs are not found.
What is dementia?
Dementia itself is not a disease but it is the name given to cover a range of symptoms that are caused by a number of disorders that affect the brain. The most common of these is Alzheimer's disease.
Everyone with dementia is unique and symptoms will vary. Memory loss is often thought to be the most common symptom, but dementia has a far-reaching impact on a person. Dementia causes a progressive decline in the functioning of the brain and on top of memory loss it can even result in an inability to move or swallow. Symptoms of dementia include:
Increasing confusion
Memory problems
Personality changes
Behaviour changes
Inability to concentrate
Withdrawal or depression
Loss of ability to complete everyday tasks
Making life easier for those with dementia
Many everyday tasks that seem simple can be overwhelming and difficult for people with dementia. Creating a world that supports people living with dementia to be able to feel dignified and independent requires commitment from people as well as organisations. It has been inspiring to see big brands getting involved, such as Coles. Just recently the supermarket began building miniature versions of their stores aged care facilities, in partnership with aged care provider Hammond Care. This enables people with dementia to maintain independence — in the smaller, simplified store they can make choices for themselves and enjoy one of life's simple and familiar pleasures of doing the shopping.
Another example is an aged care provider in Tasmania that has created an aged care village for its residents. In the Korongee village there are small homes along with a general store, hair salon, café and medical clinic. The purpose-built village incorporates colour and familiarity for a dementia-friendly design that empowers people living with dementia. Here they can live with more autonomy and self-sufficiency while still having their needs supported.
Effective support for people with dementia
Dementia is different for everyone and can change over time. When providing care to people with dementia, it helps to have some tools to utilise that will help you deliver the best care possible.
Use effective communication:
Communication can be challenging at times when you're supporting a person with dementia. The team at Hammond Care use a 5 S's as a simple means of remembering key factors that can make your communications easier. They are also useful to pass on to family and friends of a person with dementia to support them to better communicate with their loved one. The 5 S's are:
Slow: Slow down your rate of speech and wait for the person to respond
Simple: Keep what you say simple – one idea at a time, using short sentences.
Specific: Talk about specific people, objects or events they may remember. Use names (John, Mary) instead of pronouns (he, she).
Show: Use gestures, point to items, use visual examples such as photographs, or show choices.
Smile: Facial expressions can be understood even when verbal communication is difficult.
Focus on being patient:
You might find yourself frustrated at times while caring for someone with dementia, but it's vital to maintain a respectful attitude at all times. The person in your care might also feel frustrated or confused. Be patient and remind yourself of the nature of the conditions that cause dementia.
Be respectful at all times:
People with dementia are still the same adults they were, only with different abilities. Avoid infantilising and ensure you remain respectful in the way you speak to a person and treat them.
Listen carefully:
At times we might be busy and distracted while providing care, but it's important to take the time to listen carefully with your full attention. A person living with dementia may feel they are not heard or do not matter, so making sure you show that you are listening and you hear them can make them feel valued and included.
Foster good health:
Staying active physically and mentally can support wellbeing for people with dementia. Eating well, walking and moving regularly and undertaking activities that stimulate the brain can go a long way to improve quality of life.
Advocating for those with dementia
The Royal Commission into Aged Care Quality and Safety highlighted just how vital it is for aged care providers to be educated in needs of those living with dementia.
We are committed to supporting aged care workers to have the knowledge and skills required to deliver the highest possible standard of care. Together we can advocate for people living with dementia and facilitate dementia-friendly care to maintain dignity with dementia.
Learn more about what we do and how we can support you on your aged care career journey — get in touch.
Get Selmar's blogs in your inbox in a second! Subscribe to get our latest blogs now.