When you are planning to undertake a course, it's important to do your research and choose the right training provider to help you get where you want to go. For most learners, this means relevant course material, support when you need it and practical learning experiences to ensure you can graduate feeling job-ready.
Nurturing children's development and wellbeing as a job is a true privilege and a rewarding career path. With the right qualifications and know-how, a career in early childhood education will enrich your life and set you up with a career you will love.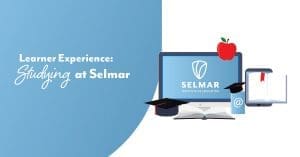 An insight into the study experience with Selmar
If you are wondering what to expect when studying with Selmar, there's no better way to gain insight than from someone who has experienced it first-hand.
Aynsley Connors studied her Diploma of Early Childhood Education and Care with Selmar, completing it in early 2021. Like many learners who enrol in early childhood education courses, Aynsley was drawn to the sector because she just really loves children! Now, she has job security in an early childhood education role that she adores.
Support throughout the study experience
The study experience journey itself can be unique for everyone. Some people are natural learners who find studying comes easily to them, while others take a while to get into the rhythm of it. Aynsley says she is the latter, but with the high level of support that Selmar provides to learners, it is easier than anticipated to adjust to study life.
When you study with Selmar, you will have a dedicated trainer who is committed to your success throughout your qualifications and beyond. In fact, for Aynsley, her trainer even helped her gain current job through practical placement.
"My trainer was really supportive and encouraging about seeking out a job at my placement centre. She told me to be myself and helped me with what I should say, and dot points of how to go about it. After the conversation with my now-boss, she put me on the roster for the following week!"
Real-world experience through studying
As well as the potential for an offer of employment, practical placement is a valuable part of the Selmar early childhood education course offering. This opportunity to learn in a real-world setting helps learners to adapt the theory they have been learning to real situations. For many, this is when the theory really clicks into place. Learning through practical experiences was an important factor for Aynsley, and she was beyond satisfied with the practical placement component embedded in her Diploma qualification.
"I've never really been a study person, I'm more of a hands-on learner," she explained.
The Selmar team helps learners to find a suitable childcare service to complete their placement hours and gain experience working before they have even completed their course. As a learner on placement, your trainer will visit you on site and make sure you are maximising your time on the job and getting the most from it.
Work life balance in a rewarding career
Early childhood education offers a career that makes a meaningful difference in children's lives each and every day, while providing its workforce with a fulfilling career. The range of job structures and shifts in early childhood education means that carving out the right work-life balance to fit everything in is achievable, including having children of your own.
Aynsley has just welcomed her second child into the world and looks forward to getting back into working at her early learning service — the same service where her oldest child is currently in care and where her new baby will be cared for while she works.
"I really want to be there for my children and early childhood educations means I can enjoy the work life balance I'm looking for," says Aynsley.
Connecting with children and your own inner child
Working in early childhood education enables you to really explore your inner child through your work, while providing children with a great start in life. Aynsley's day-to-day career highlights are watching the personalities grow and come out, with many moments of laughter to enjoy.
Of course, as with any career path early childhood education has its challenges. Caring for children and supporting them through play-based learning experiences also means being patient as they test boundaries or face developmental stages such as separation anxiety.
From Aysnley's perspective, anyone considering a career in early childhood education should be able to let themselves go a little and be in the moment with children and what they are doing.
"Interact and join in with children on their level, while also being responsible and guiding them," she advises.
If the Selmar study experience in early childhood education sounds right for you, we would love to help you pursue a career in the sector. Get in touch.