Deciding on an aged care facility or a child care centre for your loved one is a big decision for families. How can you ascertain which will be the best place for your ageing parent or young child to be cared for?
Chances are, you would do what most of us do — look up online reviews to see what other people think and base your decision on the views of other families who have experienced your care firsthand. Online customer feedback is the new word of mouth and it essential for your marketing strategy in child care or aged care, with 91% of 18 to 34-year olds putting as much trust in online reviews as they do in personal recommendations.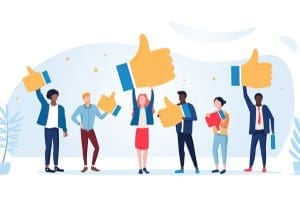 Showcasing your business through customer feedback
If you want to attract more families to your aged care facility or child care centre, it's clear that customer feedback will make a difference. Data from across a range of sources highlights the importance of customer feedback for businesses to thrive. For example, according to a U.S. study, 93% of consumers confirmed that online reviews have an impact when it comes to choosing where to direct their time and money. Plus, 63% of consumers were willing to spend up to 15% more for the same product or service if they believed that the quality would be higher.
It's not all about marketing either — customer feedback can help you and your employees to understand what you're doing right, what needs improvement and how you can provide a better service.
Reaping the rewards of reviews
It's one thing to know that feedback is important, but the next step is to create ways for your clients to get the feedback to you.
If you're wondering where to start gathering customer feedback online, you might start with one of these means:
Online surveys and feedback forms
You can make a free online survey for your customers with a tool like Google Forms or Survey Monkey and email it to them for feedback delivered in a private space.
Social media feedback:
Facebook recommendations are easy for people to leave and are a commonly viewed place for prospective clients to research your business and its culture.
Online reviews on relevant sites
Aged care and child care both have a number of websites that help people choose a facility or centre. Childcare centres might consider the importance of ratings on Care For Kids, while Aged Care Reviews is worth a look for aged care businesses.
Google reviews: As the world's most popular search engine, the quality of your listing on Google can have a huge impact on your business. More on this later.
Encourage customers to provide feedback
So, how do you encourage your current clients to start posting their reviews and feedback? It's easier than you think — you just have to ask. You might choose to ask in person, over the phone or by a variety of other means. Some businesses include ways that feedback can be left in newsletters, on brochures or on signage in the reception area or noticeboard.
Feedback forms and surveys can be sent out to your customers at various points in the year to provide the opportunity for people to provide feedback privately if they prefer. If you're hoping to share feedback provided privately for marketing purposes, best to be clear.
When you are asking for customer feedback in the form of online reviews, it is important to familiarise yourself with the legalities that should be considered. The Australian Competition and Consumer Commission (ACCC) makes these three points, stating that businesses should NOT:
encourage family and friends to write reviews about your business without disclosing their personal connection with your business in that review
write reviews when you have not experienced the good or service reviewed or which do not reflect a genuinely held opinion
solicit others to write reviews about your business or a competitor's business if they have not experienced the good or service.
Offering incentives in exchange for customer feedback can be tempting, but if you choose to do this then you must ensure that your incentives are offered regardless of the nature of the feedback. The ACCC explains that incentives can be used only if:
incentives are offered equally to consumers likely to be complimentary and consumers likely to be critical, and positive and negative reviews are treated the same
the reviewer is expressly told that the incentive is available whether the review is positive or negative
the incentive is prominently disclosed to users who rely on affected reviews.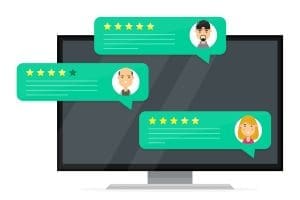 Gaining great Google reviews
As the most popular search engine in the world, Google is a vital place for your business to encourage customer feedback.
To be able to ask for Google reviews from your customers, you will need to be searchable via Google Maps. This requires you to have a Google Maps listing, plus if you want to be able to reply to your customers' reviews (which you definitely do), you will need to verify your business with Google. This process involves Google sending your business a verification code  usually by post, though phone and email verification is possible for select businesses. Once verified, you can begin to receive Google reviews, edit your business listing including name, hours and phone number, or even claim an existing listing if one already exists for your business.
Once your business is set up to receive Google reviews, you can start asking your customers to leave reviews by providing them with your personalised link that takes them right where they need to go.
Customer feedback to grow and learn
Hopefully you will find that your customer feedback is positive, though sometimes it may not be. It might feel distressing or irritating when this happens, but sometimes negative feedback can help you to identify a gap in your service or a shortfall that needs attention. Take this feedback on board as a learning opportunity — talk about it with your carers or educators to brainstorm ways your business can prevent similar issues occurring in the future, or how you can improve customers' experiences.
Customer reviews that seem unlikely or are simply untrue can be frustrating too, but they also give you the opportunity to showcase your professionalism and quality service through a thoughtful and carefully worded reply. This shows your prospective clients that even if issues do arise, your team is capable of handling things with care and competence. On many platforms you also have the option to report fake reviews and have them removed.
Customer feedback is essential for attracting families to your aged care facility or child care centre in our fast-paced online world. They can also be a powerful tool for you to understand what you are doing right and what areas might need work. Use customer feedback for your business to thrive and show Australia just how great you are!