If you're a jobseeker, getting back to work is no doubt among your top priorities at the moment. Similarly, if you're feeling that you may be at risk of losing your job, you are likely keen to upskill to enhance your employability or ready to explore other options.
The Queensland Government has plans in place to assist both workers and job seekers, with the Certificate 3 Guarantee Boost (C3G) funding. This is a targeted funding initiative designed to support individuals who are unemployed or at risk of becoming unemployed to get started in a qualification that will help them find and keep a job.
If you're eligible for the C3G Boost funding, you could access accredited training with the Queensland Government contributing to the cost of your course. A great opportunity to reassess where your career is headed.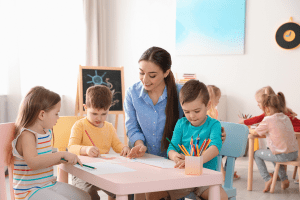 Certificate 3 Guarantee Boost Eligibility
The Certificate 3 Guarantee Boost is for Queensland residents who want to gain qualifications in one of the areas included in the Priority Skills list. These areas include booming sectors such as early childhood education, aged care and more.
The C3G Boost full eligibility criteria requires participants to:
Live in Queensland
Participate in training aligned to local employment opportunities and
In addition, to be eligible participants must meet ONE of the following criteria:
Be unemployed and need new skills to obtain a job, or
Be at risk of losing their job and require reskilling to move to alternative employment opportunities, or
Be working, but looking to increase hours of work or shift from part-time to full-time employment.
If you find that you tick all the boxes required to access the Certificate 3 Guarantee Boost funding program, your accredited training costs will be subsidised by the Queensland Government, with only a student contribution required to be paid to access your chosen qualification.
Already qualified but looking to pivot in your sector, or change careers entirely? If you already have higher level skills in any sector and meet the above criteria, you could still be eligible to access Certificate 3 Guarantee to study a Certificate III level qualification.
Qualifications for a lasting career
The Certificate 3 Guarantee Boost funding can see you begin or extend a meaningful career making a difference in the thriving early childhood education sector. Working in early childhood education gives you the opportunity to have a lasting impact on children's development and wellbeing now and well into the future.
A Certificate III in Early Childhood Education and Care (CHC30113) is the perfect qualification to commence an early childhood education career, with a range of career opportunities available from the moment you enrol.
Those who complete the Certificate III in Early Childhood Education and Care find employment in roles such as:
Early learning educator
Kindergarten assistant
Outside school hours care educator
Family day care educator
Nanny/in-home carer
With well-trained early childhood educators in high demand, joining the sector opens up the door to a long-term career with room to flourish and grow in a job you will love.
Upskilling for more opportunities
Already working in early childhood education? Knowing when it's time to upskill isn't always obvious, but if you're looking at shifting positions within your sector, it could be the right time to look at your options. For some, the Certificate 3 Guarantee Boost funding can assist you with upskilling.
Upskilling can fill gaps in your knowledge and skills and improve your employability, therefore increasing your prospects of gaining employment. You could also become more valuable to your existing employer.
Start training with the Certificate 3 Guarantee Boost
As a Skills Assure Supplier, Selmar welcomes Queensland students who are ready to bring their commitment and nurturing qualities to the early childhood education sector to study the Certificate III in Early Childhood Education and Care with the support of our experienced trainers.
To start the process of applying for the Certificate 3 Guarantee Boost and study with us at Selmar, head to the website to get all the details. From there, you will need to supply a letter issued by Back to Work addressed to Selmar with details of qualification you are eligible to enrol in.
If you have any questions, feel free to contact our team and we can talk you through what you need to do to access your Certificate 3 Guarantee Boost funding.