The idea of what we might be when we 'grow up' is one that we begin considering from a young age. In reality, most people will have many career changes throughout the course of their working life.
What you do when you finish high school is highly unlikely to reflect your job at 25, 35 or 55. Career change is a part of the working life journey. They say a change is as good as a holiday, and sometimes a fresh approach to employment can offer a new lease on life.
Whether you work in hospitality, retail, the corporate space or something else entirely, if you are feeling tired of your career or excited to try something new, a career change can be a great idea.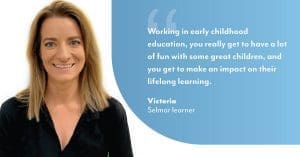 The right time to change careers
For recent Selmar graduate Victoria, changing careers from hairdressing to early childhood education felt like the right move at the right time.
"The first job I wanted to do when I was a teenager was to work with children, but as a young person you tend to change your mind a bit and I ended up deciding to do hairdressing", she explains.
Sticking with hairdressing for a fifteen-year career, Victoria began feeling that she ready to move on from hairdressing and still had working with children in the back of her mind. It was then that the Covid-19 pandemic and the salon she was working at had to close its doors. Victoria decided this was the time to focus on pursuing her goal and enrolled in a Diploma of Early Childhood Education and Care.
Transferring skills to a new career
Transitioning out of her hairdressing career into an early childhood education career, Victoria notes that the hours of a childcare role are great, especially when compared to her job as a hairdresser which requires weekend work. Rather than move on entirely though, Victoria has continued with hairdressing as a sole trader in her spare time.
While the sectors are quite different from one another, Victoria was surprised to find how the skills she utilised in hairdressing have transferred into her career as an educator.
"I found that I brought the confidence from hairdressing over to early childhood, because I'm so used to talking to adult strangers that talking to parents and children is really comfortable."
Hands-on experience and a job offer
Practical placement is incorporated into Selmar's early childhood courses and gives learners the opportunity to gain hands-on experience during their studies. As well as learning on the job, Victoria was able to secure a job in early childhood education through her placement, taking up an offer of employment with their sister centre.
"Comparing my experience getting qualified for early childhood to some of the experiences I've heard from others, I'm really glad I chose Selmar. My trainers were great and if I needed help, I had the help," says Victoria.
A career change with room to grow
For those exploring a career change and are considering early childhood education as an option, Victoria highlights the variety of shifts available as an appealing aspect, especially for those who don't want to work a typical 9 to 5 job or like some flexibility in their lives.
The early childhood education sector has plenty of room to advance in your career too, with leadership positions and pathways to university for those interested in teaching. Victoria is considering looking into applying her skills and experience to running a family day care in the future.
A rewarding career change that's lots of fun
Patience, consistency and being someone who can get inspired and be proactive about creating engaging learning experiences for children are among the most valuable skills and qualities that Victoria believes are important for working in early childhood education. And while any job may have its challenges, Victoria finds that her role working with children is rewarding and fun.
"When you're working at any job there might be some challenging moments, but in early childhood most of the time you really just get to have a lot of fun with some great children."
Want to learn more about how you can change careers and start a meaningful journey working in early childhood education?
Is a career change for you?
Working in early childhood education can be a very rewarding career path for the right person. If you're thinking it's time for a new direction and you want to learn more about whether starting a meaningful career working in early childhood education is for you, contact us today to learn more about the options available.
Watch the video below to hear from other Selmar learners about their experiences of changing careers into the sector.
Get in touch with Selmar and we can help you get started!